"Apni har cheez ke liye dhakay nahi khanay pare gay bulke khawar hone ke liye koi aur mojood ho ga. Mujhe is sub pur yakeen nahi aata, yeh agar khushkismati hai tu meri kyun hai…Is admi ki ajeeb si adat hone lagi hai mujhe, agur yeh meri zindagi se chala gaya tu bara masla ho jai ga"
Finally Kashaf even with all her insecurities and fears has unknowingly started trusting Zaroon. She believes that he will be there for her whenever she needs him….Kashaf sees a companion in him. Zaroon's love has finally won Kashaf over.  Although she questions all of it being real but also acknowledges that she will be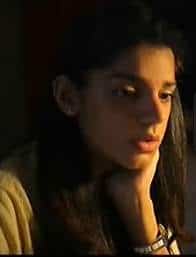 lost without this man. In today's episode Kashaf and Zaroon seemed more like two people who were meant to be together even though Zaroon kept on bragging about how perfect he was and Kashaf called him khushpasand and khushparast. Zaroon is no longer the confused person he was in the previous episode, his over confidence is back and Kashaf also seems to be enjoying "discovering" the person Zaroon is now because she got many pleasant surprises till now.  Kashaf has always thought that all men are like her father; insensitive and selfish pople who do not care about a woman's feelings and cannot look after their wives, that is the impression Kashaf has grown up with and we have all seen how Kashaf openly expressed in the previous episodes how she felt about men in general. Zaroon is nothing like the man Murtaza was, he loves Kashaf and shows it and although she earns he still realizes his responsibilities as her husband. The scene in which he gives Kashaf money before leaving her mother's house was priceless. Sanam Saeed was brilliant in that particular scene and Fawad Khan's expressions when he says "nahi mane gi yeh larki" were yet again simply brilliant! These few lines explained so well how Kashaf felt and the reason why she will never let Zaroon know just what he meant to her.
"Tumhari gehri bolti nazrein, tumhari hur wakt ki tawaju, tumhara jaan chiraknay wala hur andaz, hur baar jub tum mere maa baap ke liye ahteraman kharay hotay hu tu mein tumhare agay jhuknay lagti hun….aik chotay se ghur ke is pankhay wale kamray mein tumhari yeh gehri neend, mineral water bottle ko dhundtnay ke bajaye nalkay ka paani pe lina…..pur mei yeh sub tumhei kabhi nahi batun gi , tumhare hur wade pur hanso gi, tumhari hur baat ka mazaq urao gi…mein tumhare samne rait ki dewar nahi bun sukti mujhe toot jane se khof ata hai".
Zaroon is also "discovering" the person that Kashaf is, the scene in which Kashaf sews his button was another one of the many wonderful scenes from today's episode. Zaroon has a wife who has a strong personality, works and can sew his button…impressive indeed. I really liked Kashaf's reply to Zaroon when he said she managed to impress him for the first time. Zaroon, like a man madly in love wants Kashaf to tell him that she loves him. Kashaf finds it difficult to express how she feels about Zaroon because she is still not sure if everything that is happening in her life is a beautiful dream or a nightmare. It is very right for a girl like Kashaf to feel this way, she has always worked hard to get everything in life and now all of a sudden everything in her life is perfect. Also, this is the first time in her life that she feels this way about someone so the way she feels is something brand new for her. Communicating her feelings is going to be a difficult task for Kashaf and I am wondering how she will feel once Zaroon goes away.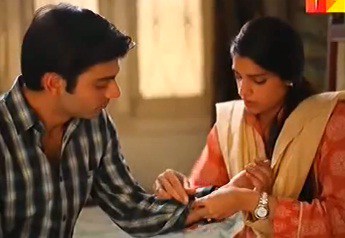 Kashaf's worst fear came true when Rafia and Sidra convinced Zaroon to stay for the night. As it turned out both of them made the most of the moonlit night and that particular scene had to be one of the best scenes of the entire episode. The way Zaroon insisted that there must be something that Kashaf must like about him and the manner in which Kashaf was adamant on not saying a single good thing about him made for a very cute conversation.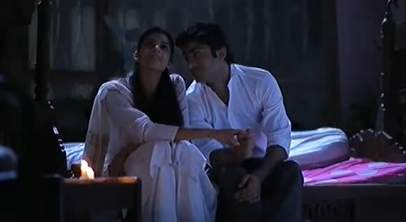 Today's episode focused on cementing Kashaf and Zaroon's relationship together and it was done perfectly. There were so many dialogues in today's episode that were simply heart-tugging. The preview for the next episode seemed alarming, we all thought that Asmara was gone for good but she will be back in the next episode. How will Kashaf feel about that? Zaroon and Kashaf have a conversation about how they should handle any misunderstandings in the future and I couldn't help but think that you can't possibly think straight once there is a misunderstanding so avoiding it may not be that easy. Overall, this episode was picture perfect, it was wonderfully directed and the acting was superb as usual. Please share your favorite scenes and dialogues from this latest installment; I would love to hear from all of you.
Fatima Awan.