The first episode managed to capture my interest and pretty soon it will also manage to capture the interests of the audiences. I wanted to see this show in the first place because Faisal Qureshi and Ayeza Khan were the main leads and I always wanted to see them paired together in a show. The show is directed by Furqan Khan and written by Samina Ejaz. The first episode mainly revolved around the introductions of all the characters in the show.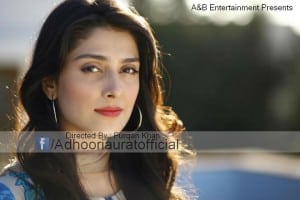 I would first start with Ayeza Khan who plays the role of Maryam who seems to be a typical average girl with dreams of her own. She is a very simple girl who is the exact contrast of her sister. While her sister Amna is bold and outspoken, Maryam's character is more subtle, quiet and shy who likes to share thoughts in her diary rather than sharing them openly. I simply loved the cute bonding between the sisters. It seems like Amna's favorite hobby is to tease and annoy her sister mercilessly!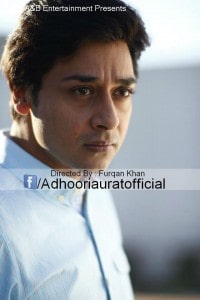 Now coming to the male lead of the show; Faisal Qureshi plays the role of Zayaan who made an impressive entry with his very first scene. Zayaan seems like a serious, stern and practical person whose life revolves around his work. His mother and his sister, Afsha keeps on pestering him to get married to Afsha's sister in law Faiza but Zayaan is not in favor of the marriage and seems least interested in the proposal. Afsha keeps on insisting him about the proposal due to the pressure from her husband and in laws who want to make Zayaan their son in law. It seems that he would not willingly say yes to Faiza and according to the promos he will not get married to her.
The episode was based on Maryam's proposal and her engagement to Umair. His character seemed mysterious and I sensed from the beginning that something about him was just not right. He did not seem much interested in Maryam and was not in the least excited about his marriage. Maryam, on the other hand had woven her dreams about her marriage and looked forward to her marriage. Maryam did not show much interest in the beginning but Amna managed to make her agree to the proposal as her enthusiasm seemed to be infectious and Maryam finally agreed and the engagement took place.
However, her happiness was short lived as just when her marriage date was approaching, she got the shock of her life when she saw Umair with another girl. I loved the way Amna stood up for her sister and gave Umair a piece of her mind and Maryam had to drag her from there to stop her from creating a huge scene. Maryam's dreams were shattered after knowing the truth about Umair. Now I am very curious to know how Zayaan and Maryam will finally meet! I am looking forward to see both of them together.
Overall, it was an entertaining episode and I liked all the members in Maryam's family. They seemed like the perfect family and each member supported the other through thick and thin. Zayaan, however did not seem to have any close bonding with his family as his workaholic nature did not let him spend much time with his mother or sister.
Faisal Qureshi was as usual outstanding and has played the role of Zayaan to perfection. Faisal Qureshi has the ability to mold into any character perfectly and I love this quality about him. Ayeza's acting was good but her character seemed very similar to her role in Kahi Unkahi.
I am looking forward to its next episode when the actual story will finally start. I would rate this episode a 3/5. I have a lot of expectations from this show. Let's see what it has in store for us in the future!
Mariam Shafiq