We saw another engaging episode this week with lots of twists and turns. The twists were expected but dramatic at the same time. Faiza is using the oldest trick in the book that is taking revenge not by hate but through love and her so called mentor is none other than Umair. He is taking his own revenge through Faiza and Faiza is not even aware of it. She is just a pawn in his big scheme of taking revenge from Maryam.
Her first step was to bring Afshah back to her house to win Zayaan and his family's heart. She was unsure of this idea given by Umair but she pondered over it and came to the conclusion that it would be the best decision under these circumstances. She went to Zayaan's house and shocked everyone, she asked Afshah to pack her things and come back with her to her house. Khurram was ready to leave Afshah for her sister's sake but Faiza made a dramatic entry and gave a very emotional speech about her ultimate sacrifice for her brother and Khurram got all emotional and accepted Afshah.
Faiza definitely succeeded in making a place in everyone's heart through this act of hers and on top of that she surprised everyone by welcoming Maryam wholeheartedly to her house. Everybody seemed shocked and confused by her behavior but Faiza only seemed interested in Zayaan's reaction. Even when she came to take Afshah back she was looking at Zayaan and trying to judge his reaction. Maryam and Zayaan's opinion about Faiza changed after this and Maryam went so far as to ask Zayaan why he left a girl like Faiza. Maryam is too trusting for her own good and this will create a lot of problems for her in the future!
Nusrat attitude towards Maryam has not changed a bit and it just keeps on getting worse day by day. Ajji came to Maryam's house to make sure Maryam was happy in her house and Maryam was trying to make her believe that she is happy but just then her mother in law came and insulted Ajji very badly. Maryam's lies were exposed and she could not even face Ajji. Ajji went back and lied to Maryam's family that she looked happy in her house but Sultan could see that something was fishy as Ajji stopped him from visiting Maryam's house by coming up with an excuse.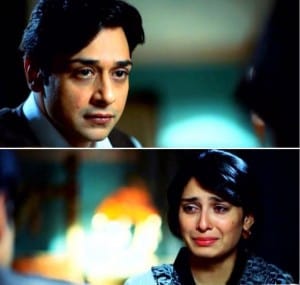 Maryam still did not give up and made food for everyone but Nusrat refused to eat it and again hurled brutal and painful words at Maryam. She also did not let her take care of Afshah and insulted her again. After all these failed attempts to make a place in everyone's heart, she gave up and Zayaan saw a defeated Maryam crying and all he could ask Maryam was to be patient. I believe to some extent Nusrat's attitude is also justified. She blames Maryam for stealing her son from her and breaking her daughter's house. I personally believe the cause of all these problems is Zayaan himself. He should have thought about his sister before taking such a big step and now there was no use of regretting his decision. Maryam got upset when he saw how helpless he was feeling and even gave him permission to marry Faiza. Maryam really needs to control her emotions and stop being so naïve!
Faiza will now take her next step towards her revenge with Umair's help. I am curious to know what it will be! She has already managed to soften Zayaan attitude towards her and now she will come up some new plan to separate Maryam and Zayaan.
Let's see what happens!
Mariam Shafiq