Tonight's episode definitely had some very convincing developments to its credit; Mahmood finally appeared to be more involved in his daughter's life and Atiqa's reaction to Shaheen's offensive  behavior was much more real than her no care or ignore everything attitude till now. On the other hand, there were also certain aspects of the story that were very unbelievable; Alina falling for Mina's lies instantly and how could Daniyal be naïve enough to believe what Mina told him even for a second? Alina and Daniyal have known each for long enough and know Mina very well too, so how could they possibly let Mina create a misunderstanding between the two? Besides that even after everything that Alina had told Daniyal about Mina why did he go to meet her?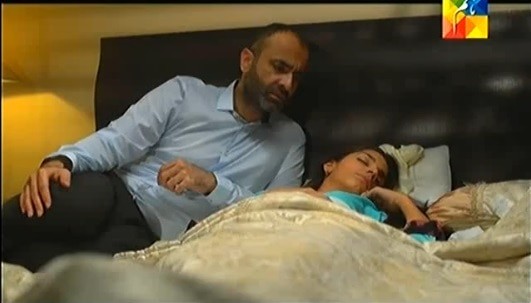 We didn't get to see the aftermath of Mina's plan to ruin Alina's party directly. But we saw a very worried Mahmood sitting by Mina's bedside and Alina being upset about what had happened. No one talked about why Mina had fainted and she never went to the doctor; which was rather odd. I was expecting this episode to take off from where the last one ended but it actually did not. How could Mahmood take the comment that Alina was upset because her party had been ruined so casually? It was as if everyone knew that Mina had done the fainting act on purpose. I have to say that I felt a little lost in the beginning of the episode maybe because I was expecting it to start a little differently. The rest of the episode was much better than I had expected it to be because no matter how crazy Mina's plans maybe, the fact is that the developments in the story keep you entertained and yearning for more.
Mahmood's conversation with Mina about how things were in the house proved to be as fruitless as it always has been! Mina's crazy plan to get Shaheen married to her father lost its shock value because the promos had already shown that Mina will come up with this plan at some point. Sheheens's initial refusal and the anticipation that should have followed, as to whether she will go along with the idea or not was also killed because the preview of this episode showed that she finally decides to do whatever Mina wants her to. I wish we could have known something about Shaheen's background. We know that she does not come from a very well off family because in one of the scenes shown in the first few episodes, it was shown that she envied Mina for getting all the expensive gifts. Other than that we do not know much about Shaheen and why she is so negative and rude. Nida Khan's acting till now has not been very impressive; she does very well in some scenes but is very disappointing in others.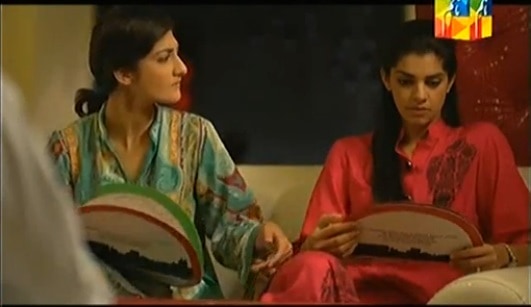 The conversation between Mina and her psychiatrist was very meaningful and I especially liked the part when the psychiatrist says to Mina "jealousy ka koi ilaj nahi hota". Sanam Saeed's expressions in response to this dialogue were priceless and conveyed exactly what she wanted to convey to the viewers. Mina knows only too well that she is the most jealous person in that house and knowing that jealousy is incurable couldn't be good news! Mina's "special interest" in her psychiatrist seems rather alarming; we can only wonder what is brewing in her mind!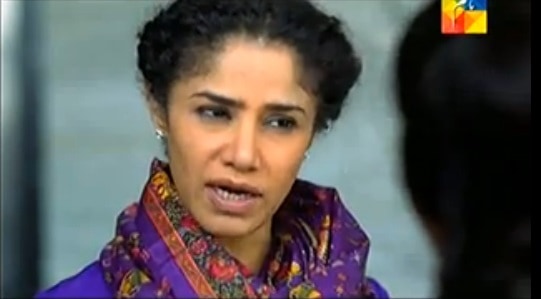 Sanam Saeed has been the star of the show till now; she has truly outdone herself and proved that she is a very versatile actress. I would like to give a suggestion to the team of Kadurat; it would be very nice if the precap of the previous episode was shorter and the preview of the next episode didn't give away all the twists in the upcoming episode. This may seem completely out of context but am I the only who finds it odd when people eat their toast and eggs with a knife and a fork in the dramas?
Overall, Kadurat has proved to be an entertaining play till now; the credit goes to the entire team of the show but in particular, the writer, director and Sanam Saeed for doing a fabulous job.
Did you watch this latest installment? Please share your views about it.
Fatima Awan