I found this week's episode very slow paced. Overall, not much happened in the two episodes. Both the episodes revolved around Sikander's plan to unite the families and wipe out their differences by moving them together in the same house.

I found a lot of loopholes in Sikander's plan. He wanted to shift them in the house without informing them first and I am sure he is in for a rough ride ahead. He is playing with fire and I hope he does not get burned in the process. It will take a lot of effort to extinguish the intense hatred between Dadi and Badi Ammi. But one thing I would like to say is that I really admire his courage and determination to take such a big step. Everybody was against his idea which included Alishba's father and his own mother, but he remained determined and convinced everyone. Tasneem Chacha and Alisba were the easiest to convince but it took a lot of hard work to convince Alishba's dad. I really hope his plan works out! Fingers crossed.

The two people I found really annoying were Durre phupho and her good for nothing son, Ahmed Nafees. They still have not given up hope and are still scheming to somehow make Alishba marry Ahmed Nafees. Even after seeing how fed up Alishba gets in his mere presence, he does not get the hint that she is not interested in marrying him. Ahmed Nafees has become Durre's informer in the house and I was laughing my head off when Alishba discovered him eavesdropping on her conversation and he faced her ultimate wrath! Well, Alishba's 'wrath' was not enough to discourage him and he was seen eavesdropping again. Will he ever give up?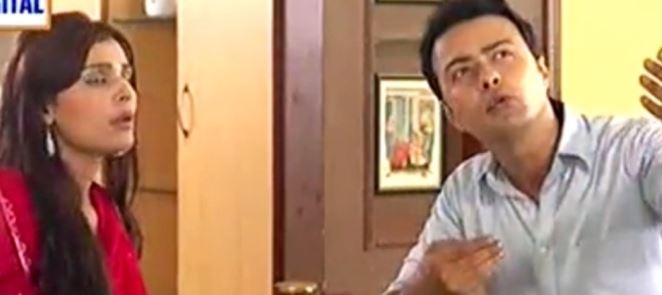 I am so glad Hamza got more screen space this week. I thoroughly enjoy all his scenes because his expressions and comic timing are just spot on. Ahmed Hasan is an actor made for comedy and I have seen him before in Bulbulay and I found him really impressive there too. He gives way better expression than Mohib and I always look forward to his scenes. Mohib is really good in some scenes but they are mostly emotional scenes, comedy is not his forte. Hamza's scenes with Soni and Guddi were an absolute delight to watch. The best part about him is that he has great chemistry with almost every character in this show.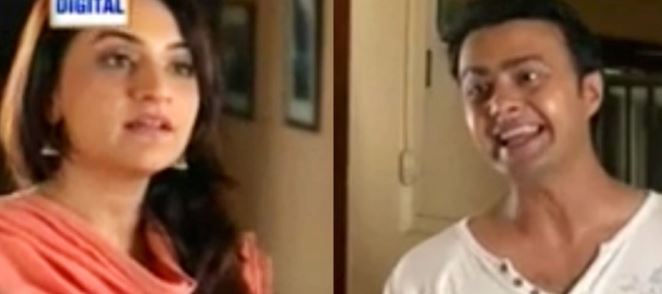 Another major development in the show was an insight to Alishba's Dadi's real feelings. She is not opposed to the marriage only because her family reputation is at stake, she has another deeper reason. She is not in favor of Alishba moving to America after marriage as she feels that history would be repeated. Her son went to America and never looked back and she fears that the same thing will happen with Alishba. Dadi only seems stern from the outside but from the inside she is just like any normal person. There was an overdose of Dadi this week though. I was literally fed up of seeing Dada Jaan trying to convince her to agree to Alishba's marriage to Sikander. It is about time she agrees!
Another character whose scenes was a pure torture to watch was Chammi Tai. Even after Badi Ammi agreed to start the business in Karachi, her complains did not stop. She kept on going on and on about the shop and I seriously felt like forwarding her scenes. I have had enough of the talk about the shop now; I hope they do not drag this track any more than it has already been stretched.
The editing of this show is very nicely done. The dialogues were synchronized and connected with different scenes which made the scenes more interesting to watch. The comment made on Deepak Parwani's lawn was unexpected and pretty amusing. I had to replay the scene to confirm if I had heard correctly.
The tedious task of house hunting is done and now it is time for the two families to shift in the same house. There is going to be an explosion when the two Dadi's meet. I am looking forward to see what happens next!
Do share your views about the episode!
Mariam Shafiq