Aap ka sawal yeh nahi hona chayeh tha ke meinay kya kiya, aap ka sawal yeh hona chahyeh ke mujhe takleef tu nahi hui!
Few things that were highlighted the most in tonight's episode were 1) majority of the people are more interested in what is happening in other people's lives rather than their own. 2) Most of us care more about what others think about us rather than looking out for the interest of those we love.  3) If things go wrong in a marriage, people will be quick to believe that it must be the girl who is at fault. How could Kiran's mother not give her a chance to explain herself even, very sad indeed but was it unreal? Most certainly not! Umera Ahmed has depicted the circumstances faced by many girls in our society perfectly. Once a girl gets married, she has to o everything in her power to make her marriage work even if that means putting her integrity at stake. And if someone tries to walk out of an abusive relationship, she is most likely to meet the fate that Kiran did. I really felt for Kiran in tonight's episode.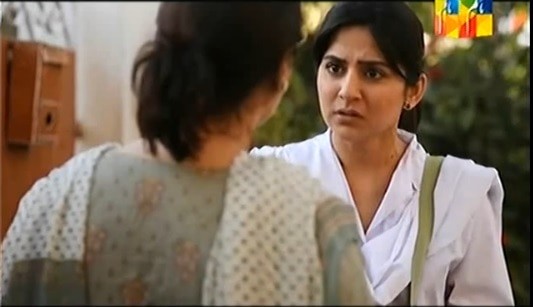 Sikandar did not abuse Kiran physically again but the verbal abuse went on non stop; it kept on aggravating because Sikandar and his mother could not stop Kiran from expressing her opinion! This was another aspect of tonight's episode to which many viewers could definitely relate to; married women most often are not expected to express their opinions openly and if they do then mothers in law feel insecure and husbands feel like their wives are too opinionated. When Kiran asks Sikandar why he didn't support her, his answer was "Tumhei meri hamayat ki kya zarurat hai, tum khud he kafi ho apna case lrne ke liye" and that is exactly what she is getting punished for. I am certain there are many people who feel that if Kiran stops expressing how she feels things will get better, so why not do it? In my opinion even if Kiran stops expressing herself the way she does, things will continue to the way they are because Sikandar and his mother have shown that they do not have an ounce of respect for Kiran because of her "choti aukat".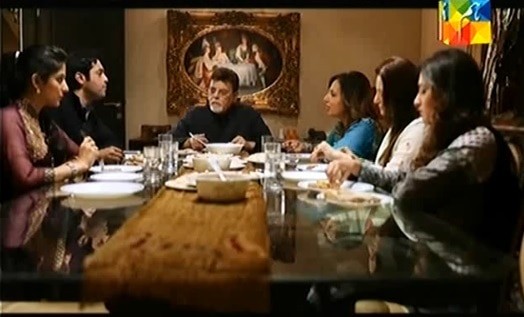 I couldn't help but think that it was very ironic when Sikandar said to Kiran "Tu kya chahti hun laroon apni maa se tumhare liye"? Wasn't Kiran the same girl who Sikandar was dying to get married to a few months back and he completely sidelined his mother's wishes in order to do that? Now that Kiran is part of his life, he wants everything exactly the way he wishes and he fails to treat Kiran as an individual.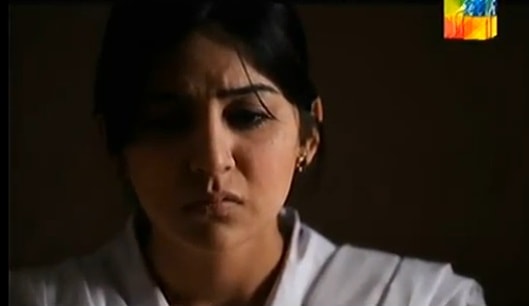 Shaista conveyed the pack of lies she had come up with to Kiran's mother and Faiqa communicated the same to the rest of the family. The growing tensions between Kiran and Sikandar were the topic of the day; everyone discussed the matter and no one held Sikandar responsible except for Adnan.
All through the episode, I was hoping that Kiran's mother will feel for her daughter at some point. Even if she didn't express her concern for her openly, deep inside she would think that what had happened was wrong but nothing like that happened. How could she be so convinced that it was her daughter who was entirely at fault? Maybe because Sikandar has always been so good to Kiran and her family and also because of all the lies that Shaista told her. I was equally disappointed and shocked at Kiran's father's reaction. But then there are many parents who would expect their daughter to put up with much more as long as they have "loving" husband who can provide them with all the luxuries of life.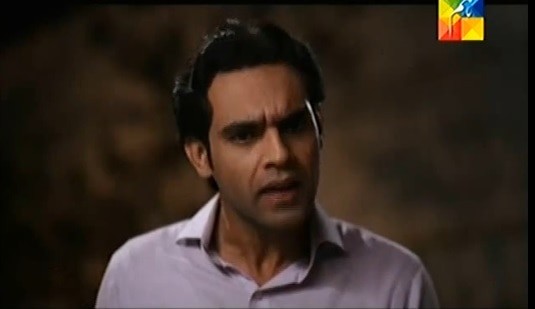 Sikandar's remark "Tum se ziada beghairat aurat waise meinay dekhi nahi apni zindagi mei" proved that he actually had no respect for Kiran. The preview for the next episode showed that Sikandar subjects Kiran to physical abuse again. It was bound to happen because the way Kiran's mother dragged her back to her in laws proved to them that Kiran did not have any place to run to. She is more helpless and vulnerable now then she ever was.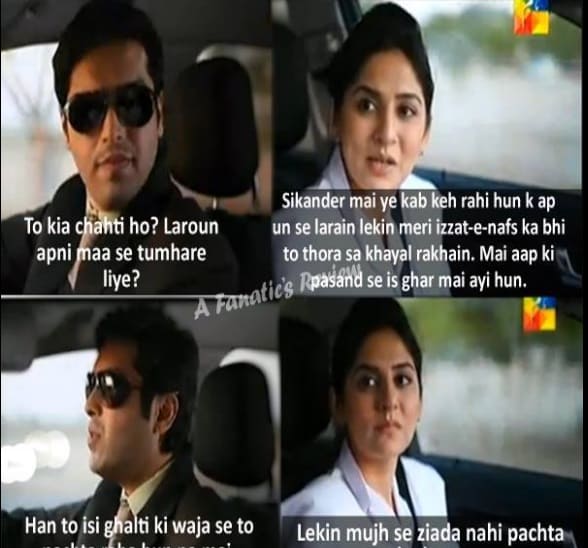 This play is definitely very close to real life; I am sure there are many women out there who have had such troubled marriages and many men too who have taken their wives for granted. This world unfortunately is full of Shaista's and Faiqa's and not to mention women like Kiran's mother too. Tonight's episode was very well directed, the camera angles were perfect and the scenes were short and to the point. The acting like always stayed top notch.

Did you watch tonight's episode? Please share your views.
Fatima Awan