I did not find the episode boring at all this week because we got to see some really nice scenes between Ahmed and Haaniyah; which I had been looking forward to since day 1!
Ahmed is continuously trying to interact with Haaniyah to make her feel comfortable. He is trying his best to make conversation so that there is no awkwardness between them. Even after getting Haaniyah's reply as 'ji', 'haan', and quite a lot of nods; he still did not give up! That's the spirit Ahmed!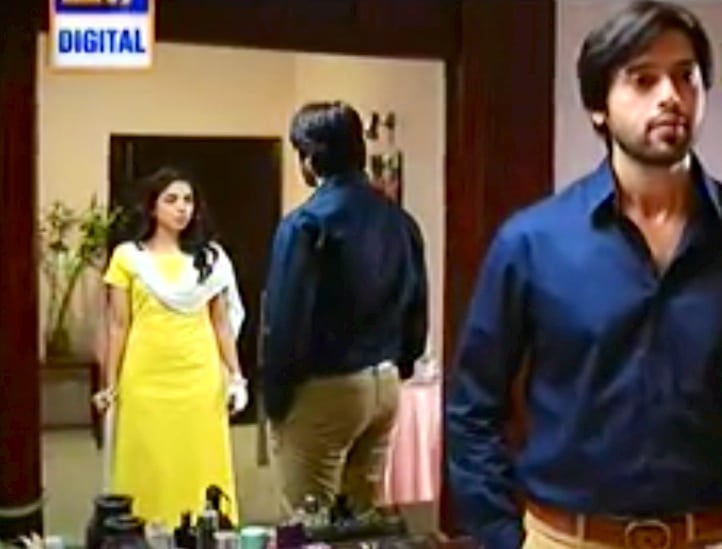 There were a few scenes that I simply loved in this episode. The way Ahmed innocently asked Haaniyah, 'Main Bhar Jaraha Hoon, Chala Jaon?' was extremely adorable. Even Haaniyah was surprised and couldn't help but smile at his question. They both formally exchanged mobile numbers, and it seemed to me like they were two strangers who just met for the first time! Well, technically they really are strangers.

I felt that Haaniyah is finally adjusting to the situation and warming up to Ahmed in this episode. She can see that he is trying to make an effort and in some time, she will also make an effort to get to know him. Then came the awkward phone call from Ahmed to Haaniyah where he did not know what to say except 'Tumhe Kuch Chahiye To Nahi?' and even though Haaniyah was in no mood to go out for dinner, she did not refuse him when he told her to get ready. At least Haaniyah is not pushing him away now!

Just when Haaniyah was slowly warming up to Ahmed, Ahad had to come in between. Ahad is unable to come to terms with this new situation, and is making the situation awkward for Haaniyah too. His constant phone calls made her upset, and when she finally picked up his call he started taunting her and saying words like 'Tum Sirf Meri Ho'. How disgusting! I am glad Haaniyah gave him a reality check and clearly told him that she was his brother's wife now.
Even when Ahmed saw Ahad's call on Haaniyah's phone and realized she was lying to him about who she was talking to, he did not say a word. He did get a bit surprised and upset to see his call on her phone, but he thought that it was better to be quiet about it. I loved the fact that he did not misunderstand Haaniyah. Any other person would have gotten furious in such a situation, but Ahmed was mature enough to understand the situation.
Ahad's parents finally took some action and asked Ahad to join the office. The main motive behind this step was to keep him away from the house, and Haaniyah as much as possible. Ahad's parents knew very well that Ahad will not accept the situation so easily, and will make Haaniyah's life miserable! I have a strong feeling that Ahad will take some drastic step since he is frustrated with the situation. I hope he does not make things worse for Haaniyah than they already are.
'Iski Kiya Zarurat thi?'
'Saamne Nazar Aye To Tumhara Khayal Aya'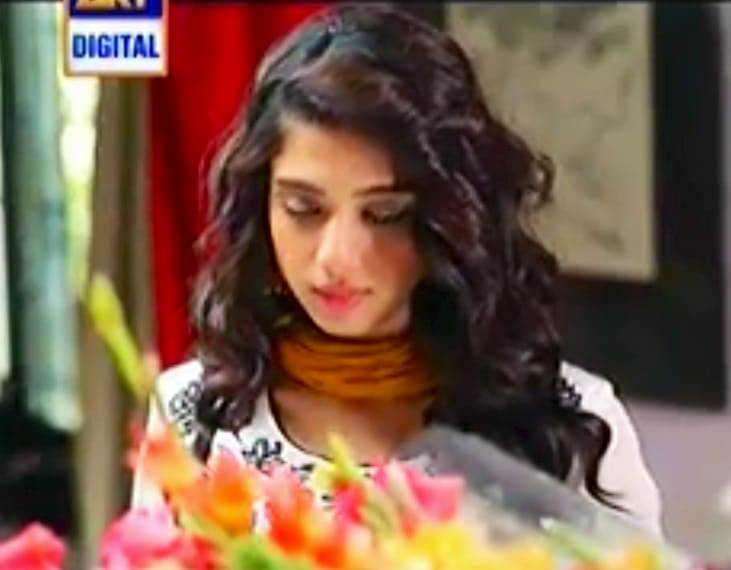 This was another one of my favorite scenes in the episode where Ahmed brings flowers for Haaniyah and she blushes and shyly takes them from him. Ahmed's awkwardness and Haaniyah's shyness was nicely portrayed by both Fahad Mustafa and Soniya Hussain. I also loved the background music played during this scene; it added another level to the scene. During the restaurant scene, Haaniyah was upset because of Ahad's phone call and she again became cold towards Ahmed. I am waiting for the time when she will initiate conversation with him!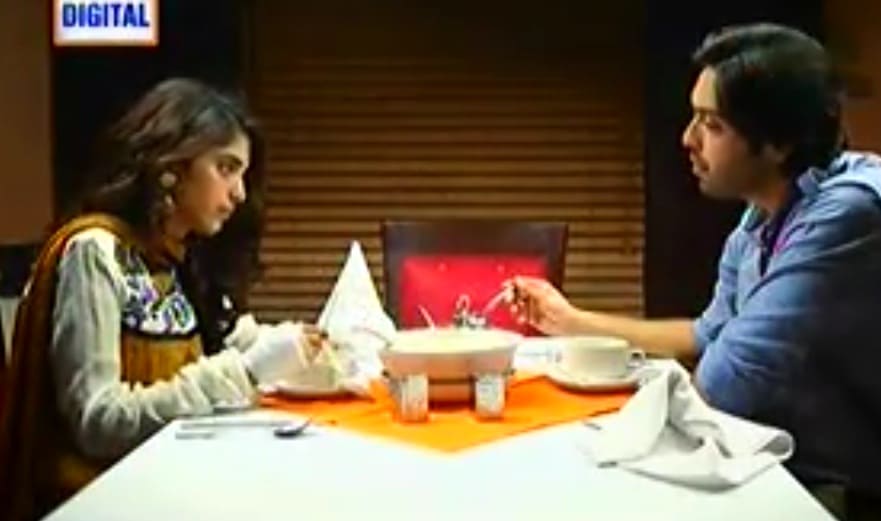 The constant fights between Samina and Ahsan is making both Ahsan and Samina's family worried. Samina wants to go back to her house, but this time her mother tells her not to come back. She was worried about Samina, and she shared her worries with Zaheer who also had the same opinion that Samina should stay at her in-laws. I completely agree with Humeira (Ahsan's mother) that Afshah is mature enough to handle her house and also deal with her strict mother-in-law, unlike Samina who fights over petty matters.
It does not seem like Ahad is going to leave Haaniyah alone and he might even start creating problems for Haaniyah and Ahmed now. He is getting more and more jealous by the day. I hope the story focuses more on Ahmed and Haaniyah; I really need a break from Ahad now!
Share your views about the episode!
Till Next Week
Mariam Shafiq