I must confess that after catching up with episode 08 and 09 earlier on today, I wasn't exactly looking forward to tonight's episode of Numm. Episode 08 in particular was badly conceived, poorly edited and there were some parts that were unforgivably cringe worthy. Watching Wali fall for Mahjabeen after so many years wasn't exactly delightful, in fact I thought it was rather distasteful since I am not sure if Wali and Mahjabeen's nikkah is actually valid and also because it was in no way the kind of sweet romance that you feel comfortable watching on screen. Add to that the most appalling flashback scene when Wali comes to Mahjabeen as a child to take refuge from the storm. Yes, this particular scene could have been interpreted in many different ways had the context been different and maybe the "romance" more subtle! Okay, enough of my rants about the previous episodes, lets talk about this one. First of all this play is not about the tradition of Vanni at all, no it is not about love and relationships either but its actual focus seems to be  ghardaari and how important it is for a woman to know how to run the house. I find the over emphasis on whether the nashta is being served on time or not, how well Mahjabeen is running the house and who hires and fires the servants rather off-putting.
The play is also about much more than the people we see in it; Mahjabeen's pin is an entity in its own right, the floral tea set seems to be a vital part of the entire story and not to mention Mahjabeen's hair! I really feel like the director is over emphasizing a few "things" which didn't require that much attention. The pin keeps on moving from one place to another and the it is upto the viewers to make out what the "travelling pin" is signifying. Okay, sometimes you are in the mood to guess and ponder upon things but many other times you just want some thought provoking but at the same time light hearted entertainment.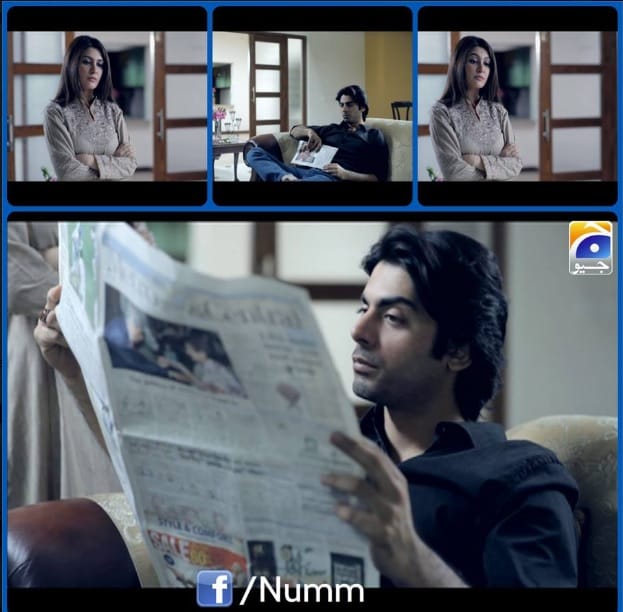 Why could't Neelam ask her mother the "weekly menu" before stepping out of the house? Neelam's mother tells her to pay more attention the house but when she calls her she suggests that Neelam shouldn't bother and let Mahjabeen take care of things! Neelam tried every trick in the book to win Wali over but it was quite apparent that Wali had Mahjabeen in his mind all the time. Neelam's attempts to take over the house could actually have been innocent and cute if Kanza Wyne's acting wasn't over the top like always. The only time I couldn't help but chuckle was when Neelam took out the burnt steak from the oven and asked Salima to taste it! Wali is stuck between two women who are completely opposite to each other; he has a long history with one and the other one just entered his life. Does that make an intriguing storyline? Well, maybe if the play was well directed and extremely well acted out but for now the direction and some of the performances have been very average.
Qasim's relation with Mahjabeen is still a mystery. I was a little surprised to hear Mahjabeen saying to him "tum hamari majburi samjho". What did she mean by hamari? Who else was she referring to? Qasim asks Mahjabeen to tell Wali about him but the viewer's were given the impression in one of the previous episodes that Wali already knew who he was since he didn't question Mahjabeen about him when she kept on asking for Qasim when she was sick.
Numm's story definitely has an air of mystery about it but is it intriguing? Well, personally I don't find it intriguing any more particularly because of the flawed direction, stagnant story and unimpressive editing. Also, this play should not have been sold as a play that focused on a social issue , "based on the unwise ritual of Vani" because there is very little of that in it. Fawad Khan has played the lover boy a million times; the guy who is stuck between two women. It is about time that he did something different.
Fatima Awan