In this latest episode, We saw a very reluctant Zaroon being 'pressurized" into getting engaged to Asmara and Asmara on the other hand flaunted her engagement ring as if she had just won herself a 'trophy husband'.  I am actually surprised that it is only now that Zaroon is realizing that Asmara may not be the kind of girl he wants to get married to. I think the sole purpose of this engagement is that Zaroon understands better what kind of a wife he wants, not that he does not already have very clear idea as to what kind of a girl he wants to marry. He has stated over and over again that he does not want a wife like Sara or his mother so how could he not see that Asmara is exactly like his sister and mother? I really enjoyed the conversation in which Asmara suggests that Zaroon should get married to Kashaf! Kashaf is very opinionated as well and also has proved to Zaroon that she is just as capable of shouting at him as any other 'feminist' but even then Zaroon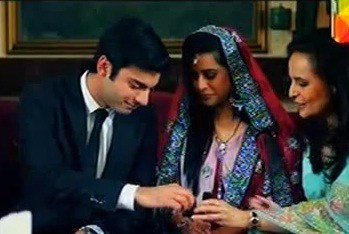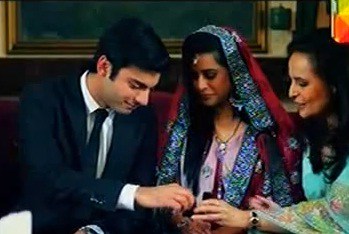 has failed to find any flaws in Kashaf. Why is that? Maybe because Kashaf takes a stand for the right reasons only and her opinions hold a solid ground.
Hammad got the welcome he deserved from all the three sisters and I absolutely enjoyed Shahnila's idea! Murtaza may have showered his son with everything that money can buy but he can never compete with his daughters where intelligence is concerned. The Murtaza/Hammad result scene was little too long for my liking but I must say that it was very real.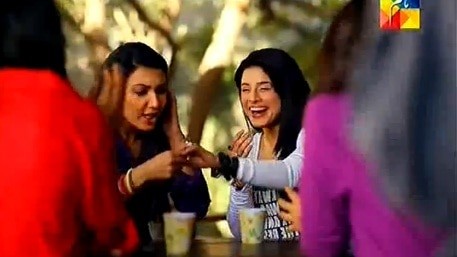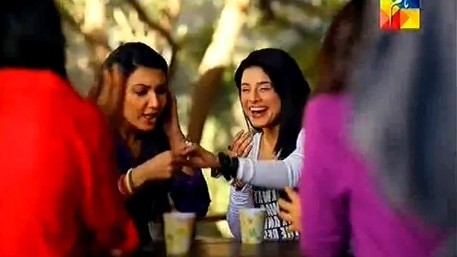 Kashaf manages to get back at Zaroon the way she knows best and the look on Kashaf's face was priceless. For now Kashaf and Zaroon are going to go their separate ways because college life is over. Zaroon and Kashaf both know only too well what they want to do with their lives and I am glad that Zaroon paid no heed to Asmara's advice.
The scene where Sidra says to Kashaf , "paise tu tumhari nazar mei bhi buhat ahem hai" was spot on, Kashaf's reply was one that we don't get to hear in our dramas everyday and one that made me like her character more. It did not take Kashaf long to answer Sidrah's question because there is no confusion in her mind about what she wants from life.
Overall this episode had a little bit of everyone and was not as intense and exciting as the previous two. I am not looking forward to the fact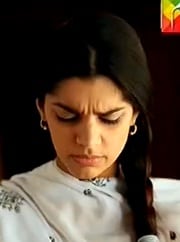 that the next couple of episodes maybe more about Zaroon and Asmara than Zaroon and Kashaf because the Zaroon/Asmara track  usually gives me the feeling that I am watching the same scenes over and over again. I wish Zaroon wouldn't have gone ahead with this "experimental" engagement, he really should know what he wants better than that! Sara's constant cribbing about Farhan not being the "sweet and obedient' husband she expected him to be was another part that seemed repetitive since Zaroon has lectured Sara about similar issues many times before too and sometimes I feel like these siblings have nothing better to talk about. I did not quite enjoy the hype surrounding the engagement in the University and many of the other scenes could have been shorter too. In short, after the fireworks last week this episode seemed a little too mellow.
Fatima Awan.