Wow!! This latest installment left me spell bound and I am at a loss for words. Let me start by confessing that I have been extremely stingy till now when it came to appreciating Fawad Khan's power packed performance as Zaroon which left me awe stricken week after week. Fawad Khan truly is very gifted and he has completely nailed his character in this serial. He is a powerhouse of talent; surely someone who is the king of expressions and does not falter even for a minute. Scenes that would appear strictly okay on paper are turned into moments we fall in love with solely because of Fawad's brilliant performances. Armed with the perfect combination of looks and talent, this gentleman will surely go a very long way. A special thank you to him for putting his best in all of his performances.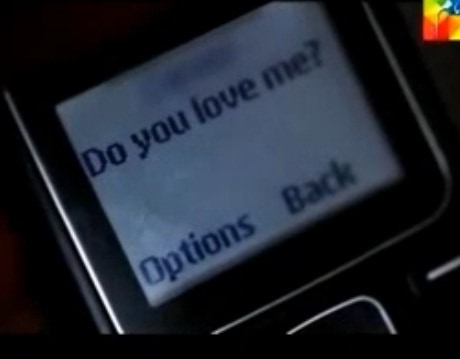 Love is in the air and whether Kashaf says it out loud or not the fact is that she is indeed head over heels in love with Zaroon. Kashaf's insecurities and fears do not allow her to admit freely even to herself that she is in love with the man she despised once. Today's episode had a lot of aww-going moments and some scenes really made me wonder what was in store for Zaroon and Kashaf next. There is absolutely no denying the fact that Zaroon Junaid will do everything in his power to change Kashaf from the unromantic person she is at least on the surface to someone who shows her feelings more openly. There were several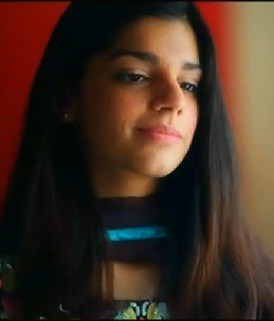 times in today's episode when Zaroon told Kashaf what he expected from her. He wanted her to call him when he was on his way home to ask if he was okay and told her just that later on when they talked but Kashaf was still apprehensive when she went to open the door for him later and finally decided not to do it. Zaroon rightly thought that no one had been waiting for him "Mujhe koi asaar nazar nahi aa rahe" but he did not hold his feelings back and messaged Kashaf right away and both of them had the sweetest conversation. Zaroon Junaid is not afraid of telling Kashaf over and over again that he loves her and I am waiting for the time when Kashaf will finally learn to trust him because according to Kashaf "Shohar bun ker murd ziada naqabal-e-itebaar hote hei"…one can't blame her for thinking this way given her circumstances. Zaroon, like a man madly in love waits for Kashaf to say those three words to him. Kashaf has gone from being "churail Murtaza" in Zaroon's life to his "wife" and Zaroon has gone from being "leechar" to Kashaf's "husband" and what a beautiful journey it has been!!
What Kashaf said to her mother about her being a working woman and how she will not be able to look after or care for Zaroon the way a housewife can was very alarming indeed. Will this attitude/thinking of Kashaf create problems between the two in the future? I could not help but wonder. The rose that Zaroon gives Kashaf reminds her of all the flowers he must have given the girls in the past, so Kashaf is still far from forgetting the past but despite of it all Zaroon has managed to make a very special place in her heart.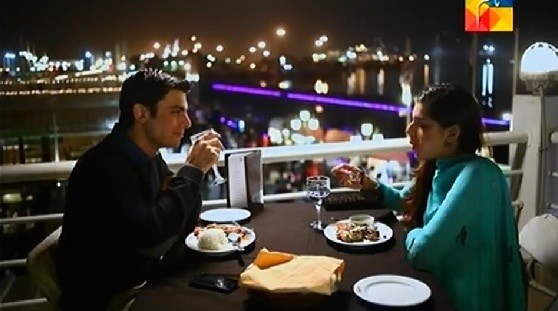 In the last episode Zaroon was complaining that they don't talk enough but today we saw Kashaf and Zaroon talking about everything, from their past to present and even Asmara. The most interesting conversation had to be about Zaroon being a chauvinist and the reason why the engagement with Asmara ended. The way Kashaf explained to Zaroon what she expected from a marriage and the manner in which Zaroon told her that he didn't want to take a backseat in any way, made for a very interesting conversation and what was more interesting was that Kashaf ended it by saying " is topic ke bare mein hum dubara baat kare gay". I would be looking forward to that particular conversation for sure!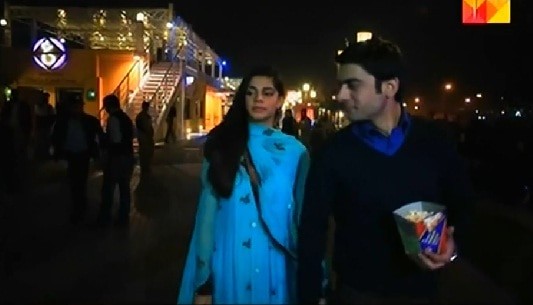 Sanam Saeed matched Fawad Khan every step of the way today. Her expressions when Zaroon asks her if she loved her were spot on in particular. This had to be one of my favorite episodes of Zindagi Gulzar Hai till now; every scene was wonderfully executed and the credit for that surely goes to Sultana Siddiqui. Umera Ahmed's dialogues were superb like always and I am sure we will be quoting a lot of them all week long. The next episode seems to be about Zaroon spending a night at Kashaf's house…wish guaranteed?? But is it really what he had expected? We will find out only next week but the precap suggests most certainly not. It seems like Zaroon is in for a reality check in the next episode. Really looking forward to it.
Some of my favorite dialogues/scenes from today's episode ,
"Fikar kurni chahyeh use meri, accident ho sakta hai mera. Koi pata thori hota hai aaj kul"
 "Agar khawahish kur rahi ho tu mei kur sukta hun tumhare saath flirt
Tum ne aik dafa koshish tu kur li hai, Kia kamyab huvey? "
 "Khidmat aur khayal ka totka tu hamesha kaam ata hai, har zamane mein"
 "Mujhe nahi pata tha ke tum is qadar sust admi ho sakte ho"
 Kashaf's biggest misconceptions,
"Apni zindagi mei anay wali hur achi cheez se dur lagta hai, mujhe lagta hai who aise hi khatam ho jai gi"
 "Zaroon ko mere khyaal ki zarurat nahi hai, waise bhi us ka khayal rukhne wale buhat se log hei"
 Do share your favorite dialogues and scenes from this latest installment.
Fatima Awan.