Zindagi Gulzar Hai Episode 9 – Going Strong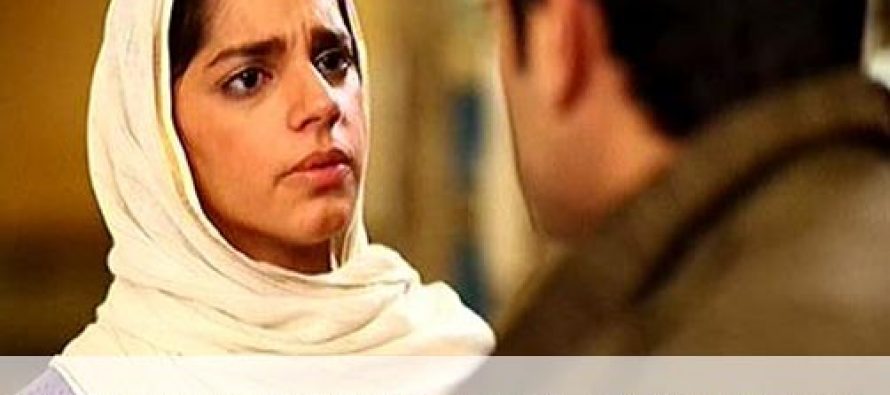 Zaroon I pity your thinking and you deserved every word of the insult that came your way today. Zaroon is a very chota admi for sure and he proved it today. That was one conversation which Kashaf should not have overheard, I really felt for her since she joined the university to study so that she could help her mother out of her misery but because of his own petty reasons a spoiled rich boy decided to take Kashaf up as a challenge and that just made things even more difficult for her. Kashaf totally won me over today, she was absolutely right about Zaroon and I am even happier now that she did not give into Zaroon's charm. Zaroon has met his match for sure, the one week deadline must be ending soon enough and Zaroon is nowhere near achieving his 'objective'. Kashaf has an answer to all of Zaroon's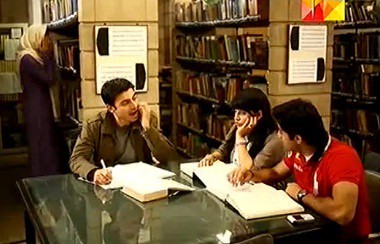 questions and more. Zaroon was so right in comparing Kashaf to a jigsaw puzzle; he couldn't have drawn a more apt analogy. Anyone who enjoys assembling jigsaw puzzles would know that a puzzle seems even more appealing when it is very complicated and once you put all the pieces together the satisfaction you feel is unmatchable. Kashaf is the most complicated girl (jigsaw puzzle) Zaroon has ever come across and he will do anything to put all the pieces together!
Zaroon completely lost my vote today and For once I have to say that I agree with what Asmara had to say about Zaroon, he is a hypocrite, he is not sure if he wants to get engaged to Asmara but at the same time he won't tell her to go on with her life and get married if she wants to. Until the last episode I thought that Zaroon just needed to grow up but boy was I wrong or what! Zaroon needs to learn a few lessons about girls in particular in life and Kashaf is the one who will teach him all those lessons the way he should be taught! When Asmara asks Zaroon about inviting Kashaf to Sara's wedding, he tries to change the topic by saying "Maria ko tu buk buk krne ki adat hai" before he tells her that he did invite Kashaf, another reason why Zaroon lost my vote today. He does not even have the guts to say yes I did invite her so what!
Fawad Khan was at his best when he was fuming after the confrontation and Sanam Saeed owned the confrontation scene; Kahshaf's instant reaction when she overheard the conversation and the way she pushed Zaroon was absolute delight to watch, action packed and exciting. I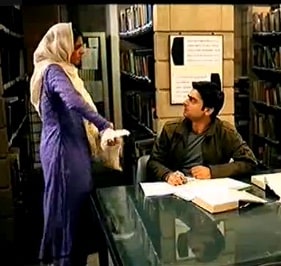 must give due credit to the director Sultana Siddiqui for doing a wonderful job of directing that scene in particular and the whole episode in general. And of course the scene could not have been so perfect and the story so interesting if it wasn't written so well, so a very special thanks to Umera Ahmed for penning down another exciting play for us.
Osama constantly kept on reminding Zaroon that he was wrong and I could not help but wonder how he managed to be friends with Asmara and Zaroon for this long. He seems like a decent boy and not a spoiled rich brat with lots of money and no feeling like his friends. Osama you need to find yourself some good friends! Osama's friendship with Asmara and Zaroon is somewhat the same as Maria's friendship with Kashaf; two people who are entirely different from each other.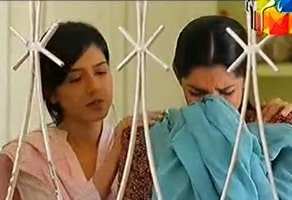 Kashaf's feelings after the incident were completely relatable. She is a girl who holds her self-respect dearer than anything else and even after trying so hard to earn herself a respectable position in the university, there is absolutely nothing she can do to change the thinking of men like Zaroon. What she does not understand is that what Zaroon said about her said more about him than about her. Kashaf is the sort of person who reacts first and thinks later and that is exactly what happened this time around too. She decided to leave the University but it only took her a couple of days to realize that her decision was wrong. Kashaf is all set to go back to the university with the same confidence and assurance, you go girl!
There were no Nigar/Murtaza scenes today so I am sure there are many happy viewers out there who did not miss these two one bit. There was however mention of Nigar and Murtaza and I am sure we can all live with that! Rafia finds out about Murtaza spending the money on the house and is rightly heart broken. Kashaf will do her mother proud one day and I am wating for that day impatiently.
Mansha Pasha deserves praise for doing full justice to her role as Sidra and like always Sidra proved to be a great listener. The scenes with the two sisters in them were perfect and are a very important part of very episode.
The precap suggests that things move forward quickly in the next episode and I am impatiently looking forward to the next installment. Today's episode was engaging and exciting and I have a feeling that Zindagi Gulzar Hai will keep us looking forward to more.
Fatima Awan.
Fatima Awan
Fatima Awan has been a part of reviewit right from its inception. She feels very passionately about Pakistani dramas and loves discussing them to detail. If it wasn't for the play Durr-e-Shahwar she wouldn't have started writing!
---