Opening Thoughts:
Ohkay so, this episode of Balaa was nice & took the story forward a great deal however I dread that things might start to get dragged from now on considering Nigar will get what she wants & she will continue to fool Taimoor's too-good-to-be-true family. Things might get monotonous with Nigar winning every single time but I wish we get to see her real face coming through as soon as possible!
Developments:
Saba eloped & left everyone broken hearted, with Rashida to Shama to Taimoor & his sisters. The only two people happy with this entire scenario were Zafar & Nigar. The writer quite intelligently showed the ripple effect where Nigar's selfishness literally ruined everyone's life & one move of hers destroyed everything. Nigar stumbled upon Saba & Mateen that is when she devised a plan of helping them out & using Mateen to throw Zeba out of Junaid's life too. Even though Zafar loves his daughter but his love is exactly the reason why Nigar has become so evil. Zafar's love has brought out the worst in her & it is the worst a father can do for his child.
Nigar wanted Taimoor & because of one desire of hers, she went to such an extreme that people around her had to bear the consequences. Rashida died because she could not deal with what Saba did. Zeba died because of what Junaid did to her too & all this happened only because of Nigar. Taimoor was not himself anymore & I liked how it was shown that for the first time it was hard for the entire family of a guy to deal with what happened. I liked how the writer didn't show that Taimoor moved on quickly forgetting what Saba did. Taimoor's question to Rashida about knowing that Saba liked someone else was spot on, it was basically Rashida's stubbornness that also pushed Saba to do something like this plus with Nigar's generosity, both Saba & Mateen got the edge & the courage to run away!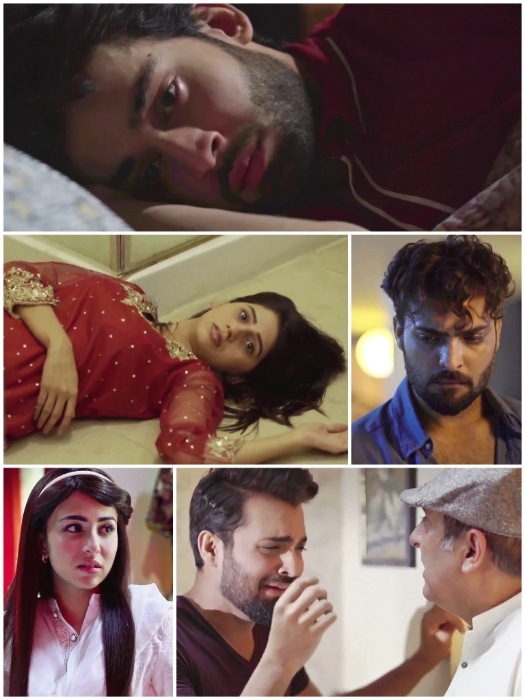 It was unfortunate that Zeba's character made an exit just like that. I wish the writer had turned her into a strong independent woman who had later succeeded in unveiling Nigar's reality in front of Junaid. The way Zeba left rather seemed like a convenient way that the writer chose to deal with her character because right from the beginning it was suggested that Zeba was a helpless soul!
Junaid on his own was dealing with depression as well. Junaid & Taimoor are both victims of Nigar's desire, her evilness & her selfishness & what is upsetting is that she puts on this facade which makes her look so sweet. I will add though that Shama's emotional dependence on Nigar seemed a bit out of the place though. It is nice that Shama only believes in seeing the good in people but then to ignore the perspective & look out of her own children isn't justified either. Shama knows too well that Taimoor does not like Nigar so to hear her take Nigar's name as Taimoor's future wife was upsetting. Shama is committing the same mistake as Rashida & considering Rashida was her best friend, Shama should have learned from her mistakes. In Rashida's case, Saba had a way out but in Shama's case, Taimoor will only sulk because he won't find a way out as he will eventually agree to his mother's wish of marrying Nigar.
The story of Balaa so far has shown Nigar & Zafar winning & it has set the ground for them to play but I am intrigued to see how Nigar's reality will surface & what will be the end of her? I wish the writer does not show that committing such crimes for your loved one is justified by forgiving Nigar's character in the end. She should definitely face the brunt of ruining so many lives.
Closing Thoughts:
Overall this episode of Balaa was a decent watch. I liked how the writer covered the mindsets of Taimoor & Junaid – two people who lost everything in love – two people who are victims to someone else's evil plans. Junaid however had the option of standing by his wife right till the end but he gave up because Zafar & Nigar didn't let that happen but still, there was a chance which he lost. Taimoor however is a pure victim but let's see if he will ever confront the evil in his life. Please share your thoughts about this episode of Balaa.
Keep Supporting,
Cheers,
Zahra Mirza.