Geo TV is currently passing through a phase of uncertainty which raises doubts over the prize money of recently concluded Pakistani Idol. But finally Geo TV has awarded the prize money to Zamad Baig, the winner of this show.
Here is what English Daily The News has reported
Pakistan Idol's first champion Zamad Baig was honoured yesterday in a ceremony held especially for him by Geo TV at their office. Imran Aslam, Geo's president, presented Zamad a 25 lakh-rupee cheque as promised, along with a key to a spanking new Honda City Aspire. Well-deserved, Zamad! –
"The channel may have been suspended, but that does not stop us from fulfilling our promises. Geo has always fulfilled promises," said Mr Aslam. "I am very hopeful about Zamad's future. He will go far with the immense talent he has displayed on the show. He's
already a youth icon," he praised the rising star.
Zamad sufi-rocked his way into the homes of Pakistanis world over, adding the magic of his brilliant vocals to popular melodies episode after episode. Most fans rooted for him since the auditions.
"I'm very thankful to Geo for providing me with a platform to display my talents and abilities. And, of course, I thank all the people who watched me sing and encouraged me," said the star, who sure has a lot of opportunities in front of him.
We wish Zamad Baig the best of luck and hope he enjoys the new slick ride along with a sparkling career. This is just the beginning for Zamad to take the world by storm.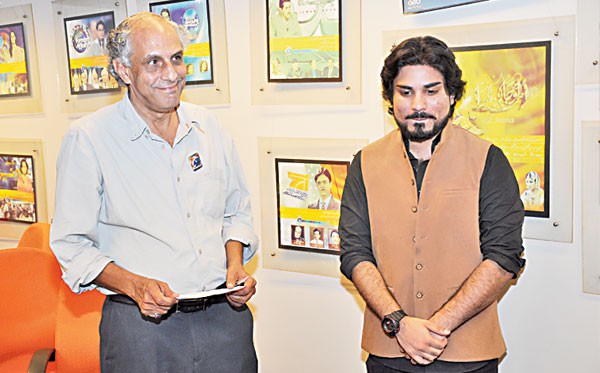 – See more at: http://magazine.thenews.com.pk/mag/detail_article.asp?id=8171&magId=11#sthash.1j9VzmkG.dpuf
Rashid Nazir Ali