"I don't want to see a future where I am going to do voice acting on someone else's face; that is simply outrageous!" said by Humayun Saeed in reference to the Turkish plays aired on Pakistani channels. At one end where there is a hype created by foreign play like, Ishq-e- Mamnoon, where its mega hit all over the middle east has brought highest rating , the silence of endangering Pakistani drama industry has grown to such as extent that Saeed hypothesis concludes that "If such serials start running regularly, then there will be no audience for Pakistani content," whereas ,veteran television and stage writer-director Khalid Ahmed says "he is glad that better quality programming is being broadcast in Pakistan". What about aagan tera, Alpha Bravo Charlie, Dhuan,etc which were used to be few of the many Pakistani legendary dramas and still there are many broadcasting like Humsafar, but now is it the quality of production or the invasion of foreign plays in Pakistani industry that is leading to endangering or extinction of Pakistani actors.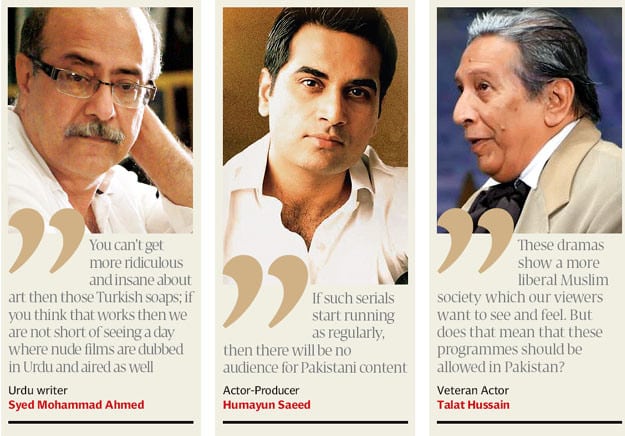 "Our local production standards are very low; if we don't raise them then in no time these dramas can eat us up," says Rashid Khwaja — President of United Producers' Association (UPA). "However, stopping the influx of foreign content is not the solution," Khwaja tells The Express Tribune. Shutting off foreign plays is the only solution to end the dispute of extinction? According to Khawaja it is not! As he said, "The consumer will not let it happen because now we live in a global village and he will find access to it somehow but the stakeholders need to sit down and develop a new model of 'high-scale drama production' that is economically feasible to both, the producer and the channel". Syed Nabeel the TV artist requested to limit the foreign channels by quoting one of his friend's words, "I wish my son will say asalamualaekum one day instead of Namaste".
The professionals and Pakistani actors have a compound opinion on what can be considered the biggest foreign invasion on Pakistani television since Indian shows, now it seems like Turkish and Indian soaps are replacing the Pakistani dramas. At one end where they are gaining popularity among the Pakistani audience they are becoming the greatest threat to Pakistani actors, culture and to the industry, same concern is being portrayed by Syed Mohammad Ahmed who believes that the Turkish soaps are not only a threat to the drama industry, but also to Pakistani culture."This is absolute cheating with the local drama industry!" says Ahmed. "You can't get more ridiculous and insane about art then those Turkish soaps; if you think that works then we are not short of seeing a day where nude films are dubbed in Urdu and aired as well. If things go on like this, then it won't take much time for Pakistani artists to go jobless," says Ahmed. Khalid second him saying "These dramas show a more liberal Muslim society which our viewers want to see and feel".
Though audience demands for such dramas but that doesn't mean they should be given that is slowly poisoning them and their culture. Hussain said in response to broadcasting such soaps elegantly by saying "But does that mean that these programmes should be allowed in Pakistan? Certainly not — until or unless a dubbed Pakistani drama is playing in Turkey." Hussain also showed concern that culture differences will definitely cost us in long term effects.
Bushra Ansari and Faisal Qureshi also criticized the foreign plays and showed concern and lash out regarding the accelerated indulgence of foreign plays into Pakistani drama industry. The Facebook page has been also created to get audience responses towards the protest and lash out by actors and just within 3 hours the 47, 219 people like it and in the favor of decreasing the foreign plays indulgence to our society.
Pakistani drama industry is the only growing industry in Pakistani, threat to it is not only threat to Pakistani actors and their jobs but is also a threat to Pakistani culture as on day the foreign culture will definitely influence our generation. Will you allow your culture and own people to suffer just for the sake of entertainment? I guess I leave here to receive your comments and views.
Regards