So, another Big Bang Entertainment production – if I am not careful I am going to end up sounding like a spokesperson for Big Bang or its competitors' for that matter, depending on which way my review flows! Written by Naila Ansari and directed by Aabis Raza, Tum Yaad Aye is being aired on ARY Digital on Thursdays at 9pm.
With the kind of dramas making their way out of Big Bang's production house and my most recent watch being Mera Yaar Miladay, I was a bit wary when I sat down with my cup of tea and tuned into the first episode. The drama starts off with Sherry (Agha Ali) trying to persuade Abba (Nadeem Baig) to allow Zainy (Seher Afzal) to have her own mobile phone to which Abba eventually and reluctantly agrees. We also see how Sherry and Zainy aka Zainab are later bickering like siblings do and Abba comes along and confiscates Sherry's phone for not giving Zainy attention. I found it rather odd how in this day and age and in a seemingly upper middle class and educated family, a father is demanding to know the password to his 26 son year old son's mobile phone and taking it away from him as you would from a teenager. I found it odd too that Zainy did not own a mobile phone but later we see she is an A-Level student ( I did not have a mobile phone when I was in A-levels and my kids are too small yet to have one anyway so not sure what the scene is nowadays as to how common it is for a teenager to have their own phone or how odd it is if they do not) but I surely did not think Zainy was an A-Level student – seemed older to me.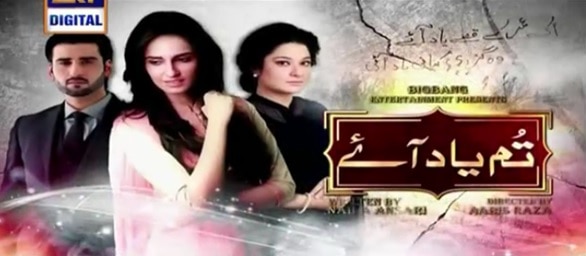 Anyhow, back to the drama. Mehtaab (Saania Saeed) is shown to be a teacher/ university professor and Abba's wife. I didn't quite get the name of Nadeem Baig's character in the drama. Later at home when she is brushing Zainab's hair, she mentions to her that her Nigaar Apa is arriving soon with her husband and children to live with them for a few months and how it is only fair as uss ka bhi haq hai iss ghar pe. Annnnnnnnnnnnnnnnd then …the rest of the drama is piecing together kaun kis ka bhai, kis ki ma, kis ka crush…kis ka what???!!
So, here's what I gathered – correct me please if I got confused along the way.
Abba (Nadeem Baig) has two children – Nigaar and Sherry. Before her mother's death, Nigaar gets married and moves to susraal. Some time later, Abba marries Mehtaab. Mehtaab already has a child – Zainab – from a previous marriage. During a conversation with her husband, Nigaar (Erum Akhtar) scornfully says to him something along the lines of Mehtaab being his first crush (what now?). It turns out that Nigaar's husband and Mehtaab were class fellows at one point (the actor playing the husband and Sania Saaed sure as hell do not look like they are of the same age bracket, but oh well). So back to the original family, Sherry seems to be close to Zainab and accepts her as his younger sister, Abba loves Zainab as if she were his own, Nigaar can not stand Zainab or Mehtaab which results in a lot of friction between her and Abba. I am curious as to what Sherry's relationship with Mehtaab is like. Except for the scene where she tells him of how Abba crashed the car into a 'khamba' there was not any direct interaction between the two.
The first episode has managed to catch my interest for now, to be honest. I liked how there was no dramatic lighting, undue emphasis on big sprawling houses etc. It is lovely to see Sania Saeed in a more 'normal' role again after the eye sore she had become in Aitraaz. Maybe her character in that play required her to dress up and behave that way but I have always liked her and thought her to be an amazing actress and somehow I wasn't able to stomach her appearance in Aitraaz. Nadeem Baig, Agha Ali and Erum Akhtar seemed to fit in effortlessly into their roles. The actress playing Zainab is new to me – has she appeared in any other dramas? I think she has acted well so far.
The preview of the next episode suggested trouble between Mehtaab and Zainab – another twist in kaun kis ka sagga and kaun kis ka sotela maybe? Agha Ali and Seher were convincing as siblings but something tells me that there may be a strange twist to that as with the way the story has unfolded, they really aren't siblings are they? Sigh. I get that Abba is all about Mehtaab being his wife and Zainab his daughter but I did find him being a bit too stern with Nigaar. However, we are also led to believe that he married Mehtaab many years ago and after Nigaar had been married and that whenever she visits she only tries to stir up trouble and ill feeling so maybe he has grown weary of that attitude. I guess we will find out as the drama progresses. What did you guys think of the episode?
Kunwal Javid