It was recently rumored that Fawad Afzal Khan might make his entry in the world of Bollywood. But now it has been confirmed that Fawad Afzal Khan will be seen in a Bollywood flick pretty soon
This news was reported a few days back:
Fawad Afzal Khan has already left to shoot his Bollywood movie. He was offered a role in Bin Roe Aansu, but rejected it due to his Bollywood commitments. After he returns from his shooting for the Bollywood movie, he will start shooting for the upcoming Pakistani movie by Sultana Siddiqui
It has been a few days since he left to shoot his Bollywood movie. So, most probably we would not see him on the Television for at least a year or so. But the good news is that he will come back and shoot for the untitled movie produced by Sultana Siddiqui, which has been in news for quite some time now. Previously, it was in the news that Humayun Saeed has been casted instead, but that turned out to be a rumor. Following the lead of Humayun Saeed, Zeba Bakhtiar and many other big budgeted movie producers in town; now Sultana Siddiqui will also invest in a movie with a grand cast whose male lead has been finalized as Fawad Afzal Khan. Sultana Siddiqui is still searching for the female lead and hopefully, she will also get finalized very soon. It has also been in the news that the shooting of her movie will be held in Malaysia.
Fans have been enraged as to why Fawad Afzal Khan was not casted for Bin Roye Aansu since its cast has been revealed. There was a lot of hue and cry by fans for not casting their favorite leads of 'Humsafar' together. Well, now they have the answer to their question. He had his dates filed with his upcoming Bollywood movie, and that is the reason why he could not take up the show.
In the meantime, Fawad Afzal Khan would also be seen in The Green Star Charity Fund Raiser this Eid in London. There will be a huge event on the 20th October, 2013, and he will be accompanied by stars like Sajjad Ali, Qurait-ul-ain Baloch, Shafqat Amanat Ali and Umer Sharif. Fawad Khan has always been an active participant in charities, and we hope that this event will also be a huge success!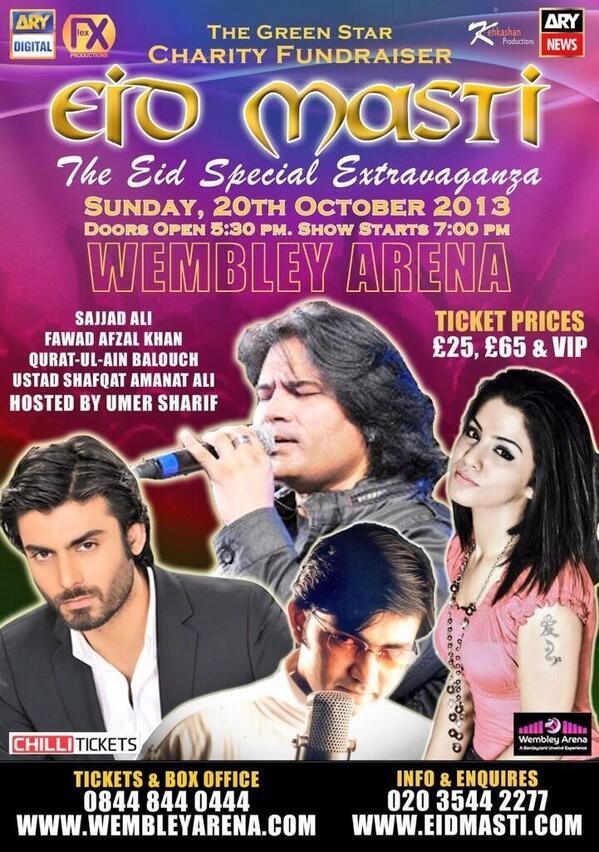 The downside of this news is that we would not get to see Fawad on Television for at least a year or two, but the upside is that he is not going anywhere, and will be seen in Sultana Siddiqui's movie next! The revival of Pakistani cinema has just started; after the success of Main Hoon Shahid Afridi, it has been heard that Humayun Saeed is looking at three more scripts and is planning to return with more movies that will be a notch higher than Main Hoon Shahid Afridi!
Stay tuned for more updates!
Share your views about the news!
Mariam Shafiq