Having written a few reviews the past couple of weeks, I had to sit through the entire episodes instead of fast forwarding some scenes as I usually do. As a result of paying closer attention, I was drawn to quite a few hilarious similarities in most dramas and thought I would share those. I wanted to be sure that I am not repeating anything if an article about this has been covered on this website before so I went through the archive and came across a couple but after reading them and the comments, I have tried to ensure there is no duplication. However, if by any chance there is an overlap by any chance – it was not intentional.
Right. Now that the disclaimer is done, I have tried to put everything into three broad categories.
The characters:
Jack of all trades:
The actor that made me think of this phrase in the first place has been a doctor in Tere Baghair, a senior executive in Sehra Mein Safar and what not. Another actor often seen in his trouser braces again pops up in every other drama mostly as a doctor. I tried checking the credits of the dramas they appeared in and then googled random names off the credits but as much as we see them in every other drama – I could not trace them on the internet and then gave up as it was too much effort. Then again, they say a picture speaks a thousand words – these should be able to jolt your memory!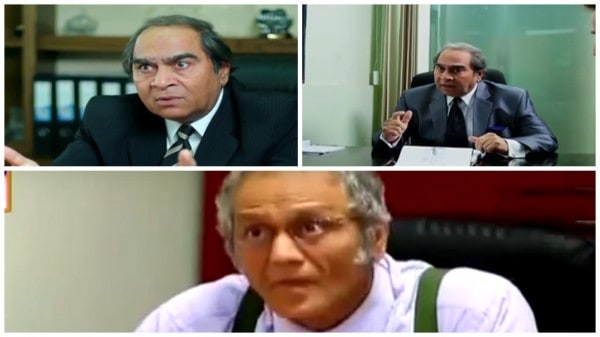 Inspector Gadget – rather his grumpy assistant Chief Quimby:
I remember watching Inspector Gadget as a kid and I know there are several popular mystery/detective characters that have evolved after that but I do not follow any of those shows. This award in my opinion definitely goes to Huma Nawab. Ever since she has returned to TV all I see her do is play negative, suspicious characters with her head tossing side to side and eyes narrowed. She was the suspicious mother in Dua and then in Judai she is the ever interfering wife/friend.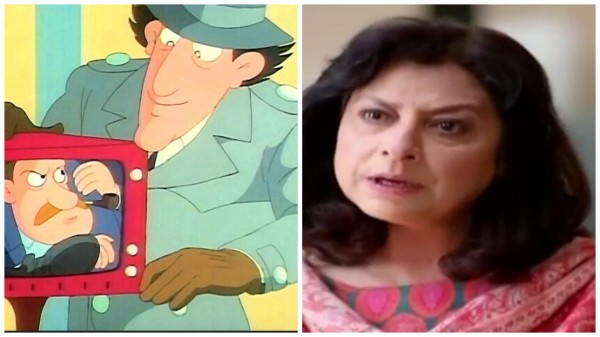 The hyena:
Much as I think her acting has improved considerably and I actually enjoy watching her in Tere Mere Beech but once Sanam Choudhary is agitated or angry or upset or anything (!!) she shrieks and does she shriek! I am not being mean for if she has a high pitched voice that is God given but to push that voice to the very limit feels like scratching nails on a chalkboard!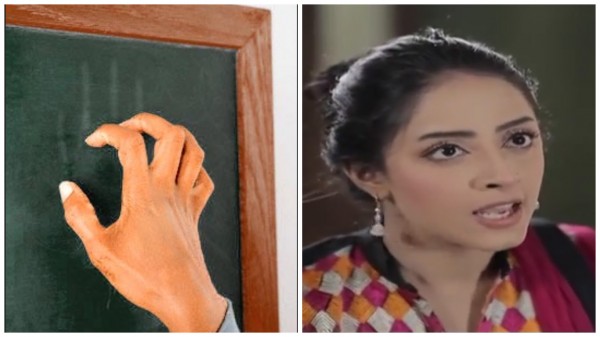 The tutors!
And in abundance! Hamza Ali Abbasi in Man Mayal, Ali Kazmi in Sehra Mein Safar, Noor Hasan in Kisay Chahoon and Affan Waheed in Bhai. Don't shoot me, I do not find all of them attractive personally but they are presented as young good looking tutors and all I can remember is that we did not have such tutors rather the old Sri Lankan tutors during our O and A Levels! Hmm.
Howling (wailing) wolf
Aha! Who else could this be but Shaheen Khan. Can't put a face to the name? Even if I did not post the photos below you would still guess who she is when I say she was the wailing mother in Chup Raho, wailing khala in Ishq Parast, wailing phuppo in Tere Mere Beech, wailing mother in Kisay Chahoon – in short, the wailing wolf. I swear, the moment this woman opens her mouth I hit the forward or mute button because I know it will only be a whole lot of howling, rona dhona, hands wringing, the works.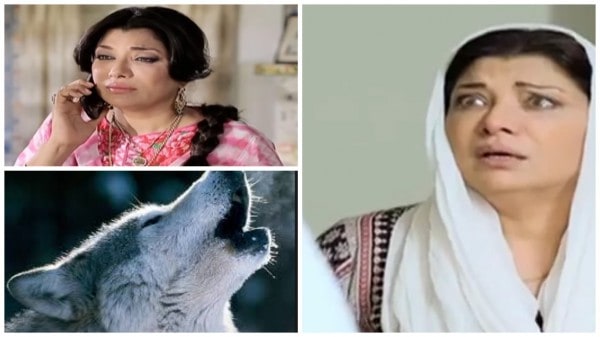 The bemaar weepers
Rubina Ashraf takes the cake in this one with Sonia Hussain a close second. In dramas such as Kitna Satatay Ho and now Gul e Rana, this woman seems to be struggling to breathe seriously! The more she gasps, the more devoted a mother she is. I think! Sonia Hussain although handles the flippant natural roles so effortlessly, the second she starts to cry seems to be asthmatic too.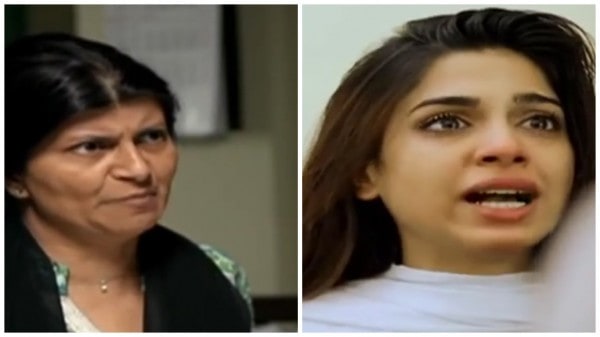 The mirchisssss
I could not think of what else to call them! Sara khan seems to have risen as an actress but the way she talks has this ring of 'ssssssssssss' to it as does Ushna Shah when she does her crying scenes – as if constantly mirchein lagi huee hon!
This brings me to the second category – the ghissi pitti lines. I know there are plenty more but I think some have been mentioned before and some I can not think of right now so here's my list:
Aap mazaak tau nahin kar rahay? I am still waiting for the 'joker' in question to actually reply with a haan, mein mazaak kar raha tha hahahaha!' Ugh!
Meri baat tau sunain – This line really puts me off. Ab jitna time and energy and even words the person wastes in saying that, utni dair mein asal baat bol bhi do!! This happens in every other drama but the one I have never forgotten was that wretched Nadia Bhabhi (Mawra Hocane) in Ek Tamana La hasil si. Oh man, the amount of thappars and chappals she got and all she could say (a thousand times at least) was meri baat tau sunain!!!!
Aray aap agaye?! Nahin, I am hanging like a bat outside your front door. That line is quite addictive I must admit – I have almost caught myself saying something similar when the person is actually standing right before your eyes, in the flesh!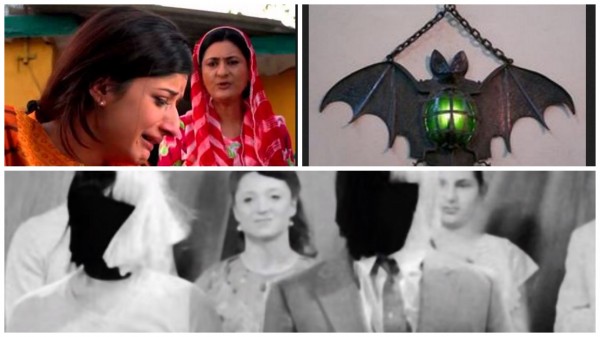 Hamaray moo par kalak mal di – I had grown quite used to that line and did not realise how used to it I was until I watched the video of this new song of Sia ft. Sean Paul 'Cheap Thrills'. The pair dancing literally have kalak-ed faces and I burst out laughing because the first thought that came to my mind when I saw them was this line. Do look it up if you have not seen the video already!
Mujhay aap kay kaam apnay haathon se karna acha lagta hai – or was it khushi milti hai. That one just sweeps right over my head. Okay I get the cooking bit but washing the shirts, ironing?! And I am referring to those drama households where there are servants but the dutiful, loving wife does everything apnay haathon se. I happily chuck my husband's office shirts into the washing machine without checking for any marks and have come quite close to one of those old Brite ad scenes where the guy throws his 'pagri' down in anger because it had a mark on it and the woman trembles (haha – just kidding but why offer to wash shirts yourself?!).
Slice lain gay? I will not cover any breakfast lines or scenes as I noticed they were mentioned in another article I read but I do not understand this 'slice' business. I spent 15 years in Pakistan growing up and we said bread or toast or 'dabbal roti' but slice? And it is not used as 'would you like a slice of bread' in fact, it is used as 'slice par makhan' or 'slice aur anda day do'. Hain?
Khushkabhri: This one is a prize! I agree babies are a huge khushkhabri – I have two of my own alhamdolillah. But it is funny how instead of saying so and so is pregnant or you are about to become a father/grandparent – it is always 'khushkabhri hai ' and everyone smiles in delight as if there could be no other possible meaning to that word. Makes me laugh thinking suppose a guy (single) in a drama is promoted at work and announces to his mother Maa, khush kabhri hai and maa ka heart fail ho jaye keh hain, shaadi kab kee mujhay bataya tak nahin?!
Haye mein barbaad ho gayee – instantly images of bombs and destruction flash in my mind but nah,all I actually see is a hatti katti aurat. Hmm.
I could go on but I will stop there at the crazy lines. The characters and lines were what made me laugh but there are also some common scenes:
The ever looming heart attack: Man! Beti nay shaadi se inkaar kar diya – heart attack! So and so ka accident ho gaya – mum goes and has a heart attack where as the one who was in an accident survives but upon hearing that mum had a heart attack suffers one himself – wait,who survived in the end? Salan mein namak daalna bhool gayi –heart attack! It seems as if the slightest thing will definitely bring on a heart attack. But heck, Firdous Jamal in Mera Yaar Miladay shakes and wobbles and keels over every other second and I feel before he will have a heart attack he will give me one!
Eavesdropping:  if the characters in our plays ever closed doors when having a conversation or talking on the phone – the story would never move forward. Plotting, planning, declaration of love – you would get to know all only if you hang outside half opened doors.
Helping hubby with the blazer: I almost deleted this one thinking what if I offend anyone who actually does this in reality, because it sure as hell happens in almost every household in the dramas when hubby is off to work. Someone please explain this to me – sign of love or avoiding getting creases or stuck struggling to get the the other arm in when one already is?!
I could go on but I had to scratch off a few off my list when I read them already mentioned in a couple of other articles. In the end I know I should say the writers and directors really should do something about changing these clichéd lines/characters/scenes but heck, what's a Pakistani drama without all this eh? Are there any characters or dialogues that drive you up the wall? Would love to hear them and your thoughts on this article!
Kunwal Javid