It is more than a pleasure to state that this time, Pakistan will be making its way to the Oscars award ceremony which holds significant importance globally. The recent release of Pakistani movie 'Zinda Bhaag', starring some veteran actors like Naseeruddin Shah, is all done with its premiere and will be releasing nationwide on September 20th. 
We did share a report on Pakistan's participation in Oscars and stated that Pakistan Academy Selection Committee (PASC) has been established to make sure that the best content is been nominated for Oscars. The committee has nominated Zinda Bhaag for oscars and more to delight, the Academy of Motion Picture Arts and Sciences will choose the final nominees for all award categories including Best Foreign Language Film by 8th January 2014. The complete and final list of Oscar nominees will be announced on 16th January 2014.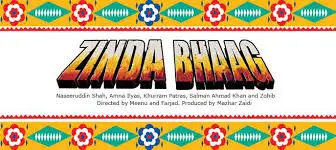 Been directed by Farjad and  Meenu, the movie is shot in Lahore and can be considered as a dedication to the Lahori culture. The story of the film revolves around a group of four friends who are on the lookout of finding a quick way to earn fame and wealth. The media and the celebrities are excited with the news of been represented on a platform as big as of Oscars, this, surely is a big achievement for the Pakistani Media.
 Let us now see how far the said movie goes in the race where it has a mass competition from not only India but from the entire world.
Keep your fingers crossed,
Wishes,
Nida Zaidi