Rafay Rashdi's Thora Jee Le is set to hit the cinemas tomorrow, from the new age drama to new faces, viewers are going to experience it all. So while we're waiting for the clock to tick down we thought we'll share some of the reasons on why we're waiting for this film.
1) Some fresh faces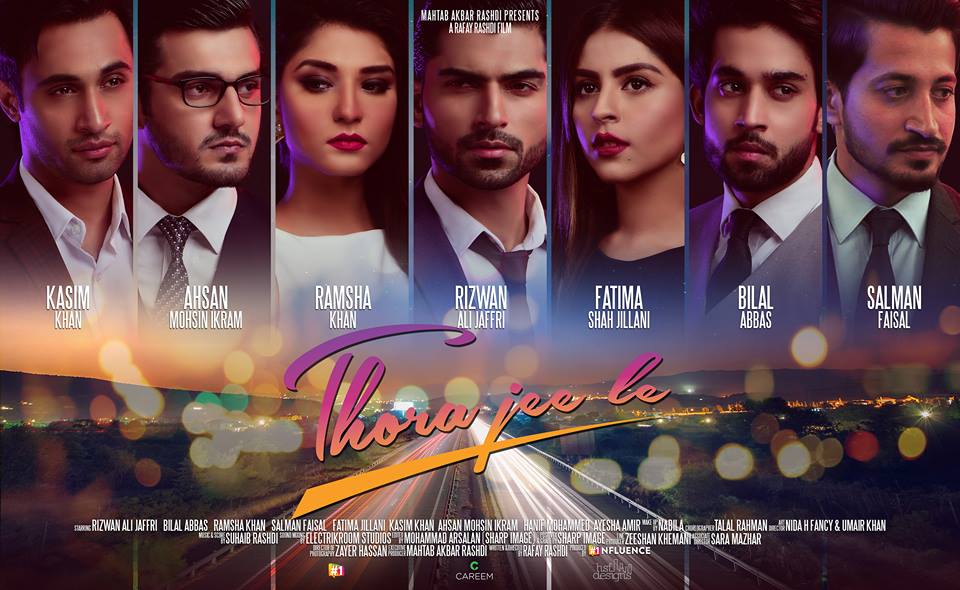 Since we always want to see new faces, we can only imagine how cool it will be having all leads who are newcomers. So a film on youth is actually played by the youngsters and these newbies might be the next rising stars. The cast includes supermodel cum actor Rizwan Ali Jaffri, Bilal Abbas, Ramsha Khan, Fatima Shah Jillani, Ahsan Moshin Ikram, Kasim Khan and Salman Faisal.
2) The Fresh Plot
The film promises to bring a fresh story that celebrates love and friendship. The story will be about trust, self discovery and most importantly friendship and that too jigri one. So a journey of seven friends with seven ongoing dramatic lives will surely make it a blend to watch at least once.
3) The Music
It has an original soundtrack that includes not so popular but amazing voices of Midhat Hidayat and Royal Law. The selection of new artists is likely offering something new for everyone and what stood out in every song was the vocals which were soothing and pretty impressive.
4) The direction by a new director
The recent addition to the directors of Pakistani cinema is Rafay Rashdi, he is certainly new but all we've seen till now proves that he might turn out to be a promising addition to the industry. Since he is a new director, we can expect him to offer something new to the audiences. The film is produced by Mahtab Rashdi. Thora Jee Le may not be very Pakistani but the effort surely seems to be different!
Rimsha Butt