Like every other episode of Baba Jani, this one too had some beautifully written conversations and also some situations which made you wonder if it was even possible for Asfand to do justice to his wife and his adopted daughter in such a situation. Sadia questioning Asfand about his feelings for her was the best scene tonight. Nabila's support for Sadia and Nimra was also refreshing.
Asfand and Sadia's Relationship
Asfand and Sadia's relationship's ups and downs were shown convincingly in this episode. One aspect of Asfand's personality was quite obvious from many scenes tonight and this trait of his personality can also be termed as one such weaknesses because of which tonight especially he made some major error of judgments. The opening conversation between Asfand and Sadia made it quite clear that he knew something was bothering Sadia but he failed to fully recognize what this "something" could be. Later on, his decision to organize the talawat was also one such decision which did more harm than good. Asfand is sensitive and receptive but he is not as smart as it seemed like he would be. He picks up vibes from people and situations but most often he fails to protect Sadia and Nimra from all the hate they get, in an attempt to please everyone. Asfand failed Sadia and Nimra tonight when he let Naila go on about his begairti and how his wife was using him in front of Nimra. On the other hand, every time he takes a stand for his wife and daughter, his sisters get offended. The way Sadia questioned Asfand tonight about why he was not jealous, was a way of asking him if he really loved her. Asfand has his own way of showing this love and right now that is just not good enough to put Sadia's insecurities to rest. I have to say that I felt for Sadia and Nimra tonight more than Asfand and I also felt that Asfand failed to protect them from his sister's hatred.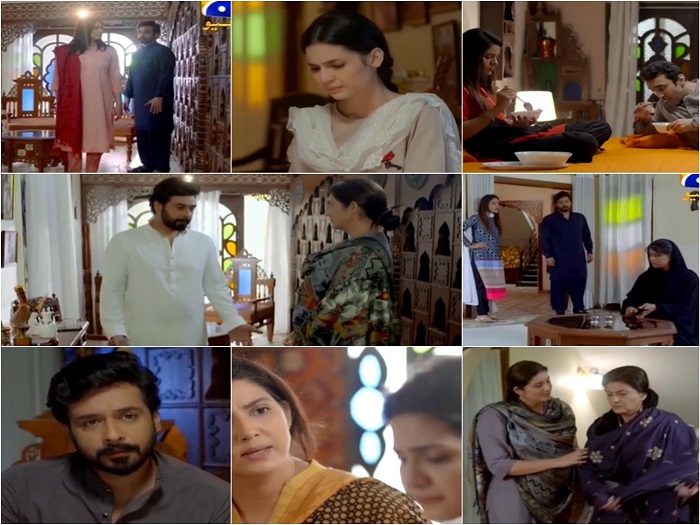 Nabila's Positive Role and The Repercussions
Everything that Nabila did tonight was quite unexpected. Even though it was quite obvious in the previous episode that she liked Sadia and Nimra but the way she tried to protect Nimra was a positive development which was much-needed and pleasing to watch. Najiba can easily be passed as the biggest phapakutni we have seen in our dramas in recent times. It would have been nice if she was sincere with at least one other person in her life except herself. Nabila and Nimra's scene was sweet and this was the first time that we saw Nimra showing her affection for someone other than her mother in such a manner. Later on however Nabila had to face the consequences of her actions. The way Nabila handled this situation and the way she supported Nimra was a nice break from all the negativity she has been getting from everyone except Asfand.
Nimra and Sadia's Scenes
Nimra's scenes with her mother were meaningful. Everything she says resonates with the viewers because she is most often the neutral observer in a situation and she is also the real victim. The fact that she complains and speaks her mind makes her character human and more likable. Sadia on the other hand feels that she needs to compromise in return for everything Asfand has done for them.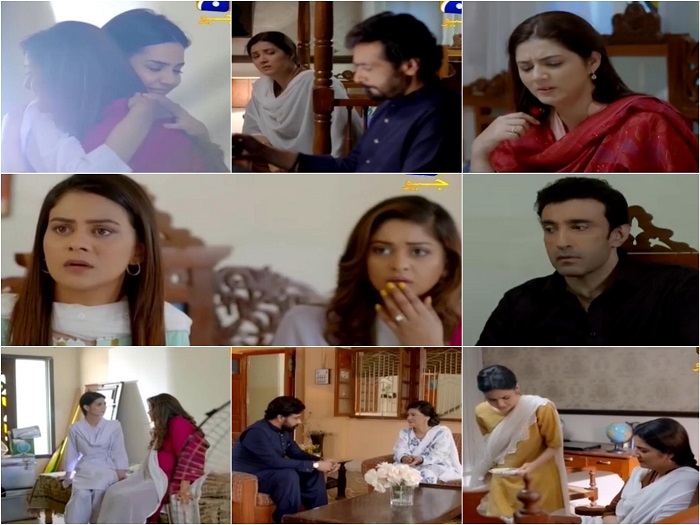 Overall Impression
This episode covered a great deal and there were plenty of scenes involving all the characters. The performances were superb as usual but there were times when you felt like some of the scenes were missing and there wasn't continuity in the scenes. Like in one scene Asfand was saying to Sadia "kisi ko pata bhi nahi chale ga" and in the next one Naila was shouting at him for organizing a talawat for Nimra's deceased father. I also feel that there should be at least one small scene in every other episode which Najiba is shown in her own house so that there is some change of scenery and her children and husband stay in the picture. The best part of tonight's episode were the dialogues and the way the story was taken forward. There were no unnecessary scenes but actually some scenes could have been added in between.
The Preview
The preview of the next episode suggested that either Nabila teamed up with her sisters or there is going to be a huge misunderstanding between Sadia and Asfand because of Nabila. So far, Asfand has not overreacted to anything therefore it is highly likely that this situation too will be handled wisely by him. It is impossible to predict what turn the story will take next!
Do share your thoughts about this episode.