All those Pakistani actors who are at the top right now have worked hard to reach there. There are no shortcuts to fame. It takes a lot of hard work and great commitment to get as far as these Pakistani actors have gotten. Even though these actors have dedicated a lot of their time to their careers but that has not stopped them from being great parents. Daughters are a blessing of God. All these actors love their daughters. Most of them go out of the way to spend quality time with them. Some of these top Pakistani actors just became parents few years back. All these actors are exceptional parents. They have also been kind enough to share the beautiful pictures with their daughters often on social media.
Here are some amazing pictures of some beautiful daughters of top Pakistani actors.
Ayeza Khan Daughter
Ayeza Khan is one of the most famous Pakistani actor. She has a massive fan following. Ayeza Khan has a beautiful daughter Hoorain Taimoor. Ayeza Khan makes sure that she spends quality time with her daughter. Hoorain was her first born therefore she is really special. Ayeza Khan often posts pictures with Hoorain. Hoorain loves dressing up and is extremely cute. Ayeza Khan is seen very often twinning with her daughter which is extremely cute.
Aiman Khan Daughter
Aiman Khan is a young mother who recently gave birth to an adorable baby girl. Aiman Khan's daughter's name is Amal Muneeb. Amal Muneeb has the most beautiful eyes and a cute chubby face. When Amal was born, the fans were dying to see her picture. Aiman Khan took her time sharing the baby's photo. Now she posts pictures of Amal Muneeb more often.
Mikaal Zulfiqar Daughters
Mikaal Zulfiqat is a proud dad of two adorable daughters. Mikaal loves spending time with his daughters. When they are together, they have the most fun. Mikaal's pictures with his daughters show just how much fun they have together.
Saleem Sheikh Daughter
Saleem Sheikh ruled the small and the big screen for the longest time. Saleem Sheikh has a beautiful daughter who isn't seen in the limelight often. Her name is Selena Saleem and she is seen on family functions quite often. Other than that Selena is hardly ever seen in the public in front of the cameras.
Moammar Rana Daughter
Moammar Rana's daughter isn't just beautiful but she is also an incredibly talented young girl. Rea Moammar is a make-up artist. She gives make-up tutorials on her Instagram page and she also heads make-up workshops in different cities. Although Rea is quite young but she is already making a name for herself.
Javeria Abbasi Daughter
Javeria Abbasi is another famous Pakistani actress who has starred in many popular dramas. Javeria Abbasi has a beautiful daughter, Anzela Abbasi. Anzela Abbasi has also worked in several dramas. Anzela Abbasi is a confident and attractive young girl who shares a strong bond with her mother.
Noor Bukhari Daughter
Noor Bukhari's daughter Fatima is so close to her heart that in an interview she revealed that during her days of depression when she wanted to take her life, Fatima was the only reason why she decided to stay alive. Fatima is a cute little girl with a fun personality. Noor's daughter keeps her going and seeing her happy makes Noor happy. Noor Bukhari never goes on holidays without her daughter.
Asma Abbas Daughter
Asma Abbas' stunning daughter Zara Noor Abbas is also a star. Zara Noor Abbas is gorgeous just like her mother and she is really passionate about her acting career. Zara Noor Abbas looks a lot like her mother. Zara Noor Abbas is often seen talking about body image in interviews since she faced a lot of criticism for being overweight when she joined the industry.
Javeria Saud Daughter
Javeria Saud's beautiful daughter Jannat Saud is a sweet young girl. Jannat made her first appearance on television when she was really young. She is seen in different commercials with her mother every now and then otherwise she has not taken interest in acting yet. Jannat recently turned 13.
Faysal Qureshi Daughter
Faysal Qureshi's daughter Hanish Qureshi is beautiful. She was in the news lately when she lost a lot of weight. There was also news that she might be seen on television soon. Hanish also did Imran Abbas' make-up and styling for the drama Mohabbat Tumse Nafrat Hei. Hanish is really close to her father and we love their pictures together.
Shaan Shahid Daughters
Shaan Shahid has three adorable daughters who are all the same age. Shaan Shahid loves spending time with his daughter ever since they were babies. He takes pride in their achievements.
Nida Yasir Daughter
Nida Yasir's daughter Silah Yasir has grown in front of the public eye. She has grown into a beautiful and stylish young girl. Silah Yasir was also seen in the drama Chup Raho.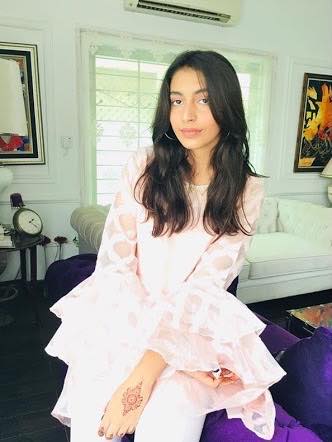 Nadia Khan Daughter
Nadia Khan is a vivacious actress and host. She has a beautiful daughter Alizey Khan. Alizey Khan was recently seen with her mother at a wedding and she looked really attractive in black.
Sanam Jung Daughter
Sanam Jung is another talented actress who recently became a mom. Sanam Jung's daughter Alaya is really cute. Sanam often shares her pictures with the fans on social media.
Saba Faisal Daughter
Saba Faisal is a well-known Pakistani actress. Her daughter Sadia Faisal is also an actress. Sadia Faisal is beautiful just like her mother.