So, here's what I think. If you are the sort of person who watches only the odd few dramas a week that have to be truly amazing – then probably Choti Si Zindagi is not for you. But for someone like me, who is not necessarily attracted by a stellar cast or heavily promoted drama, this drama works. Because its simple narrative, absence of scheming evil characters, actors and actresses that do not seem to be trying too hard yet help us relate to their characters made me sit back and enjoy this episode. Yes, there are a few scenes primarily those of Azra's if I am honest where she is talking about Urwah that I wish I could just forward but the rest of the play holds my interest.
Poor Ameena. I truly felt for her today and yes some of us may have rolled our eyes over the onion peeling scenario but I remember the time when I was learning to cook and my mum asked me to brown the onions and 'brown' them I did so well that they had to be chucked out and fresh onions sliced and fried again, LOL. Ameena has rarely ever stepped into the kitchen and has always been lost in her books and games so the kitchen scene did add some comic relief. While Ameena does seem to be overly childish, I found her 'growing up' scenes in this episode easier to relate to. I found it hilarious yet realistic how she does what she is asked to do but she does not view herself as a sacrificial lamb who should suffer all and I liked how she said before going to bed that she was fed up of working and 'ab nahin karoon gi'. Also, her letter to her mother and the reaction it brought was funny. Ameena seems childish and as if she does not have a care in the world but she is not stupid and is hurt when she overhears her cousins conversation about going to school and how she is made to feel like an outsider there.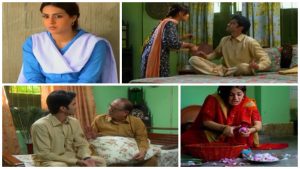 While Ameena struggles with her onions and books, Urwah has (almost) forgotten about his marriage and although he makes it clear to Azra there is nothing between them, we see that deep down he feels differently. Sohail made me laugh today for he is that very real friend we all almost have who knows your secret and while will never go behind your back and cause an issue for you but does enjoy making you squirm by dropping double meaning statements here and there. I still do not see what Azra finds so fascinating about Urwah but I am happy to say that it is such a relief that she has not become one of those rich-girl- I- must- have- this- man characters – well at least not yet!
So Urwah is back home for the summer break and that means two months of Urwah-Ameena and although neither Urwah nor Ameena are looking forward to the summer break – I definitely am! I love Urwah's father's character and Tariq Jameel brings out the sweetness in his personality to perfection. It is endearing to seem him care for Ameena and try to help his wife and son understand her. While Taayi is not exactly very warm she is not entirely evil either for she thinks of Ameena as a daughter in law and can not wrap her head round the idea of a daughter in law that does not know how to cook, pick a plate from point A to B without dropping it or understand why she must go back to school now that she is 'married'. Yet, it is nice how her husband tries to make her see different ways to connect with Ameena.
I am not even sure why Azra is being given the screen time she is now except maybe that Urwah may go back and marry her and I surely hope not. Or that her letter writing may cause an issue in Urwah's home. I hope she is just someone who Urwah is momentarily fascinated with and who will gracefully take her leave from his life soon. I know we have seen a lot of Iqra Aziz lately and I myself have ended up reviewing or watching quite a few of her dramas and the overdose was one reason why I did not want to watch this drama in the first place but I feel she acted really well in today's episode. I felt for her when her tiny form lay outside in the 'sehn', when she sat at school watching other girls whisper about her, her letter to her mother, and when she overhears her cousins talk to their mother about her. I am glad to see less of the loud crying and the comic moments coupled with those when we are given an insight into her feelings along with her accent – 'isschooool', 'om-laate' made her much more interesting. Shahzad Sheikh has been perfect as the stiff, awkward Urwah but I actually liked his outburst with Ameena where he shed his stiff demeanour. Last but not least, I know I should not be gloating by comparing myself to a teenager, that too a fictional one, but I could not help be happy that at least someone's parathas are more amoeba shaped than mine! LOL.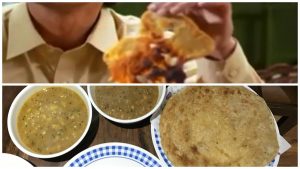 What did you all think of this episode? Would love to hear your thoughts.
Kunwal Javid