Dil Banjaara Episode 1 Review – A Good Beginning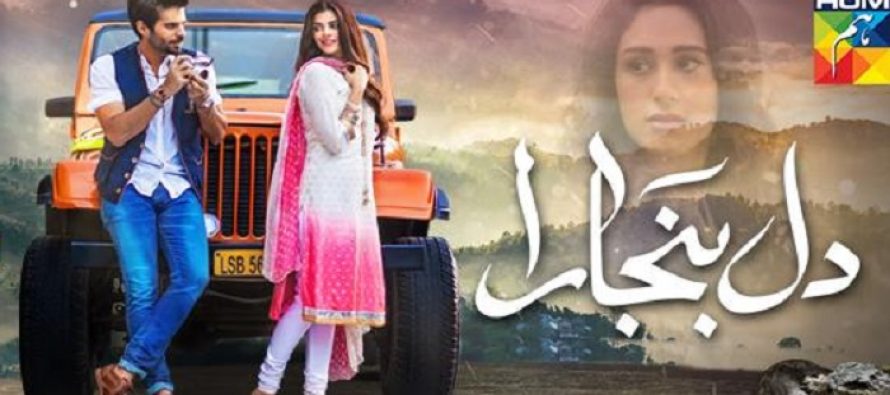 Writer: Faiza Iftikhar
Director: Siraj-ul-Haque
Produced by: Momina Duraid Productions & Naughty Forty Productions
Schedule: Friday 8pm HUM TV
Cast: Adnan Malik, Sanam Saeed, Mira Sethi, Sharmeen Kashif, Sakina Sammo, Ainy Zaidi (Noor Ul Ain Zaidi), Hina Bayat, Samina Ahmed, Munawwar Saeed, Daniyal Afzal, Madiha Rizvi and Others.
The best thing about this first episode was that it did not belong to one character or actor alone but all the leading characters made their presence felt. Also, this was not a typical first episode although the opening scene wasn't new; showing how the mornings started for both Sikandar (Adnan Malik) and Nida (Sanam Saeed), but the real difference was that their mornings weren't too different and neither were they identical. The director simply introduced the main characters and the supporting ones which will be playing an important part in the story in a subtle way which is always a great way to start a show. There are many times when writers and directors think that the viewers are not intelligent enough to pick up the cues and very often they end up spoon-feeding every tiny detail to the viewers which kills the creative element in dramas. That was most definitely not the case with this first episode. Also, I remember two dramas in particular in which the characters were introduced in a similar manner, Durr-e-Shahwar and Zard Mausam, and I remember it only too well that the households which were covered in the opening scenes were complete opposites so although it has been done before but this time around it was done differently. When you are watching a play written by Faiza Iftikhar, you can be sure of two things; the characters will not be black and white and there will always be variation in the characters.
Most of the viewers might not know that Sikandar's character is inspired from a real life photographer which makes it even more interesting. In this first episode the viewers were told that Sikandar was brought up by his mother's friend (Ainy Zaidi) after his mother passed away, that is all we know about his background so far. Sikandar's present personality however was revealed in different scenes in tonight's episode. He is a passionate photographer who loves natural landscape but he also feels that this natural landscape can only come alive in photographs when there is some "life" in it – meaning human presence. This particular aspect of Sikandar's personality showed that even though his camera was his best friend and he loved nature but this was in no way a replacement for humans in his life. Sikandar is carefree and he lives life to the fullest but he also values human aspect of life. Shama (Mira Sethi) is someone he grew up with and both of them are very close to one another, she is the human who adds life to his photographs therefore she is very special.  By the end of the episode however Sikandar had a new definition of "zindagi" in his photography. It seemed like Shama does a lot of things so that she can be with Sikandar but she does not necessarily have similar interests. Shama's mother is a single mother who runs a cafe, she understands that her daughter shares a special bond with Sikandar. The scene in which she talks to Sikandar about getting married seemed like the first big misunderstanding of this drama. The light manner in which Sikandar took that question and the reply he gave without giving it a second thought once again showed that he did not think things through before making a commitment. Shama's mother and Shama thought he was committing to getting married to her but it didn't look like he was doing that.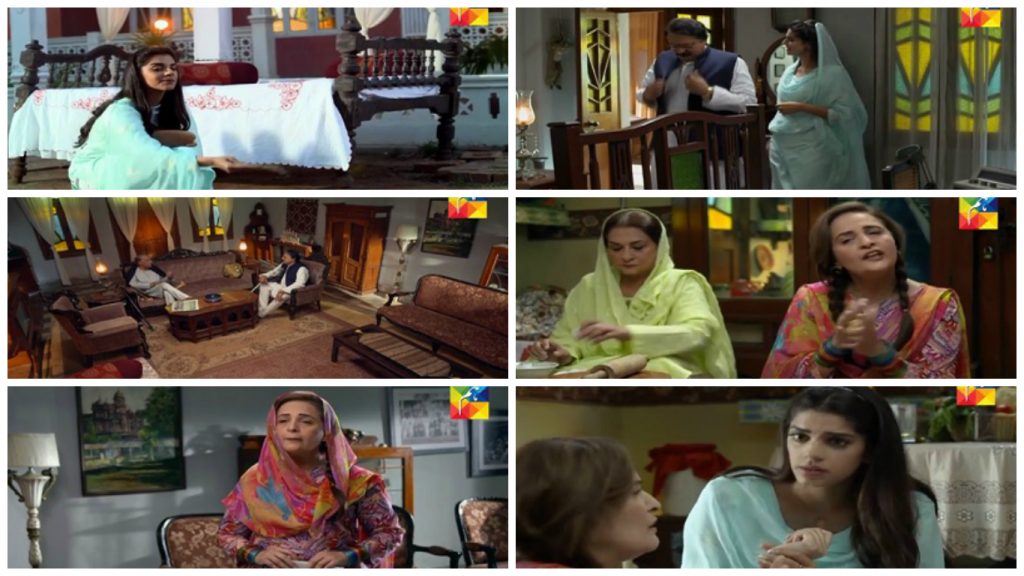 Nida wakes up early in the morning just like Sikandar and her interests are very similar to him as well. Although Nida has been raised in a very strict household but her father's support has given her the confidence and freedom she needed to have a personality very different from that of other women in the house. She managed to go to college, something which is looked down upon by her taya (Munawwar Saeed) who has a stronghold in the house. The inclusion of Hina Bayat's character in the show proves my point about the variation in characters. Hina Bayat is a versatile actress who impresses you with her performance every time therefore I am looking forward to watching more of her. Also, it seemed like her character will be a very interesting one. The "adha pait" scene in particular was hilarious. All of her scenes went to show that she wasn't like most people her age. The relationship between Nida and her father was highlighted in this episode; their closeness and Nafees' support and love for his daughter were the two major aspects of their relationship.
Nida and Sikandar's first "meeting" was anything but run-of-the-mill although the outcome it seemed was love at first sight. Nida loves nature, she wants to explore the world some day and she loves poetry therefore she has more in common with Sikandar than with anyone else. Sakina Samo plays the role of the know-it-all phupo whose son is engaged to Nida.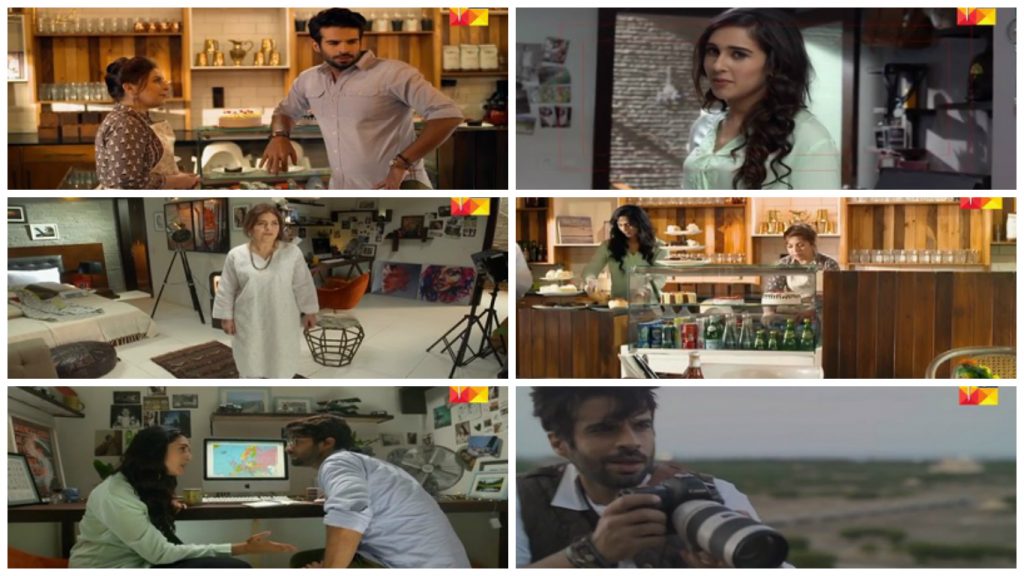 This first episode was definitely up to the mark even with a few glitches here and there which could easily be ignored. In one of the opening scenes Nida's father asks "Nashta lag gaya" she says, "jee bilkul aba."  But after that we saw the women in the house struggling to make nashta and they were clearly running late. Adnan Malik was cute and convincing as Sikandar, there were times when he seemed to be struggling with those long verbose dialogues but he managed to pull it off and introduced Sikandar's character in a likeable manner. Mira Sethi performance in this first episode was right on point unlike her acting in Jhoot which recently ended. Sanam Saeed played her character well with the exception of one scene in which Nida was describing to her friend her love for nature and exploring. The director Siraj-ul-Haq managed to show a great deal in this first episode and did so with precision. There were quite a few scenes in this episode which were beautifully shot and there were plenty of different locations in the drama unlike some dramas in which you feel like the entire serial was shot in two houses. The number one reason for tuning into this show was that it has been written by Faiza Iftikhar and secondly the main protagonist of the show is not a female but a male.
Nida's fiancé will be introduced in the next episode and it seemed like Shama will have an accident because of which she might not be able to go with Sikandar.
How many of you watched this first episode? Do share your thoughts about it.
Fatima Awan
Fatima Awan has been a part of reviewit right from its inception. She feels very passionately about Pakistani dramas and loves discussing them to detail. If it wasn't for the play Durr-e-Shahwar she wouldn't have started writing!
---