Wow! Loved this episode and the fact that all the tracks are being wrapped meticulously with every passing episode. Tum Kon Piya is one of those dramas which continue to entertain you and it also has a very solid storyline. The writer Maha Malik has written a script which is very well-thought-out and director Yasir Nawaz has a strong grip on the story and character as well, which is why Tum Kon Piya keeps you entertained and gives you a reason to look forward to the upcoming episodes. There was a time when the story came to a standstill but these past few weeks have been very happening. There are so many dramas on air nowadays that viewers are spoilt for choice therefore when a drama manages to hold your interest in this way for so many weeks than in my eyes it is a complete success. This isn't one of those dramas which banks on star power also but the solid storyline and the way it has been executed is the primary reason why so many of us are still watching and enjoying Tum Kon Piya.
The most important development in this latest episode was Ramish and Neha's marriage. All the reasons given by Tamkanat and Ramish's father were convincing enough and ultimately both Ramish and Neha decided to get married only because they wanted what was best for Elma. Sunbal's decision showed how wise she was and she was right when she said that she had learned to sacrifice her love for others from Ramish. Ramish's character has been brilliantly etched-out, he has many positive points but he has some weaknesses as well. His biggest weakness is the love he feels for Elma which does not allow him to do justice to other people in his life. The scene at the breakfast table after 5 years of being married to Neha and later on Neha's conversation with her Aapi went to show that Neha and Ramish were living a lie. They got married but Ramish never accepted Neha as his wife. 5 years is a long time to move on but apparently Ramish has not been able to do so maybe because he feels that he does not deserve to be happy because of the state Elma is in.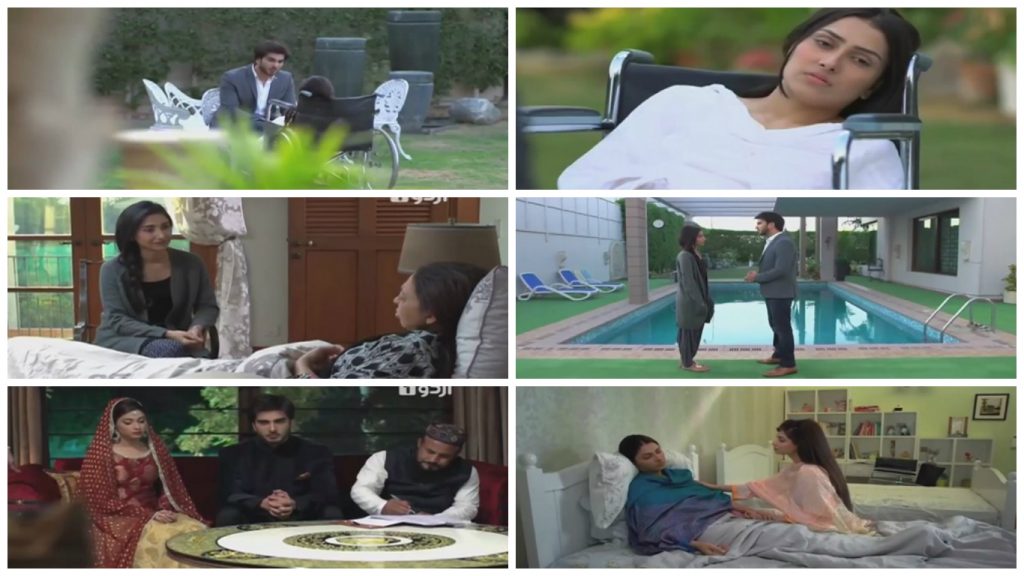 Zarbab's sudden plans to go to England were somewhat unbelievable, if he was moving to somewhere in far East it would have been more convincing. Anyway, he moved away and out of Elma's life forever thinking his wife had cheated on him. He was always shown as someone who had shocking double standards therefore watching him justify his own actions in front of his sister did not come as a surprise. Ali Abbas has been phenomenal as Zarbab. Imran Abbas also owned his character in this episode, his dialogue delivery, expressions and body language was perfect. Shameen Khan has also played her part really well especially ever since Neha moved into Ramish's house her character has been much more likeable too. Azra Muhiuddin is another actress who has proved her talent and versatility in this drama especially because right now the condition which Tamkanat Begum is in is not an easy one to translate on screen. Exceptional acting by all the actors is another reason why all the characters and happenings have been easy to relate to.
This episode was emotional, convincing and covered a great deal in limited time. It ended at the perfect note, leaving the viewers wondering where Arif was and why was he willing to admit that he lied. Zarbab would never have been convinced that Elma was innocent until Arif admitted it himself therefore it would be good to see what condition he is in right now and the reason behind this change of heart. He could be in the prison or the mental asylum, I can't think of any other place which would have the same shock value.
The preview of the next episode showed Zarbab running after the ambulance in which Elma was being taken to the hospital. Can't wait to see what happens next!
How many of you watched this latest episode? Do share your thoughts about it.