Kabli Pulao continues to consistently surprise and engage. Much like a plate of Kabli Pulao, the dish the drama is named after, each episode has a distinctive and unexpected flavor that keeps its viewers entertained. This drama continues to tantalize its viewers with a blend of suspense, drama, and unexpected twists. The main track's emotional depth definitely takes precedence over all other elements. In this latest episode, in particular, the viewers were treated to many poignant moments, as the two endearing and affectionate protagonists were pushed into uncharted territory. These characters which the viewers cherish and find relatable, were confronted with circumstances that tested the limits of their love and resilience. These shifts in this track although upsetting have added a layer of vulnerability to the personalities of both Haji Mushtaq and Barbeena and showed another side of their character and relationship. It also makes you wonder where their story will go from here and how these latest developments will impact their relationship.
New Challenges
Haji Mushtaq and Barbeena have made some really difficult decisions through the course of this drama. Both of them have proven so far that they are strong individuals who stand by their decisions and honor them. Haji Mushtaq has lived his life with a remarkable sense of dignity and grace. Also, he never really wanted much for himself in life, he always lived for others. It is nothing short of ironic that now that he has found someone who has altered his life in the most unexpected ways, he lacks the energy and physical strength to embark on this new chapter of his life the way he would have wanted to. Haji Mushtaq has had to constantly adapt and navigate especially after he entered into a Nikkah with Barbeena therefore tonight when he lost his cool and focus, it made perfect sense.
Barbeena's journey has been an extraordinary one, marked by experiences that have tested her resilience multiple times. She witnessed war, lost family members, and had to restart her life all over again. But she has shown remarkable strength throughout. Tonight, when she broke down it was primarily because she could not see the man she loved hurting. Right from the beginning, just like Haji Mushtaq, Barbeena has also been shown as someone who lives for others. Barbeena derives her purpose and fulfillment from selflessly serving others but at the same time, she holds her integrity and well-being dear.
Every time their relationship has been tested because of the people around them, Barbeena has risen to the occasion more than Haji Mushtaq. Haji Mushtaq has always 'initially' given a response that highlighted his insecurities more than any other. These insecurities and vulnerabilities make his character more realistic and add depth to this relationship. Barbeena and Haji Mushtaq continue to grow as individuals as well especially when times are tough.
In this episode the challenge they faced was familiar but it was on a completely different scale. This entire conflict was presented convincingly on screen keeping the emotional element of the track alive, as always. Haji Mushtaq's insecurities made sense but I could not help but question Barbeena's approach. She was not just willing to show her face on social media but also felt amused by those messages. Did the writer intend to portray her 'personal development' in this episode through these scenes and situations? I am waiting to find out because it appeared as though her choices and behaviors did not align seamlessly with the established development of her character up to this point.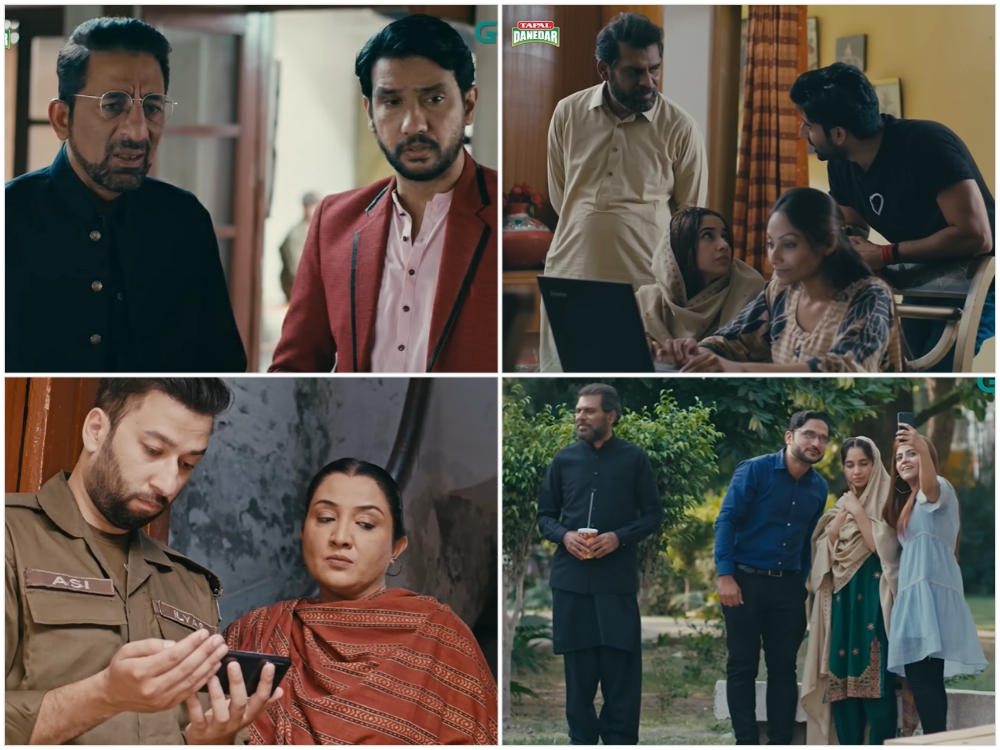 We all know that Barbeena is undeniably innocent in some aspects; however, she has also demonstrated wisdom in numerous other aspects of her life. Therefore, I found it difficult to relate to her naivety with respect to the kind of attention she was getting. Perhaps this was the writer's method of portraying her limited wisdom due to her age but then we have seen Barbeena choosing Haji Sahab over a much younger individual only because she could see who could actually be well-suited for her given the situation. She also knew that she was not ready to fall in love and start a relationship therefore an older person would be the right match. There have been so many other instances when she made decisions that showed her wisdom but tonight we saw a naïve side of her which was difficult to relate to.
By the end of this episode, Hajra's documentary encapsulated the profound influence of social media, and how it impacts even those individuals who are not seeking attention. This was the surprise that presented an important message which is the need of the hour. However, what Hajra did was also exploitation therefore, I am not sure if she was the best person to put this message forward. The idea behind this development was definitely right but the way it was executed was not ideal. Does Hajra's message absolve her of responsibility? This was an important development that could have been handled in a better way. This documentary is going to change a great deal and as the preview of the next episode showed it will lead Haji Mushtaq's family to him.
What Stood Out
Just like every week, what truly stood out in this episode were those poignant and heart-warming moments that make Haji Mushtaq and Barbeena an unforgettable on-screen couple. Barbeena handing over her first pay to her husband was the best scene from this episode. This symbolized not only her love and commitment but also her unwavering support for their partnership. Also, the way she reacted when she found out this was 'her' money was one of the many heartfelt moments in this episode. In this episode, Haji Mushtaq and Barbeena's struggles stood out individually as well as partners in this relationship. Muhammad Ehteshamuddin and Sabeena Farooq's exceptional performances as well as their remarkable on-screen chemistry combine to create a viewing experience that is truly memorable and engaging. They are the heart and soul of Kabli Pulao.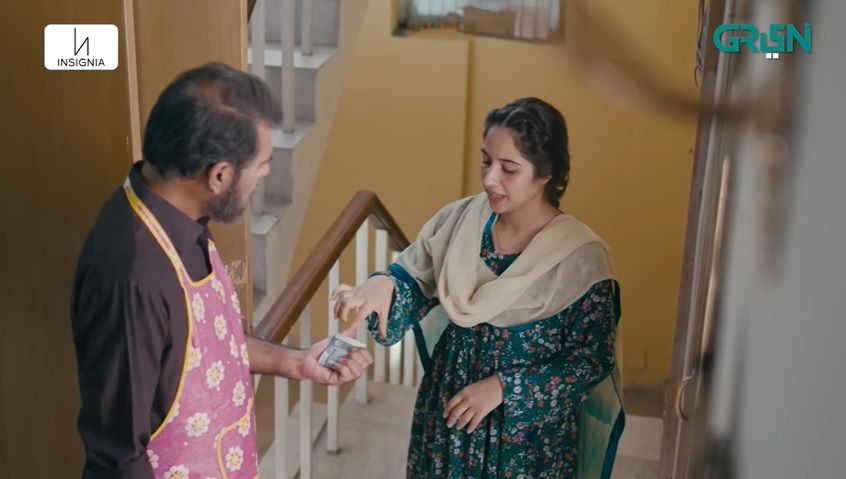 The conversation between Ghaffar and Hakim also stood out because it revealed the unspoken truth about Haji Mushtaq's character. The hakim spelled out loud how Barbeena's presence had changed Haji Mushtaq's life and also spoke the truth which has shaped Haji Mushtaq's life especially the present events. If it weren't for the pressure from Ghaffar, Haji Mushtaq, and Barbeena could have lived a comfortable life in their house with the family.
The way Hajra's documentary covered Haji Mushtaq and Barbeena's story also stood out even though I did not completely agree with how Hajra decided to share her views publicly without asking for permission.
The Side Tracks
I honestly feel that the pace of the drama could have been better if the focus stayed on the main track and the other tracks did not get so much screen time. Since Kabli Pulao has more than 30 episodes, I am guessing we will be seeing a lot more of Ghaffar and Shammo's unappealing track in the upcoming episodes as well. These two played a crucial role in moving Haji Mushtaq and Barbeena's track to a different direction but does it really need this much screen time? For instance, Ghaffar's efforts to bribe Illyas lacked value, these scenes failed to hold my interest in an otherwise interesting episode. Similarly, I don't find Illyas' tracks or scenes particularly interesting. I am certain these characters will continue to play an important role in moving the main plot forward but they are not the most engaging element of the drama and disrupt the flow of the main narrative. On the other hand, Ayesha is one of the most likable supporting characters, benefiting from precisely the right amount of screen time that sustains her charm. Shamim is another supporting character that retains its appeal because she has never been given unnecessary screen time.
Final Remarks
Haji Mushtaq and Barbeena's story continues to hold my interest because of its uniqueness and unpredictability. The promo for the next episode piqued my curiosity even more. Barbeena and Baran will also meet in the next episode; this will open up a world of endless possibilities. I can't wait to tune into Kabli Pulao next week.
Did you watch this episode? Do share your views.