Laaj – Episode 9 – Khoon kay badlay….shaadi?!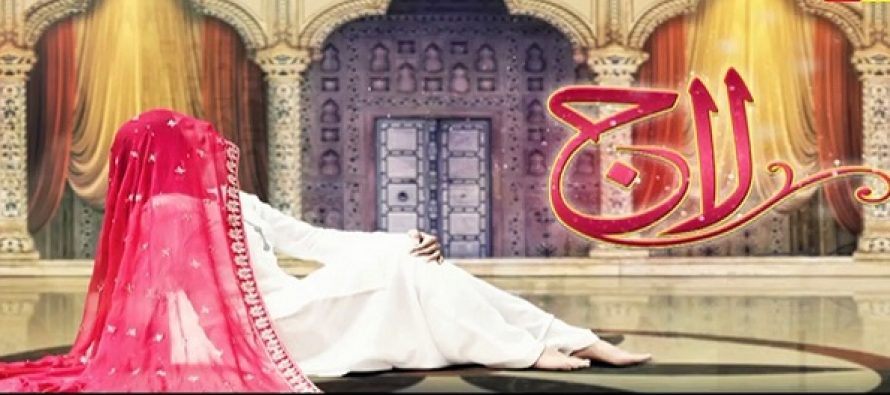 Well! This was an interesting episode to watch with Bari Sahab struggling to accept Zainab as a sacrificial lamb and trying everything she can to avoid this marriage from taking place. She pays Sikander a visit and offers him more than double the amount of villages he demanded but that he take the condition of Zainab and Dilawar's marriage back. Knowing how greedy Sikander is I was a bit surprised he did not seem to at least consider the offer but then true to form, he explains to his son later that with Zainab wed to Dilawar Bari Sahab hamaray neechay lag jaye gee and that seemingly gives him far more satisfaction than numerous amount of villages and land in his name.
Charlie Chaplin ka desi bhai informs Jahanzeb about the latest developments and his thoughts later Kaash Allah mujhay ek mauka day day, mein tumharay saaray khwaab pooray karoon ga Zainab makes me wonder if this is an impulsive, emotional moment or whether the sacrifice Zainab has agreed to make has managed to awaken love in Jahanzeb's heart. Bari Sahab's teary eyes and expressions show her inner conflict where she is wracked with guilt and grief to be throwing Zainab in the mouth of wolves in exchange for her son's life. She has loved Zainab with all her heart and does now too, but it is a tough decision to make. Zainab has made it easier for her by offering herself to accept the terms Sikander has set forth.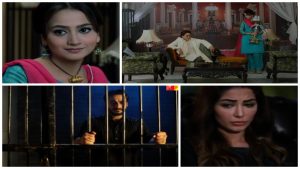 Alisha and Shahzeb were given very little screen time thankfully, with Alisha throwing her two cents in and Zainab ka number send karo had me laughing. Like really? To quote Bari Sahab from the earlier episodes, kaun kurri hai yeh, kithun chuk laya hai?!! Anyways, Bari Sahab tells Sikander to have Jahanzeb released before the nikkah and that got me thinking whether Bari Sahab has something up her sleeve. My hopes are pretty much crushed when she says to Jahanzeb that she can not go against this decision and there is nothing she can do.
Jahanzeb's conversation with Zainab was emotional. Jahanzeb's accusation tu mujh se pyar nahin karti, sirf apni zid poori kar rahi hai was interesting. You know this is what stood out to me in today's episode. Where emotions such as pride, dignity, revenge are the driving forces in these people's lives. Not once does Jahanzeb say anything along the lines of how he feels about Zainab but that his pride can not take that she live such a life in exchange for his. How Zainab says there is no other way for she can not take back her word. How Bari Sahab proudly declares that Jahanzeb was right to kill Sajjad to avenge his daughter's honor. These people have a code of life which they firmly believe in and logic takes a back seat to any of these emotions when taking a decision.
I can not help wonder how Mannat fits in all this. When Bari Sahab earlier had Mannat wed to Sikander, true she did it in the hope of having relations between the families improve but she has known Sikander forever and you would think a shrewd woman like her would not agree to such a proposal when clearly Mannat would be better off elsewhere? Surely she could see it was a gamble at best. The way Bari Sahab is suffering at the thought of handing Zainab over to Sikander and his family, did she not feel any apprehension earlier. I agree, there had been no bloodshed then either but still she could have agreed to assign some land to Sikander if she wanted to improve relations, not offer her only grandchild as a peace token! But then as was highlighted in one of the earlier episodes, lands and property to Bari Sahab and Sikander held much more meaning than just a piece of land and was more a play of ego and power and respect. Sigh.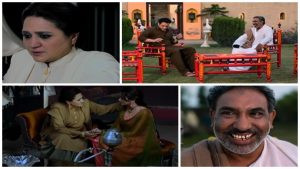 Jahanzeb has made it clear that he will not allow this marriage to take place. Wonder how he can prevent that from happening? The ending scene of this episode although seemed like a dream come true for Zainab makes me think whether it was just that – a dream? In which case I will personally go hand over Zainab to Sikander and Dilawar myself, aargh! Asma Abbas today as always was flawless as Bari Sahab and I was struck how apt the casting had been done in the scene when Jahanzeb returns from jail with Shahzeb and Mannat greets him. They did look like father and daughter in that scene. The scene between Jahanzeb and Zainab was interesting but I kept waiting for Jahanzeb to burst out that he loves Zainab – but alas, he did not. Nayyar Ejaz as Sikander is also truly convincing as the greedy, crafty old man that is portraying. Interested to see how Bari Sahab will be able to wriggle herself and her loved ones out of this mess. Any ideas – would love to hear your thoughts!
Kunwal Javid
---