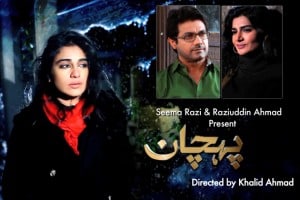 I cannot help but appreciate the technical virtuosity with which the narrative flows. The story may not be unique, but the impact is enthralling. Last week, Kuku slashed her wrist- this week we find out it was more an attention gimmick than an attempt at suicide. Mansoor, who seems to be ceremoniously going about with his wedding shenanigans, left the scene upon hearing of the suicide incident. I was surprized to find that Mansoor and Kuku have an unspoken agreement of sorts- Mansoor's wedding is not indicative of the end of their affair. Zara jaldi mein houn lekin jaldi aaoun ga…
Some flashbacks revealed that Kuku and Mansoor were very vocal about their independence. It remains to be seen why Mansoor agreed to the wedding- especially since he has strong feelings for Kuku. For an independent women, Kuku's choices in men are questionable. Why does she continue to be in relationships that cause her nothing but emotional turmoil? Is she addicted to pain? Kuku's manual dexterity made me wonder- does she suffer from some sort of obsessive compulsive disorder or is she simply trying to avoid the growing conflict within?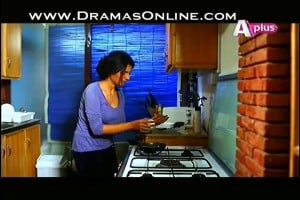 A quick visit by Mrs Khan startles her- Mrs Khan and Kuku have developed a camaraderie despite their age difference. Mrs Khan isn't a busybody but she does seem concerned. Hamari zindagi bhi kitni qeemti aur khoobsurat hai lekin hum uska khayal nahin rakhtey. Maybe Kuku's salon provides her with the escape she needs which is why she inadvertently feels connected to her. Kuku's good-for-nothing husband shows up at her doorstep holding a bouquet hoping to win her back. His true intent, however was getting access to her money. She tries to strike a deal with him but even though she wants to break free, she doesn't seem very stern. Is he her back-up plan? Or was Mansoor?
I adored Laila's (Alishba Yusuf) entry. The photo session was nicely done and seemed very realistic. Mansoor's restlessness was evident with his constant fidgeting; Kuku's absent-mindedness was conveyed brilliantly all the while her husband was sharing his elaborate business plans. As a bride, Laila looked like an ethereal beauty- her eyes spoke a thousand words. Mansoor's expression upon seeing his bride for the very first time was confusing- was he surprized at his mother's taste or was he happy? Bahu tumhari tarhan hi pasand ki hai. However, any romantic fantasies Laila might have had disappeared in the very next instant- kafi khel liye ye shaadi shaadi... This was certainly not the start any woman would have hoped for!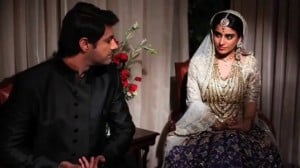 Did you watch tonight's episode? What did you think?
P.S. I'm covering for Fatima Awan this week but she'll be back next week :) Please leave your comments and she'll be more than happy to respond.
Yours in watching,
Kanwal Murtaza