Pehli Si Mohabbat continues to be a classic Faiza Iftikhar drama because it does not have any dramatic twists and turns but the script has enough substance to keep you coming back for more. There have been no desperate attempts to entice the viewers, which I personally like since sometimes that is all you need to unwind on a Saturday night! Every week we get to know a little bit more about all the characters and some scenes are dedicated to the main love story which is gradually moving forward. Aslam and Rakhshi's love story continues to be the most well-represented example of two immature people who feel on top of the world when they are with each other but do not realize what an ugly turn their lives can take if they ever get caught. Maya Ali and Shehryar Munawar have translated this immaturity convincingly on-screen even though they are playing roles much younger than their actual age.
Once again, I really enjoyed watching those scenes which covered the 'everyday' life of these characters…those daily interactions of family members such as Aslam asking his mother for money or Ishrat asking him to help her out. Zainab's track is gradually unfolding as well; Uzma Hassan and Paras Masroor's performed brilliantly tonight. Also, for a change it was good to see Akram communicating with his family members in a 'normal' manner, he is capable of being nice after all! Slowly the hatred against Rakhshi's father is dying down and things are returning to normal. The OST is beautiful and it has been used intelligently by the director throughout.
The Blackmail
Tonight's episode opened with the scenes introducing Niggi's character. Her comment about Aslam calling her meri dulhan was so relatable for me since that is something I have witnessed myself so many times! Niggi however turned out to be a blackmailer. The fact that Aslam trusted her so much went to show just how immature he was. Even though Rakhshi is relatively more sensible but she is always swayed away and never has the courage to walk out of such situations. She gives in to the temptation since she is young and in love. This was one mulaqat which will cost Aslam more than he bargained for, quite literally! I am glad that Aslam's present lifestyle and his carelessness have been highlighted repeatedly through different conversations. Everyone else around him can see that he is not responsible enough to get married and it further endorses his immaturity. That also explains why he would take all these risks and be silly enough to think that he can eventually somehow get married to Rakhshi without getting proper education or earning a living! His focus is on the romance entirely and he is not paying much heed to the practical aspect of the situation. Rakhshi does not have the courage to take a stand and also understands the tragedy that might hit soon but unless Aslam sends the proposal, she is completely helpless.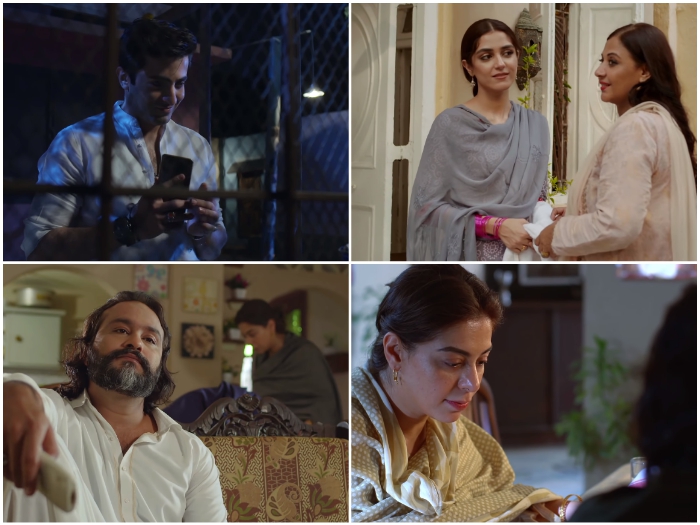 Zainab's Track
It was quite evident before too that Zainab was not happy with her life but tonight the viewers got to watch firsthand how her husband treats her. He called her a zinda lash which would suggest that she was never able to accept this marriage. This track is meaningful because it represents the lives of so many such women who are forced to marry someone because their families are too scared of marrying them off to the man they love! Zainab's husband could tell just how desperate her family was to marry her off and that she is not welcomed at her parents' house. Zainab has resigned to her fate because she knows that she has no other choice. Although we get to watch abusive marriages often on screen, this track shows things from a different perspective – women's consent and feelings are not flexible!
Nargis' Backstory
Most of Nargis' scene revolved around her monitoring Rakhshi's moves, these scenes are getting repetitive and I am waiting for the time when Rakhshi will eventually confide in her. Rakhshi's opinion about her stepmother is based on the general impression of such mothers therefore many of the problems faced by Nargis are a result of how people around her judge her past and present based on preconceived notions. Tonight's episode showed that Nargis' heart had also been broken by a man who used her to secure his future. Is that the reason why she is concerned about Rakhshi? In one of the previous episodes, she told Rakhshi not to trust anyone, now we know where these warnings are coming from. Even though she keeps on saying that she is keeping an eye on Rakhshi because she doesn't want anyone to blame her for anything wrong that Rakhshi does but now it seems as if she is in her own way looking out for her. Rabia Butt's performance has been spot on throughout.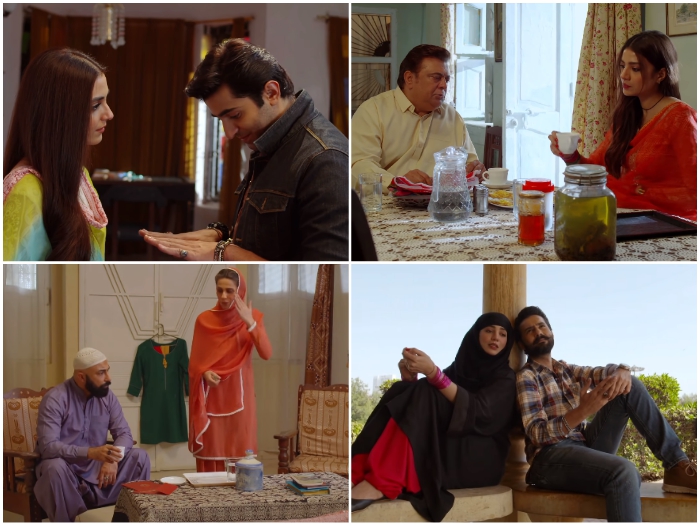 Final Remarks
This was another episode of Pehli Si Mohabbat which was for the most part engaging and there were some scenes that were somewhat repetitive. Watching this drama has been like reading a novel, everything is shown in detail and I especially like the fact that the writer never leaves anything to the viewers' imagination. Every character has a story to tell and there are no heroes and heroines in this one, just normal people whose story has been told effectively. Pehli Si Mohabbat will not keep you at the edge of your seat because it does not attempt to do so but it will keep you interested and involved. This drama definitely passes as meaningful entertainment.
Did you watch tonight's episode of Pehli Si Mohabbat? Do share your thoughts about it.