This latest episode of Pyar Ke Sadqay highlighted Mansoora's failure as a mother, Mahjabeen drawing the right conclusions about Sarwar and Abdullah turning to the right people for advice. Mahjabeen's parents are back in the picture, which I think is great. In so many dramas the parents are conveniently sidelined after a girl gets married, thankfully, that is not the case here.

I really like the fact that there are no plot-holes in the script so far. The screenplay is rock solid. However, some of the scenes tonight were not translated on-screen too convincingly. Mahjabeen's transformations in both the scenes did not look too radical on-screen. She more or less looked the way she did before. The dialogues and situations suggested a complete change in her overall look. Also, her hairstyle completely changed when she was out with Sarwar for dinner. Apart from these minor glitches, this was another superb episode of a drama which is one of the best dramas on air right now.

Meaningful Situations and Dialogues


Tonight's episode of Pyar Ke Sadqay had so many meaningful scenes and dialogues which in a subtle manner translated the underlying emotions of different characters. Abdullah's "I'll manage dad" was one such dialogue. After insulting Abdullah in front of the entire office, Sarwar yet again started giving him unwanted advice which was clearly meant to brainwash him. Abdullah does not have the guts to tell his step-father off therefore this was his way of telling him that he did not need Sarwar's advice. The fact however remains that Abdullah is easily influenced not only by Sarwar but by anyone at all.

I loved the scene covering Mansoora's behavior when Abdullah and Sarwar came back from the office. Although this was a big day for Abdullah but she did not ask him how his day was. She in fact asked Sarwar how the day went and actually sympathized with him. Later on too when Abdullah said he was not feeling well, she did not inquire about his health. She was more worried about Sarwar in all these scenes than she was about Abdullah. This was such a good way of showing where she was lacking as a mother. It also went to show where her priorities lied. It was an intelligently written scene that explained why Abdullah felt so worthless and he never took his mother into confidence. Mansoora is on Sarwar's side and no one knows that better than Abdullah because he is the one who has paid the biggest price.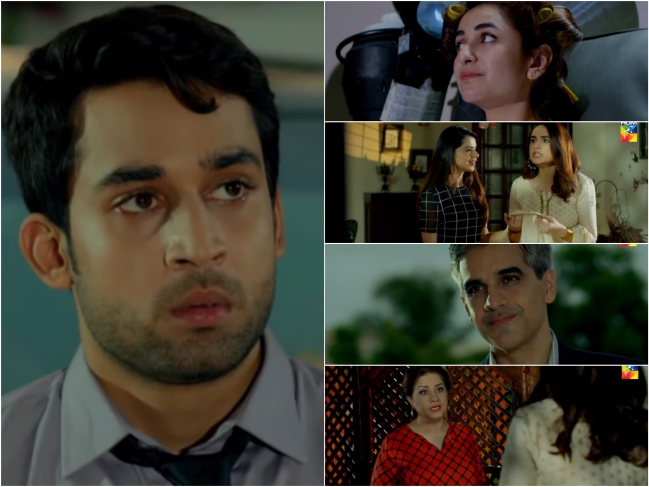 Mansoora trusts Sarwar completely although she is a wise woman otherwise. Washma is the intelligent one who knows Sarwar better than everyone else. Her character balances out Mansoora's gullibility. Therefore unlike dramas like Balaa, we have a strong character who can see through Sarwar and is not afraid to speak out. Washma has also managed to stay away from this toxic environment and she is also doing whatever she can to make Abdullah's marriage with Mahjabeen last. Washma's reality checks to Sarwar are always gratifying and on point. Phupo's character is a breath of fresh air too. Although her brother is no longer in the picture but she is such a supportive and positive character in the play. Srha Asghar's energy and apt portrayal never ceases to impress.


Mahjabeen and Abdullah


Mahjabeen and Abdullah's scenes tonight covered different dimensions of their relationship. After Sarwar brainwashed Abdullah, he could not even bear to be around Mahjabeen but after the conversation with phupo, his attitude was different. Mahjabeen for now is definitely more receptive and vocal. She shared with Abdullah whatever Sarwar said to her about him and also mentioned that she did not feel like giving him the respect which she should, considering that he is her father-in-law. This conversation between these two was innocent but meaningful too.

Perhaps for the first time, Abdullah openly shared how he felt when Sarwar insulted him. The interesting bit was that he knew that he was right! He is therefore intelligent enough to know that Sarwar is playing games with him but does not accept that even in front of his sister and phupo. Seems like Abdullah finally has someone he can confide him. Also, who would understand his problems more than Mahjabeen who has faced rejection all her life.

I must say that tonight for the first time I felt that Bilal Abbas Khan completely overshadowed Yumna Zaidi. Although Yumna Zaidi has acted superbly throughout but this episode truly belonged to Bilal Abbas Khan. The way he translated different emotions on screen especially in the scenes in which he was scared and unsure was impressive.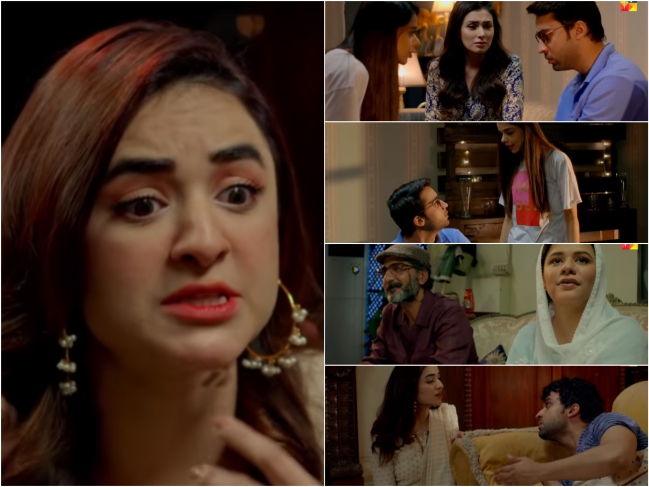 Sarwar and Mahjabeen


Sarwar flirted with Mahjabeen more than once and she felt uncomfortable when he did so. Although Mahjabeen is innocent but she is smart enough to tell that there is something wrong with the way Sarwar interacts with her. The best part of this episode was that Mahjabeen can already see that Sarwar does not deserve to be respected and at least tonight she was not even scared of him. Sarwar's plan is to turn Mahjabeen and Abdullah against each other, so far Mahjabeen does not listen to him the way Abdullah does. Omair Rana acted exceptionally well tonight too. I especially liked Yumna Zaidi's performance in the scene covering her interactions with Sarwar when they went out for dinner. The confused and tense expressions on her face were priceless.


Final Remarks


Pyar Ke Sadqay is turning out to be an exceptional drama. Tonight's episode also showed how concerned Mahjabeen's parents were and in the next episode her father will talk to Mansoora. I seriously doubt that Mansoora will believe him but she will at least be more vigilant, perhaps. Shanzay is already having issues with her fiancé who it seems is a lot like her! The 'hoshyar khoobsurat larki' dialogue was really sweet and Abdullah's reaction was even more so. I loved Bilal Abbas' look tonight, it looked like he was tired and worn out.

The best thing about this episode was that even with things getting slightly serious, the light-hearted scenes were entertaining as usual. It is great watching characters which make you laugh but they have such emotional stories.

Eagerly looking forward to the next episode! Share your thoughts about this episode.