Bhola and Noori finally met tonight and this meeting couldn't have been covered in a more apt manner. Bhola's 'love' for his dulhan, Noori's feelings for Bhola and most importantly the way Bhola felt rejected repeatedly was the best part of this episode. Bhola's relationship with his mother and the way she protects him is the most heart-warming aspect of this drama. Their scenes have been written and executed flawlessly. This latest episode of Ranjha Ranjha Kardi had some of the most phenomenal performances we have seen on television in recent times. This episode also had few of the most beautiful as well as upsetting situations we have seen in this drama so far. Iqra Aziz's outstanding performance tonight was the highlight of this episode. Imran Ashraf never ceases to impress and every single character in this play leaves an impression on you in some way or the other. Kashif Nisar's skillful direction shone out in so many scenes tonight. The direction and editing of this drama has been perfect throughout.
Noori's Practical Approach
Noori could not stand Bhola but she was fascinated by everything in her new house. Noori's tour of the house, her expressions when she touched all those 'clean' beautiful things showed that she definitely liked her surroundings. Bhola's dialogues clearly indicated that Noori already had a close bond with her mother in law and had decided that she was going to spend most of her time with her. Iqra Aziz's expressions and body language along with the little details which were covered so well made her scenes a treat to watch. Noori's love for cleanliness and her disgust towards Bhola showed that she was back to being her normal self. She answered all of Rizwana's questions wisely without getting herself or Ama Janate into trouble in any way. This is only the start and there is so much more that Noori will have to face in the upcoming episodes. I am eagerly looking forward to watching how her journey unfolds since Noori is not the kind of woman who will give up under any circumstances. Watching Komal talk to Noori about her college made me wonder if Noori too will get a chance to study in the future.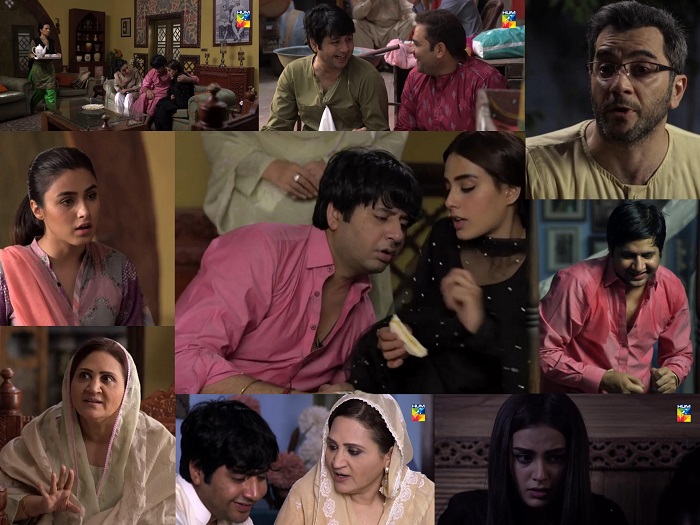 Bhola's Confusion
Bhola was expecting something completely different from this marriage therefore he had no idea why his dulhan did not smile and was so upset with him all the time. Noori decided to keep a safe distance from Bhola and did whatever she could to make sure that he does not feel comfortable around her. The scene in which Bhola offered her the pan was simply brilliant. The way he got scared and started crying was extremely poignant. This was the kind of scene that stays with you. Imran Ashraf's riveting performance coupled with the way these scenes were written made these scenes impactful. Bhola decided to show his friends his Dulhan's pictures and they recognized her instantly. Noori thought she had left her past behind but it seems like her past will come to haunt her very soon.
The Positive Characters
I absolutely love Bhola's conversations with his mother. The scene in which she tried to lecture him before he went to meet Noori was so meaningful. Asma Abbas translated a mother's fears and her love beautifully on screen. Her character is so positive and strong at the same time. She has dealt with so much in all these years yet she has nothing but love to give to his son and even to Noori now. The way her eyes lit up when she saw Noori and got mehndi made especially for her showed that she valued her. Komal is another character in this play who always puts a smile on my face. She is also Bhola's well-wisher who tries to add as much 'normalcy' in his life as possible.
Overall Impression
Like every other episode of this drama, this one too was perfectly put together. Every scene added to the story in some way and was meaningful. The dedication and honesty with which this unusual yet appealing story has been told reflects in all the scenes. I felt for all the characters tonight – Noori, Bhola and Bhola's mother. You can't help but root for all these wonderful people who deserve better and are trying to make things better for themselves and each other. Right now, I am more interested in knowing how Noori will face everything that comes her way. Her character has so much going for it. Faiza Iftikhar's script has been meaningful and engaging. Kashif Nisar never disappoints and the leading actors deserve an award for their mind-blowing performances.
Do share your thoughts in the comments section.