Sabaat has only been on air for 5 weeks yet I feel like I have been watching this drama for the longest time since it has been tedious sitting through most of the episodes! So far, Sabaat has failed to keep me interested and engaged. The screenplay and the direction both have been unimpressive, the background score has been beyond annoying! Tonight the background score was so loud and inappropriate at times that I had a difficult time sitting through some of the scenes. The writer is taking a lot of time building up the characters and their stories, I have honestly started questioning if it is going to be worth the wait! So far, there is nothing extraordinary about the story or any of the characters. I am already tired of Miraal's fixation with Hasan and the drama has only started! We have seen many balaas and jhootis recently on our television screens, I was expecting Sarah Khan's character to be meatier.
Miraal's Annoying Personality
The opening scene of this episode definitely piqued my interest. I was hoping that Miraal's track will get more interesting but Miraal, the character, continues to disappoint in more ways than one. The way she entered the office in the previous episode made it look like she was ready to take over the world yet when her father asked her to represent the company in the court's proceedings, she wasn't too eager to do so. After the proceedings she complained about Yasir Qureshi's attitude and she was clearly not in control! Yes! Miraal has just stepped into practical life and it is understandable why she would feel that way but even then her whiny attitude basically proved the famous Urdu saying right 'apne ghar mei billi bhi sher hoti hei'. Her expressions when she came face-to-face with Yasir and everything she said to her father, later on, revealed another unpleasant side of her personality. The background score when her father was telling her why she needed to supervise this case and the employee's expressions suggested that he was probably another disloyal member of the company. Or it could just be another case of bad camerawork and inappropriate background score.
Miraal apparently can only exercise her power within the four walls of her house or with people associated directly with her family. Apart from telling the lawyer off, there wasn't much she did about the situation. She is simply incapable of coming up with better ideas or making well-thought-out conclusions. Miraal's father is a wise man otherwise but somehow he made some really impulsive decisions in this episode. He trusted his daughter's judgment more than that of an experienced employee. Asking her to go to the court's proceedings in the first place was a bad idea considering how childishly she dealt with the whole thing. The 'saari university pareshan hei us ke behaviour ki waja se' was one of the few dialogues in this episode which didn't work for me!
Miraal is turning out to be an egoistic, spoiled, stubborn and rather immature young lady. As a negative character too, she doesn't have an appeal or an impact. The fact that she would much rather go after Anaya than someone who was disloyal to her father's company goes to show she really needs to grow up! This character is turning out to be more shallow than I was expecting it to be. Also, the manner in which Sarah Khan translates this character on screen and the way the director covers her scenes, makes it look like this character would have something grand to offer.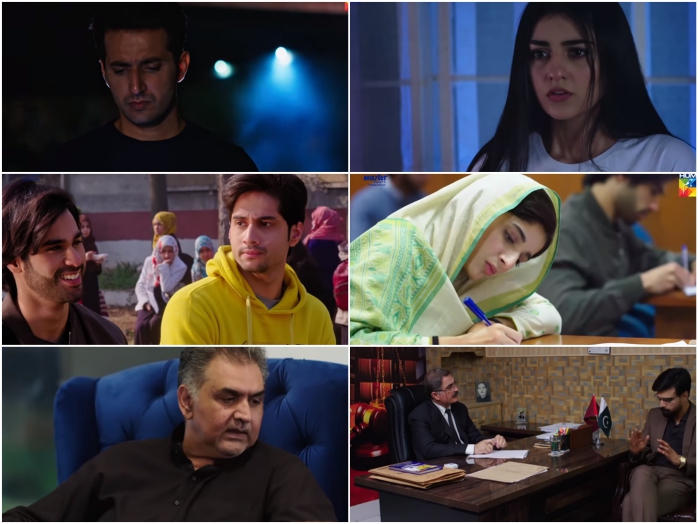 Well, I am still waiting to find out if this character has more to offer. Miraal definitely looks like the boss lady but she acts like a spoiled brat, nothing more and nothing less. All I can say right now is that I seriously wish the character itself was just as 'attractive' as Sarah Khan's look for this role.
Anaya and Hasan
Hasan proposed Anaya in this episode but only after getting her in and then out of her trouble during their final exam! 'Ajeeb baat hei jo tumhei chahyeh wo tumhare samne hei lekin tum us se baat bhi nahi kar sakte' was yet another extremely lame dialogue in this episode. Yes, of course you can't talk to her because it is not allowed to talk during the exams, something we all learned in kindergarten! I really find such dialogues in this drama odd, they don't fit into the situations that are being shown at all! And then the sir says 'mei aap ko bari der se observe kar raha tha', although she was completely focusing on her answer sheet all along!
Hasan's dialogues in the scene covering the proposal were well written but these dialogues did not work from me because I find Hasan's 'journey' pointless so far! I am still trying to understand what he is out to prove by not using the luxuries provided to him by his father when he has the opportunity to prove himself by running his father's business. A change in attitude would have been enough.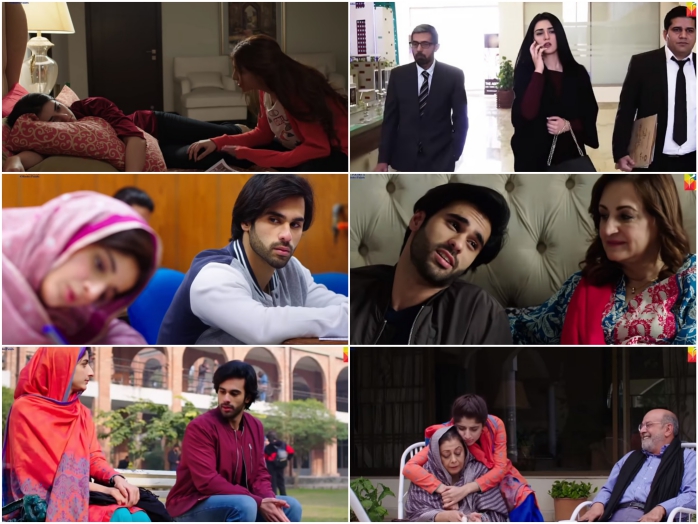 I was wondering last week, how Anaya will eventually fall for Hasan, well his emotional dialogues and change in thinking did the trick which makes sense. I was expecting Anaya to tell Hasan that marriage was not on the cards at the moment but that didn't happen. Well, fair enough! I don't find Hasan's character appealing but perhaps Anaya does ;) I don't find myself rooting for these two just yet!
Final Remarks
Hasan and Miraal's father is the only one who had some meaningful dialogues tonight. He handled Hasan wisely and also gave the right advice to Miraal. Anaya's scene with her parents was the most heart-warming and realistic in this episode. I love the on-screen chemistry all these actors share. The preview of the next episode suggested Miraal is not yet done with Anaya! Honestly speaking, I am so not looking forward to Miraal's 'revenge plan'!
Did you watch the latest episode of Sabaat? Share your thoughts about it.