This second episode of Shadi Mubarak wasn't half as lively and fun as the OST of the play which gives completely different vibes. I have to say that the first episode even with all its drawbacks was more interesting than this one because it covered a great deal and Yasir Hussain was definitely better at playing the guy who likes to play pranks than the "cute boy" who is hopelessly in love. Yasir Hussain is a natural actor but let's be honest, he does not and cannot fit in the cute boy role! Also, the humor in this episode wasn't really funny; the dialogues which were supposed to be humorous were more sarcastic than funny. So far, the characters too are simple, easy to relate to but they don't really make you laugh and are not appealing enough.
Nyle fell in love with Zoya just like that and Zoya decided to forgive him too. While I found their scenes together realistic instead of too cheesy but the fact that these two characters are no longer fighting has somehow effected the chemistry between the two. In the first episode when they were both fighting, it seemed like Yasir Hussain and Kubra Khan shared good on screen chemistry but tonight watching them as a couple wasn't exactly delightful. The reason for this also was that the scenes were too plain and they were neither serious nor funny! Another reason is that while Nyle's character has a definite personality, Zoya's character doesn't have a lot to offer. There isn't anything about Zoya's character which is likeable, I hate to use this word repeatedly but she too is plain! Same is true for the relationship all the other characters have with each other. Nyle's mother kept on looking for a girl for his son and this time around after being disappointed with all the other girls she has met so far, she decided to call her niece Rimsha to win her son over. I am not expecting Rimsha's character to live up to the "hype" because clearly Shadi Mubarak doesn't seem like one of those dramas which actually deliver!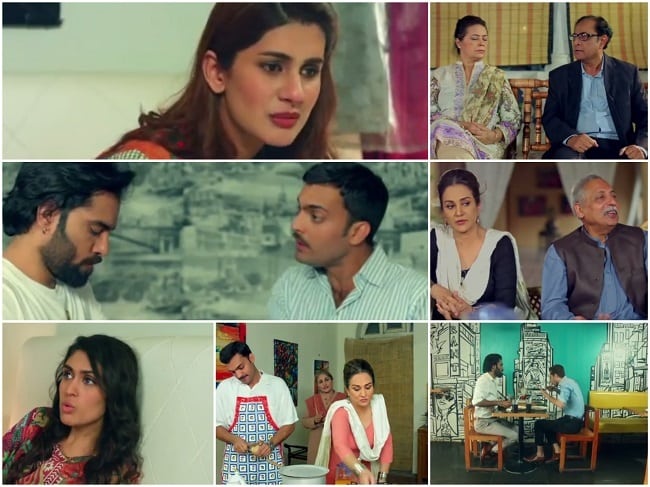 The opening scene of tonight's episode was a failed attempt at comedy and then the whole episode was filled with such scenes. What made the rest of the episode bearable is the fact that the actors playing the central roles are good actors.
So far, Shadi Mubarak does not have the kind of witty comedy or fun characters which the viewers were looking forward to watching when they tuned into this drama. The relationship between all the characters has also not been explored much and is one-dimensional and hence too plain. Nyle and his family discuss only one topic; all the conversations in the house revolve around his marriage. Even someone like Bushra Ansari who manages to make the most of every role assigned to her and makes sure all her roles have a different feel seems to be playing a role similar to the one she was playing in drama serial jhoot. The irony is that the mindset with which both these characters were written was anything but the same but Yasir Hussain failed to give Bushra Ansari the kind of character which would give her a new identity. I have said this before but I feel the need to say thing again – Bushra Ansari's potential has not been exploited to the maximum in this serial. On the whole, Shadi Mubarak can pass as a guilty pleasure for those people who want to watch something which isn't heavy-duty but don't expect a lot of laughter from this one!
How many of you watched this episode? Do share your thoughts about it.