"Tumhara jane ka kya hai tum tu chali jati ho lekin mei tumhei chorne ki rehearsal kr raha hu, is liye na bhi chaho tu chor ke aau ga." Loved this episode and the credit for that goes mainly to the director for giving this drama the right kind of treatment and then to Sami Khan, who is beyond brilliant as Faris. I have said this before but I feel the need to say this after every episode of this drama; Sami Khan's portrayal is so perfect and effortless that I find myself looking forward to his scenes. The character is well written as well but if an actor does not capture the essence of a character and fails to translate it on screen properly then no matter how good the character is on paper, it does not come alive on screen. Ayeza Khan's performance in tonight's episode was phenomenal too. Sami Khan and Ayeza Khan's scene together was powerful and right on point. Mansha Pasha's subtle portrayal of a sensible girl who is in love but isn't desperate to win over the love of her life is flawless. The variety of characters in this drama also make it more engaging. Every character is a mystery; you don't really know what to expect from them and how they will react to a certain situation but at the same time the characters are easy to connect to.
Tonight, when Saif told his sob story to Maya, it wasn't easy to figure out whether he was telling the truth or making up a story because he wanted to make sure that Maya gets divorce from Faris. Zahid Ahmed's expressions were misleading and there were times when it seemed like he wasn't telling the truth. I have to say though that Zahid Ahmed and Ayeza Khan do not share the kind of on screen chemistry which was needed to make these scenes a complete success. Zahid Ahmed's acting in tonight's episode wasn't really natural, once again it seemed like he was trying too hard.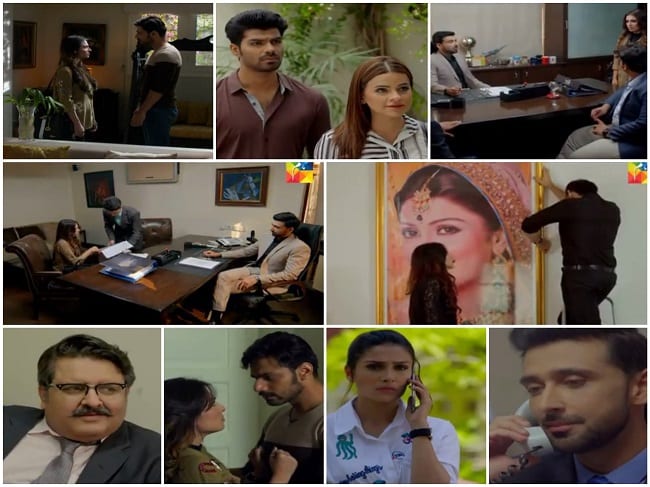 Faris and Maya's meeting on the other hand was an absolute treat to watch; beautiful dialogues and faultless performances! This scene between these two characters couldn't have been directed and acted out with more precision. The scene covering Zoya and Tipu clearly suggested that Tipu was in love with Zoya and Zoya was wise beyond her years.
After watching this episode, there are tons of questions in my mind. Is Faris really going to announce his engagement with Dariya at the party? Would a girl like Dariya allow him to do that? Is Saif lying or is he really in love with Maya? I feel like he is using her. Will Maya even come to the party? Most importantly, will Maya and Faris' marriage finally culminate in divorce? I am waiting to find out how the story progresses in the upcoming episodes.
When I started watching this drama I was not looking forward to watching another slow paced play full of philosophies but here I am enjoy this drama even more with every passing episode. The director and some of the actors definitely deserve credit for that. It is great to see Ayeza Khan finally playing a role which has tons of room for performance and is intriguing as well. It is also a pleasure watching Sami Khan excel in the role assigned to him. He has always been a powerful actor but he fits so perfectly in this particular role.
How many of you watched this latest episode? Don't forget to share your thoughts about it.