The pace of this drama is slow but it has my undivided attention nevertheless. The leading characters in the play and their complicated yet intriguing relationships with each other are the main reason why so far this drama continues to be unpredictable and hasn't lost its appeal even with its slow pace. Every episode reveals something new about the characters. The story is moving forward with a flow and I can't help but look forward to what surprises this drama might have in store for the viewers. The fact that every character's thought process is being shown to the viewers in some way or the other as the story progresses forward also makes it easier for the viewers to connect to these characters. Every episode also has few dialogues which you can listen to and enjoy over and over again. I have always enjoyed Khalil-ur-Rehman's unusual stories because if they are well executed they can be really powerful. I also find myself comparing this drama to Bunty I Love You over and over again, which too had an unconventional story and was very well put together.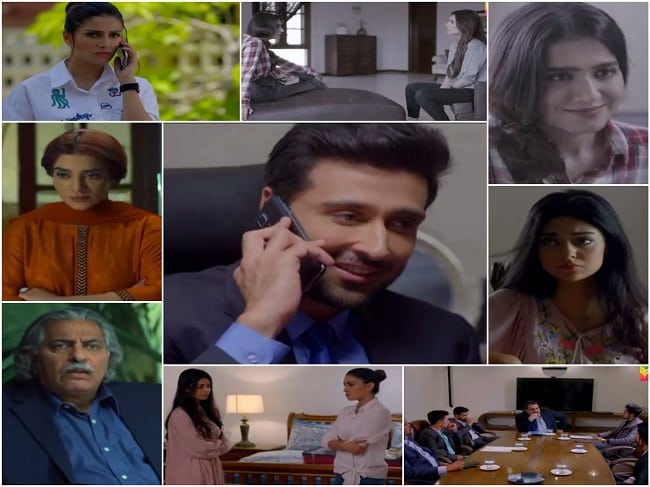 "Koi ap ko dukh de kr khush ho jaye tu us se dukh le kr khush ho jao. Koi aap ko chor kr jane lage tu use salam kr ke khao, aap hamare nahi janab tu hum bhi aap ke nahin."
Faris was shown struggling to end this relationship in a way that would prove to him, more than anyone else, that he was not hurting and that he was ready to start afresh. The fact however seems to be very different,  he is constantly struggling to be at peace with the decision Maya took and he has to go along with because he has no choice. While Maya is more than ready to end this relationship, Faris does not want to say goodbye but he has absolutely no control over the situation. He is trying his best to take the higher road but then there are also instances when he thinks about doing something which would hurt Maya too. His proposal to Zoya was somehow something I could see coming especially because of the way Tipu reacted when Zoya was talking about Faris so fondly. Faris' character is very interesting; a male protagonist like no other! It is good to see a male lead being the centre of attention for a change especially because Faris' character is brilliantly etched-out and translated on screen faultlessly by Sami Khan. The body language and dialogue delivery has been perfect throughout and Sami Khan's performance is the main reason why I am enjoying this character so much. I never thought a divorce party would make so much sense to me but the writer, director and of course the actors involved have succeeded in "selling" the idea! The reasons behind this divorce party are such that you can't help but feel for the person throwing the party and actually look forward to the outcome!
Mansha Pasha has breathed life into Dariya's character in such a beautiful manner. Her performance is right on point right from the first episode. Tonight, the viewers got an insight into how Maya felt about Dariya when she got married to Faris. Ayeza Khan's acting in this flashback scene was brilliant; her expressions were superb. It is good to see Ayeza Khan performing so well in a character which is anything but typical.
Overall, I enjoyed watching this episode thanks to the perfect execution, beautiful dialogues and great performances. Some of the conversations could have been chopped down but in general all the conversations added something new to the whole scenario. I am glad Saif did not get a lot of screen time in this episode.
How many of you watched tonight's episode? Do share your thoughts about it.