This fact can't be denied that years have gone when Pakistani females can be seen in some particular areas (dramas, serials etc) on television. Today, women are stronger than before. They know they can prove themselves in a variety of genres, one of the most popular being "anchoring". I can recall old days when there were a handful of television channels broadcasting current affairs talk-shows. Most of them being dominated by male anchors but then a new era emerged, when women also started to pursue the field of anchoring. Being the anchor of talk-show which is based on the current affairs of the state is a big deal because it involves not only great efforts to compile the research matter but also it is one of the most time-consuming jobs. Nevertheless, our females have nailed it and Pakistan has produced a good number of these females which are successfully delivering their best in this area of Pakistan Media Industry. Some of the most popular anchors are:
1. Jasmine Manzoor:

Who doesn't know Jasmine Manzoor. It won't be wrong to put here that she is the most aggressive female anchor in Pakistan. She is not only an anchor and a journalist but also a blogger.
Jasmine did her Masters in International Relations. She has been working as an anchor since 1999. Her famous show "Tonight with Jasmine" on SAMAA T.V started in March 2010. Jasmeen has also made documentaries on various subjects and has received four awards for her outstanding work, one of which was the Benazir Excellence Award for Best Female Anchor in Pakistan in 2009. She is a powerful female current affairs anchor
2. Mehar Abbasi @ Mehar Bukhari:

Meher is brave and sharp. She knows everything about Pakistani politics and knows how to get to the point. She worked as a host on Dunya News, in a program "Cross Fire with Meher Bukhari". Currently she is doing "News Eye with Meher Abbasi" on DAWN News. In this program, she interviews Pakistani politicians, and talks about the current affairs in Pakistan. In November 2011, Meher married ARY News current affairs talk show anchor Kashif Abbasi
3. Asma Shirazi:

Born in Islamabad, Asma Shirazi has a Postgraduate Degree in Political Science. Asma Shirazi started her career with the media industry in 2001. She has substantial experience as a news reporter and program anchor. She started her career from GEO T.V and after some years she switched to A.R.Y Group. After working for years with A.R.Y Group (hosting current affair shows etc), she joined SAMAA in July 2010 and where she hosted a weekend program 'Faisla Aap Ka'. These days she is doing a talk show called "Faisla Awam ka" on DAWN News.
4. Sidra Iqbal: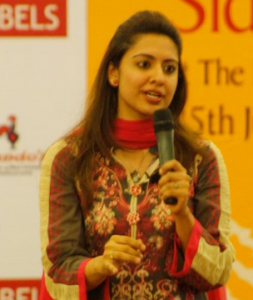 Sidra Iqbal is also my personal favorite anchor. She is not just a journalist and an anchor but also one of the celebrated youth icon. Sidra is a prominent television broadcaster in Pakistan since 2006 and has a number of signature shows, productions and momentous coverages to her credit. Her shows have featured a number of VIP guests from Heads of States, Policy makers, corporate heads and celebrated popular icons. Sidra especially enjoys a country-wide strong youth fanbase, who keenly follow her comment and advice on youth issues and self empowerment.
In July 2012, Sidra became the first Pakistani anchorperson to host the official digital platforms of the International Indian Film Awards 2012 (IIFA), the mega Bollywood extravaganza of immense global popularity in Singapore, a project that expanded Sidra's fans base across borders.
Her popular talk-shows on P.T.V are "Insight" and "Spot-light"
These iron ladies of our media are doing exceptionally well and they are the ones who possess the capability to fight for the right of common Pakistani by showcasing basic and core issues  in front of the elected representatives of the state and trying to resolve them. These young ladies address the real issues of our country and try to fight it. There are other female individuals as well who are trying to give their best in this field but the ones mentioned above have earned good name as well which must be considered as a payoff of their hard work.
We wish them best of luck.
Do let us know who is your favorite female anchor person and why. Leave your comments in the comment box beneath and also don't forget to vote the article
Enjoy reading
S. Rasool