This episode of Tum Kon Piya wasn't extraordinary but even then it is a decent play to watch on a weekday. The story is simple but some of the characters keep you guessing and there is a scenario in every episode which surprises you. The most intriguing character right now is that of Arif, there is a good reason why there is so much focus on this angry young man who is surely not capable of much. He has a low self-esteem and tries to cover it up by putting the blame on his family. He wants attention but is not willing to do anything to get somewhere in life. The last scene of this episode was also very significant. Zarbab found out how rich and influential Ramish was and he wants to keep in touch with him. Which makes me wonder if Arif will end up working for Ramish and this would lead to a constant connection between Elma's in laws and Ramish. This of course is just a wild guess because for now I can't think of any other reason why Arif's failure in life is being given so much attention. The last scene was also very important because it showed how different Zarbab was from Elma and even Ramish. Money or status never mattered to both these people but for Zarbab it is everything; he thinks people who have these two should be treated with more respect!! Wasn't this the kind of thinking which Waqar Ali was trying to escape when he married Elma to Zarbab?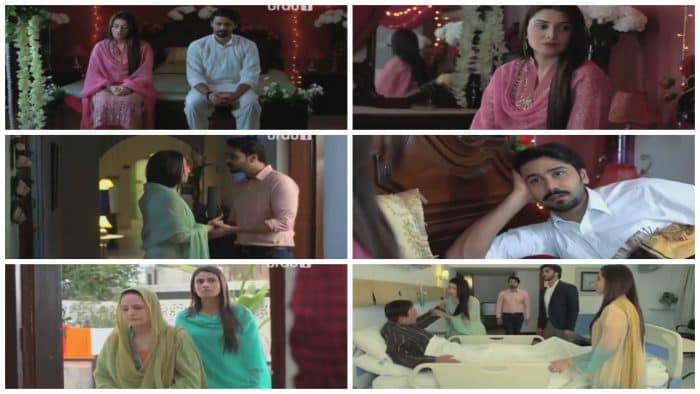 Unlike the last episode Elma was shown thinking about Ramish. I found those scenes funny especially because it seemed like Ramish was an imaginary fairy god mother who appeared whenever Elma shed a tear – a tear drop away!!! It is however natural for Elma to think about Ramish. He is there in her thoughts when she is lonely or sad. Zarbab likes Elma, he tries his best to care for her but he is not as sensitive as Elma. Even when Waqar Ali talked to them about Elma's sister's marriage he was too busy looking at his phone and wasn't interested in the conversation. A boy who has been raised by Sharaft Begum and has been brought up in such a household couldn't possibly do better than that! I liked the fact that like a typical shaki husband Zarbab did not question his wife as to why this man would gift her such an expensive watch.
So far every development in this drama has been very convincing but Elma's majburis and problems seem forced which makes it difficult for the viewer to feel for her. Elma never informed Zarbab that they were invited for dinner and she did not call her father and make an excuse. The whole thing was blown out of proportion, yes these small things hurt but then someone like Elma should have been able to handle the situation more decently. All of Elma's sisters' conversations revolve around their aapi right from day one which is why their characters are dull and boring.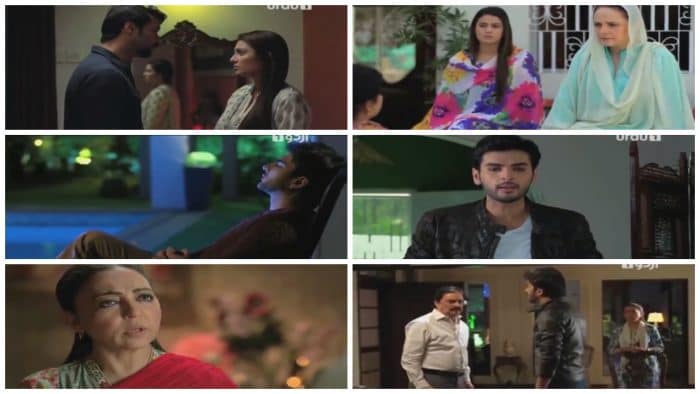 My favorite scene in tonight's episode was the one that lead to Muzzaffar Hassan's heart attack (which it looks like was real). Ramish wasn't arguing with his father when it happened but he was actually trying to tell him that there were other ways in which he could prove that he was a good son. This marriage with Sunbal is like a business deal for Muzzafar Hassan and he will make sure that this deal is done because he does not believe in losing.
This episode was quite predictable but even then it was engaging enough. Apart from the problems Elma is facing in her susral everything else was covered well. Ramish's next step was also a nice change since the same conversations revolving around money and status were getting repetitive. Imran Abbas acted well in tonight's episode except for the scenes in which Elma imagined he was there, once again his dialogue delivery seemed rushed in those scenes. Ayeza Khan is brilliant as Elma, she makes her character more likeable. Yasir Shoro has managed to grab the viewers attention by making Arif's character come to life and for now I am definitely more interested in his track because I have a feeling he will have an important role to play in the story. Ali Abbas is a natural; his effortless acting and clear dialogue delivery have truly impressed me. Hina Bayat is definitely doing justice to her role but I want to see a softer side of her character too or maybe a different side!! All the shouting gets to you after some time. Yasir Nawaz deserves credit for directing this play really well. It was good to see Elma wearing a simple dress and with a pony tail when she was cooking unlike many actresses who insist on looking like divas even when they are rotting in the kitchen! Yasir Nawaz has definitely paid attention to detail.
The preview of the next episode showed Muzzafar Hassan playing his last card which would mean that Ramish and Sunbal will eventually get married. Elma promised her father that she will help him out but Sharaft Begum will of course make sure that doesn't happen!
How many of you watched this latest installment of Tum Kon Piya? Please share your thoughts about it.
Fatima Awan