Ever been stuck in an infuriating board game where you take one step forward and then two backwards and despite the small movements, seems like you have been pretty much stuck in the same place forever? Same is the feeling I get watching Intezaar. Zoya has come back home and all is forgiven and forgotten apparently. Shariq asks Zoya's parents for her hand in marriage and you would think they would say yes (remember we know of Saba's existence, they do not) but throw in Naimat Chacha's demand and Zoya refuses to marry Shariq – again. Next week's preview shows that this obstacle is apparently dealt with and the path is clear for Shariq and Zoya – when another twist is thrown in.
I did not understand Zoya's father's hesitation over Shariq's proposal. Zoya's mother seemed to talk sense for the first time when she said Shariq had taken care of Zoya and been there for her when none of them had. On the face of it all, he does seem like the perfect 'rishta'. However, he warms to the idea and speaks to his brother. Naimat's reaction did not surprise me although the lengths this man is going to to keep his grandson in his home is not commendable in the least. Why was nobody able to point out to him that he could no way, by law, keep Sameer away from Zoya? I really wish we were not shown that Zoya is an educated and confident woman at the start for seems like Azmeer took all her intelligence with him to the grave! I understand shock, helplessness etc right after his death. Did not understand the inertia that was the stay at Shariq's house. But I truly do not understand this mazloom helplessness. If she wants to marry Shariq – how can Naimat keep Sameer away from her? If she does not want to marry anyone at all then – why does she need to? Surely with her parents and Azmeer's parents around to help with Sameer, she could go back to work and provide a life for herself and her son? Alas – Zoya's mind does not seem to be headed in that direction at all!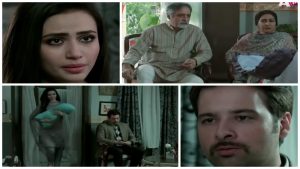 Yeh ultay seedhay TV kay dramay na dekha karo, damaagh kharaab ho raha hai. Naila (the ever scheming Bhabhi – her name often skips me by) is truly one of those cunning bhabhis in our dramas and if it is the dramas that have made her that way then I am with Shahnawaz on this one, ha! Naila is beginning to get a taste of her own medicine. Her expressions are rather comical at times, such as when she eavesdrops on Shariq and Zoya's conversation. Despite the whole suggestion being selfish and insane, for a fleeting moment I wondered whether Naimat wanted Shahnawaz to marry Zoya only to keep Sameer close or to finally have one point over Naila, LOL! A small part of me did feel great satisfaction to see Naila shocked and squirm. Naila demands that Shahnawaz divorce her if he marries Zoya – I did not see that coming! She is not wrong to want to have children but the tactless way she attacked Shahnawaz left a bad taste in my mouth. He has not agreed to marry Zoya and when a woman is unable to conceive, for a man to throw that in her face is in bad form and I felt that it should have been no different when the tables are turned. It just made Naila look worse at the end of that confrontation.
Saba was pretty much missing in today's episode. Except for the scene when she is struggling to build a 'home' and is met with her mother in law's disapproving stare at the end. What was she expecting anyway when she pressurized Shariq into this marriage? What were Mamu and Maami also expecting? That the nikkah would serve as a magic wand and all would be well? Oh well, I will not waste my breath on them in this review for Shariq seems to have forgotten about Saba for now while he continues to mope around about Zoya.
Naimat's wife gives Naimat a much needed piece of her mind. What she said was so true – he has not changed. 'Zabardasti kay rishtay khushiyan nahin laatay, khushiyon ka galla ghoat daitay hain' and when she said she thought the grief of losing his own child would make him sensitive to other's grief, it made me sad for her. She has always been a nice, reasonable woman and she only wants the best for Zoya. Her resentment and sorrow all came pouring out and the way she would bat away Shahnawaz showed how she had really been wanting to let it all out. Naimat's expressions gave me the impression that her words have made some sense to him – I think. But we will have to wait and see.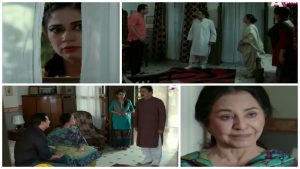 The story has moved a bit away from Saba's track focusing more on Shariq and Zoya. I think I watch this drama only because I started watching it and am curious to see how it ends and especially how Saba's track is dealt with eventually. I am still struggling with understanding Saba's mental state where she seems to be someone who acts her age generally except when she is given to moments when her past comes to haunt her and then there are moments when she seems like she possesses the mind of a 5 year old. The same goes for the dialogues – some conversations and dialogues make me pause and ponder but then like in today's episode if I heard the phrase 'pahaar jaisi zindagi' one more time I thought I would go jump off a 'pahaar' myself!!
Shariq ki shaadi koi karwaaday please Zoya se. And poor Sameer – not once have I heard him cry, bawl or fidget and Zoya claims he has done her head in. Taubah! Is it just me or is anyone else curious what Shamsu is like? Also, is there anyone else besides myself who watches this show? Any thoughts on tonight's episode? Would love to hear them!
Kunwal Javid