Baandi is progressing slowly and it is still a great watch. The characters are beautifully etched in this drama. With Tahawaar doing his best to get Meeru, Meeru's parents finally had to decide to part with her. In many rural areas of our country, this is the ground reality. People are enslaved for generations against some petty amount and then exploited for everything. Meeru was devastated with the way Tahawaar came to her house and violated her privacy and her right to freedom. Seeing no other options, she even tried to kill herself. A big thumbs up for Yasir Hussain here. I cannot understand why was he wasting himself in roles like Moti (Lahore  Se Aagay). He has given life to Baandi with his phenomenal portrayal of Tahawaar.
Rameen's story was also progressed when we saw how Wali's friend Farhan was interested in her. The status gap is something that came between them, his feelings were however one-sided since Rameen had no idea about it. Wali knows it and feels helpless when he thinks that his sister who is going through physical and mental abuse could have been happier with a person like Farhan. I am also liking Muneeb Butt's portrayal of Wali. He looks angry and helpless at the same time. He has perfectly shown how a person supported by his parents can never take a stand against them even for his own sister. Rameen's helplessness was also very relatable. Mostly women facing abuse hide the wrong doings of their husbands because of children and lack f support from their own parents like she did while explaining about her burnt hand.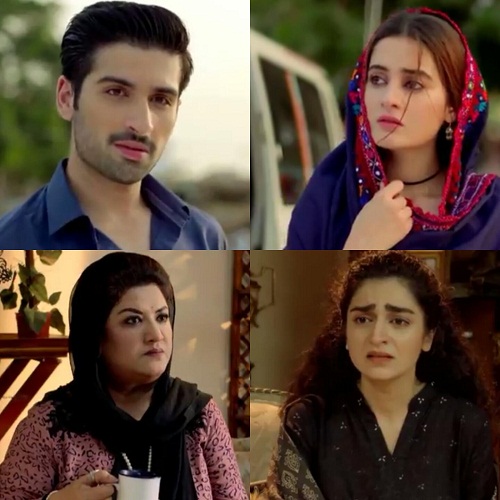 Faiza and Shahnawaz show the real hypocrisy and greed prevailing in our society. Yes, people can damage their children for their greedy gains. The way Hina Dilpazeer shows the double standards of Faiza is a treat to watch. Hina has shown her versatility once again. The way she becomes a scholar in front of others and beat the poor and scare then ones lower than her in financial status shows how people can be and how easily they keep fooling the world around them.
The paths of Wali and Meeru have finally crossed and he will soon find out that she will be their maid. Aiman's acting has been quite weak in Baandi, maybe because of the accent or she is not giving a foolproof chance to show her prowess in this project. Let's wait and see how Baandi unfolds further.