Tonight's episode of Deewar-e-Shab had some really important and interesting developments. Shehzad Sheikh's character was finally introduced today and although this drama keeps you entertained, there is always at least one blooper in every episode. The story is moving forward at a good pace and overall this drama definitely keeps you engaged. The grey characters in Deewar-e-Shab are definitely more interesting. So far this drama shows two completely different tracks focusing on the differences between siblings and how these differences shaped up the life of future generations. Islam was not given enough screen time in this episode although his reaction should have been shown.
Promises & Commitments
Gaiti Ara and Khayyam's scenes right from the beginning have been more or less the same. Khayyam wants to marry Gaiti Ara so that she can get away from this mohalla and Gaiti Ara continues to be the simple girl who keeps on reminding Khayyam that she loves her family but at the same time will do whatever Khayyam asks her to. Tonight, a lot of the dialogues suggested that Gaiti Ara was also unsure in some ways, she kept on asking Khayyam if he actually will fulfill his promise. Khayyam on the other hand is more certain and the only motivation he has for going forward is the life he wants to live with Gaiti Ara once they are married. Khayyam is the only male member of this family and since he was raised by Sitara Jahan and Nagina therefore Dildar feels insecure.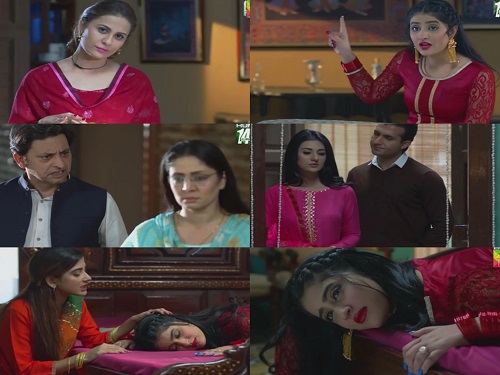 Khayyam's hatred for his family yet again was repeatedly shown through different scenes and dialogues. The way he interacted with Salar also showed that he was quite arrogant and perhaps immature. Shehroze Sabzwari has played his role well. He makes you understand Khayyam's inner conflict and the reason for his anger. He also comes across as someone who is controlling. Gaiti Ara's character is quite plain and tonight it seemed like Nagina wants Gaiti Ara to live a normal married life but her dialogues in the previous episode suggested something entirely different. Gaiti Ara can easily become the victim in the upcoming episodes because her character is so docile and she never has any opinion of her own. I am looking forward to finding out where this track leads.
Almas' Reaction
The way Nagina broke the news of Gaiti and Khayyam's engagement to Dildar was actually pleasing to watch since she had been waiting for such an opportunity for the longest time. In the previous few episodes Nagina was bitter and unhappy but tonight when she saw how her happiness caused trouble in her khala's house, she derived satisfaction out of it.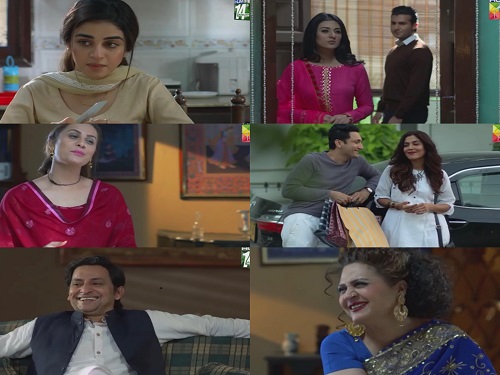 Almas wasn't just angry because Khayyam was getting married but also because she was tired of earning for the family while Gaiti's family was going to get her married to the man she loved. The impact of the engagement was covered in detail which suggested that this was an important development. Although Asma Abbas' makeover makes me laugh at times but she has done complete justice to this role. It is amazing how she can be so graceful in one role and so loud in another role. Zainab Qayum too has nailed her character. Nausheen Shah's performance has been brilliant throughout and her journey so far has been quite interesting too.
The Other Tracks
Izhaar and Shakra's family's greediness is actually quite amusing, they are like Dildar and her family. Whereas, Islam's family is like that of Sitara Jahan. Maaz was once again shown as a practical person who it seemed was not going to fight for Joya. Joya's character is a lot like Gaiti Ara, quite plain. The fact that she is completely different from her family was yet again established through different scenes.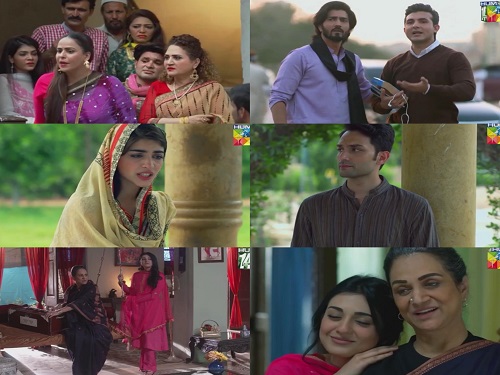 Final Remarks
This was another entertaining episode but I am still wondering where Gaiti Ara's sister is, why doesn't anyone ever mentions her? Also, when Islam's wife and mother left the house Rabbiya was missing! The bud dua Izhaar's mother gave him will perhaps determine his future life. I am definitely more interested in watching what goes on in Dildar and Sitara's house. The pace of this drama has been steady, the execution at times can be sloppy but overall it has been interesting enough so far.
Do share your views about tonight's episode of Deewar-e-Shab.