This episode changed my perspective about Nida's family in a good way and it further established Sikandar as a 'banjara', someone who isn't ready to make a commitment just yet! Sikandar's attitude tonight proved that indeed his camera was his best friend and as long as he had that and some "life" around him, he did not need anyone else. He did not even bother calling Shama and needed some space of his own – a classic case of "out of sight, out of mind". Sikandar's fascination with Nida was also highlighted in this episode. He found her appealing because he felt like they had a lot in common and it was a case of infatuation (I won't call it love just yet since Sikandar is too unpredictable!) at first sight! Shama on the other hand could not stop thinking about Sikandar and has no idea that Sikandar's proposal was merely a temporary escape from tackling the difficult situation he was in. Both these characters have been well-established in these few episodes and so far even with all his flaws, Sikandar's character is far more interesting than that of Shama. Adnan Malik's performance in this episode was steady enough, he manages to do well in the scenes in which Sikandar is shown as a easy going person but he cannot pull the emotional scenes off and goes overboard.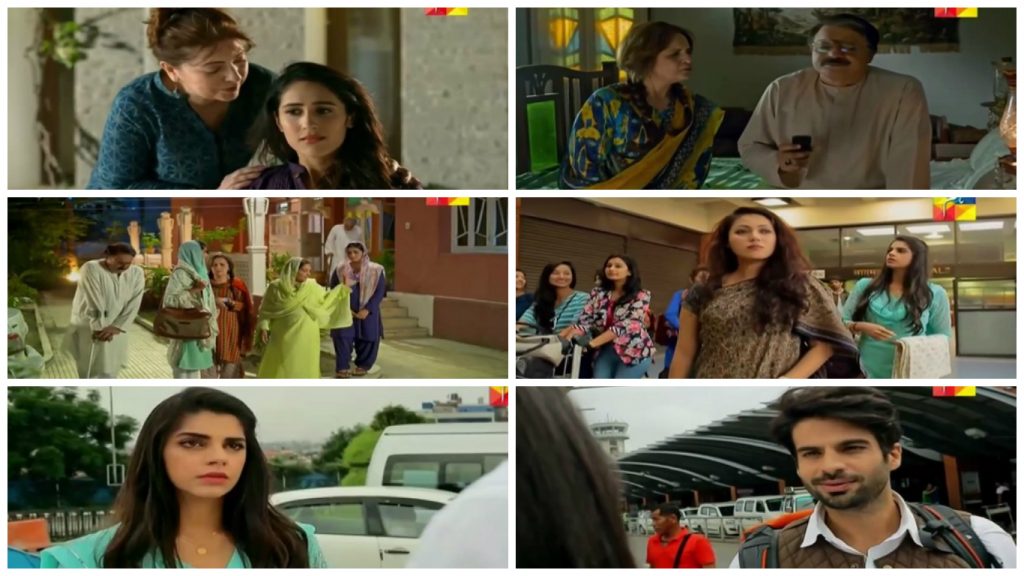 Unlike the past few episodes my favorite scenes tonight were the ones which covered Nida's family. Faseeha's personality yet again was portrayed brilliantly; I cannot praise the writer, the director and Hina Bayat enough for translating this very special character so beautifully on screen! One minute we saw Faseeha worrying sick about her daughter and the other minute she was so distracted she even forgot that she was waiting for Nida's call. The suggestion about the ring tone and the way all the conversations were haphazard yet poignant was simply perfect. Her character brings a smile on your face every time you watch her on screen. Also, the way the whole family came out to say goodbye, Taye's concern and Taya giving money to Nida showed that deep down these people loved Nida. In fact all the politics that is being shown is part of almost all joint families no matter how close people are which makes this family easy to relate to but these scenes which show their concern for each other add an emotional undercurrent to this track. When Nida was leaving for the airport, the early morning, late night scene was covered well.
Nida and Sikandar's chance meeting was a success mainly due to Sanam Saeed's performance. She portrayed Nida's anxiety perfectly, in fact she did really well in all the emotional scenes tonight. Nida's new friend (Sharmeen Kashif)  is very different from her; she does not mind eating food that is not halal, she is a free soul who is much more confident and definitely not as responsible as Nida. Watching Nida making so much fuss over a lie was hard to digest since the viewers did not see her telling her father not to tell her phupo a lie. The only disappointing aspect of this episode was that even though Nida had been dreaming of visiting new places for the longest time now and this was a dream come true for her yet she was not fascinated by all the beauty of this new place. That part of Nida's personality should have been given some screen time as well. She was more focused on doing well in the competition but a nature lover like her should have been easily distracted by a place which has a lot to offer to a tourist.
Overall, this was an entertaining and well-executed episode with quite a few good performances to its credit. Although this episode showed Nida and Sikandar's first few scenes together but the highlight of this episode were the scenes of Nida's family and her conversations with her father. Samina Ahmed and Hina Bayat's characters gave the viewers a reason to laugh while Sanam Saeed and Mohsin Gillani's scene were touching.
How many of you watched this latest installment? Please do share your thoughts about it.