Dhoop Kinare – a classic of olden times, written by Haseena Moin, directed by Sahira Kazmi & produced by Farkhanda Shaheen for PTV. I thought it was a high time to revive & relive the excellence of our old blockbusters by discussing them therefore my pick from one of them for this week is Dhoop Kinare.
This drama needs no introduction because it is one of those classic masterpieces of PTV that made it across the border & compelled everyone to say that Pakistani dramas are beyond imagination amazing. I must say I had heard about it & somehow picked the story as well when my family watched it back in those days but this is the first time I got to see it myself & couldn't resist praising it, not wondering why it got such popularity. All the actors were perfect & their conversations just brought a smile to my face.
The list of the actors & characters is:
Rahat Kazmi as Dr. Ahmer Ansari
Marina Khan as Dr. Zoya Ali Khan
Badar Khalil as Dr. Sheena Karamat
Sajjid Hassan as Dr. Irfan & Anji's Fiancé
Qazi Wajid as Mohsin Ali Khan & Zoya's Father.
Arshad Mehmood as Baba & Dr. Ahmer's Foster Father.
Azra Sherwani as Fazeelat Bibi & Homemaker
Hamid Wayne as Mr. Jalal & Anji's Father
Ishrat Hashmi as Mrs. Jalal & Anji's Mother
Kehkashaan Awan as Anji & Zoya's Best Friend
Rizwan Wasti as Mr. Nasir Jamal & Dr. Sheena's Husband
Latif Kapadia as Dr. Adil & Dr. Ahmer's Best Friend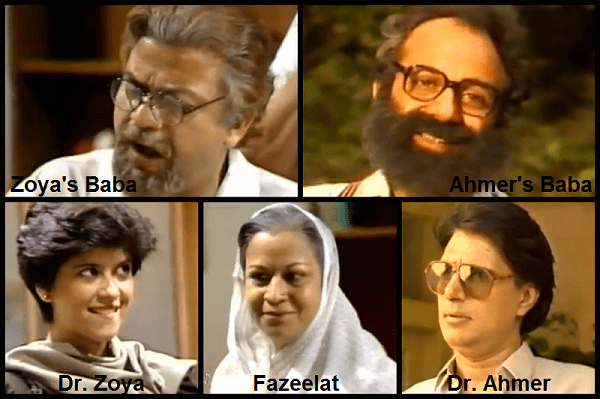 The Story:
Dr. Ahmer; an orphan lives a life with his foster father who adopts him when he was just a child. Since then they both share a cordial relation because they both mean the world to each other. Dr. Ahmer's life turns upside down when Baba dies leaving him devastated not only because of his death but because a secret he kept all his life from Ahmer about a family that he once had. Baba leaves a letter to Ahmer revealing the truth but he refuses to read because he is on his journey of detest & doubts. He feels wronged because of the secret Baba kept to himself all his life. For Ahmer, Baba adopted him because he wanted him as a partner to end his loneliness & all these doubts take place in Ahmer's heart because before dying Baba makes his grand-daughter a beneficiary of the home both Baba & Ahmer lived in.
Zoya Ali Khan who's a fresh MBBS graduate finds out that her grandfather whom she never met left a house under her ownership. Zoya a boisterous young girl who takes life way too casually now believes that she has attained a wealth overnight so therefore she doesn't need to work hard in becoming a practicing doctor, but just because her father reminds her of how much her mother wanted their daughter to be a doctor Zoya agrees to do the house job to fulfil the wish of her late mother.
Zoya joins the hospital in a children's ward where Dr. Ahmer is her boss. Oblivious of the link they both share, they both continue to have turbulent relation because Dr. Ahmer's a perfectionist & a dedicated doctor but Zoya is least bothered about her duties & doesn't understand the complexity of her job. Time takes her toll on Zoya & Dr. Ahmer's continuous scolding convince her to take her job seriously & she also promises herself to prove a point to Dr. Ahmer that she can be a good doctor too. Zoya eventually works upon her motive & earns the respect of not only Dr. Ahmer but all her colleagues as despite having a serious job of taking care of childern with illness, she brings in the life & positivity to her surroundings.
Dr. Sheena who has been friends with Dr. Ahmer for a long time idealizes him as her perfect partner but she gets the idea that Zoya is also getting interested in Dr. Ahmer. This paves the path towards a love triangle. Sheena always gives Zoya a hard time but she finds Ahmer always supporting Zoya. Sheena now understands that Ahmer never intended to have a committment to her, then marries her classfellow. After seperating from her husband Sheena still hopes that Ahmer will take her as his wife because she hates seeing herself losing in front of young Zoya. Ahmer's continuous support to Zoya then becomes a liking & later takes a form of emotional attachment towards her because he couldn't help getting attracted to Zoya's positivity & her lighthearted take on life. Ahmer always feels conscious of their age difference but overcomes the fear because he hears Zoya's confession to Sheena about how much she loves Dr. Ahmer as she couldn't resist falling for a charismatic person like Dr. Ahmer.
It's now the time when they both are aware of each other's feelings when Zoya's father suffers a loss in the business & is physically fragile. Without her father's consent Zoya tries to sell off the home so that she can help pay off the loan that her father has garnered. Ahmer who had always strived for getting the house back happily purchases it just to find out that the girl who he hated for taking his home away from him was none other than Zoya. Ahmer then reads a letter his Baba writes to him before dying in which he confesses how leaving his own family daunted him so therefore he wanted to do good by his granddaughter as a compensation because he could never provide a shelter to his own daughter. This way he would rest peacefully that he at least gave a roof to his only granddaughter. Dr. Ahmer comes to term with the fact that Baba was a person who only believed in benefitting those he loved therefore Ahmer accepts Zoya wholeheartedly not only because she was Baba's granddaughter but also because he loved her.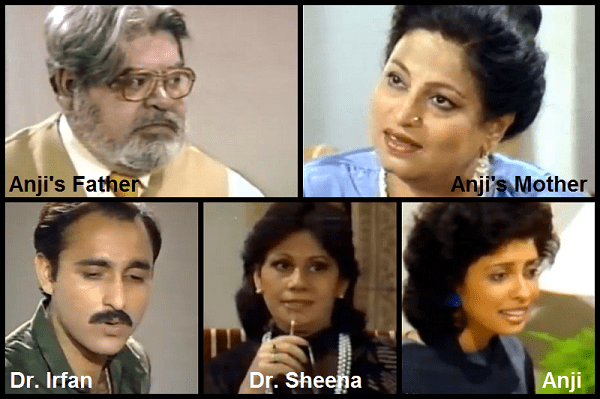 The Brilliance of Dhoop Kinare:
I must say while watching the drama, the only thing I couldn't stop raving about throughout was the usage of proper & accurate Urdu. I kept on wondering that no doubt Pakistani drama industry has progressed in terms of technicality & technology but we have also taken a back turn in the basic things like simplicity, the accuracy of Urdu & those brilliant heartfelt stories which leave you awestruck because of their excellence. I couldn't help noticing how easily such a simple execution could strike a chord & make a drama memorable. No doubt the progress our industry has shown these days has its pros & cons but sadly the quality of entertainment has been left far behind. After watching Dhoop Kinare I do hope that our current lot of actors work on their accent & pronounciation of our language & use just as much Urdu as they can because it was a treat to listen to. The drama-makers must consider projects like Dhoop Kinare as a standard that they have to & they must deliver & I am sure our industry will redeem itself overnight!
All the side characters had just an important role to play in this drama as the main characters. As much as I enjoyed Dr. Irfan's conversations, I loved the relation Zoya shared with her father. As much as Fazeelat's raised voice to put forward her concern about Zoya was enjoyable, seeing Anji's father as a stern & disciplined businessman but a soft-hearted father to her was a treat to watch too. All the characters were just perfectly portrayed by the actors & I must say I loved almost all the conversations because they were simple but carried a million meanings within.
I loved how Anji was ears to Zoya's innermost feelings & how Zoya pushed Anji towards Dr. Irfan. Dr. Ahmer found a trusted friend in Dr. Adil who always helped him in changing his perspective towards certain things. Another aspect that went to show how straight forward Zoya was, were the confrontations she & Dr. Ahmer had. No one actually could've dared speaking to Dr. Ahmer just like that but it was only Zoya, who knew she had to convey her feelings to let the other person know how hard it was to keep up with the trials they put Zoya through. I must say I never thought that the actors back then had cared much for the fashion but it came by as a pleasant surprise to see all those ladies as proper fashionistas with short hair, matching earrings & up-to-date outfits of that era. Even though they all came across as very simple, each one of them had a fashion sense for sure.
Each & every actor enacted their character perfectly & I couldn't believe how effortless Marina Khan was as Zoya. It was like she was born to act because she gave a life to her character. Rahat Kazmi was undoubtedly at his best & he portrayed the character of Dr. Ahmer with brilliance. & I must give a special mention to Sajjid Hassan for performing Dr. Irfan with so much ease. Each of his scenes were like a rollercoaster ride & he singlehandedly instilled the humour quotient in the drama. No wonder why this drama became everyone's favourite because it certainly deserved to be. I am glad I took my chance & invested my time in Dhoop Kinare because yes, nothing can ever beat the magnificence of this drama.
Share your views about & memories that you have of Dhoop Kinare.
Keep Supporting,
Cheers,
Zahra Mirza.