With this latest episode of Ishq-e-Laa, the story moved forward to its next phase. The characters and their tracks are gradually making more sense than they did in the initial few episodes. For the first time, I felt as if the emphasis on the visuals in certain scenes in this recent episode, affected the overall impact of these scenes. The birthday surprise however was shown in the most elaborate and beautiful manner. It was like a scene out of a film. Other than the unnecessary physical closeness between the main leads, their romantic scenes are perhaps some of the best we have seen in Pakistani dramas. This was such an important episode in terms of narrative progression yet Shanaya's mother was literally absent tonight! This is turning out to be such a huge and unnecessary 'distraction'.
Important Developments
The grim turn which the story took tonight was expected but I was not expecting Sultan to exit the story in this manner. I was expecting Shanaya's charity work to be the source of friction between the newlyweds but this particular angle is being linked to Azka's track in an interesting manner. I am certain I am not the only one who was waiting to find out how these two tracks will merge together eventually and this episode laid down the foundation for that. Shanaya and Azlan's priorities and outlook towards life were always different therefore it was just a matter of time that these differences created a rift between the two. The beautiful and romantic start to Azlan and Shanaya's married life was definitely the biggest surprise. Azaan Sami Khan and Sajal Aly's on-screen chemistry has also made their couple one which viewers have all the reasons to root for but it is quite clear that Azlan will also experience a big loss which will alter the course of his track. In my opinion, Ishq-e-Laa, therefore, is not entirely Azlaan and Shanaya's love story but I feel that their track will be utilized to carry forward the main messages which will most likely be spiritual.
It was interesting watching Azka raise the same questions which many of us did when Shanaya was shown madly in love with Azlan. The writer also made it quite clear in the beginning that Shanaya also saw these differences but she had no control over her feelings for Azlan. The birthday surprise yet again showed Azlan's soft and romantic side. He even canceled his important meetings for the event which was once again quite different from the image of this character that was established in the first few episodes.
Sajal Aly is usually more than comfortable in her own skin. She has been seen sporting natural no make-up and casual Looks in dramas whenever required. However, lately, there seems to be a great deal of emphasis on how she looks on screen. I noticed the over-emphasis on her looks in Yeh Dil Mera and In Ishq-e-Laa as well, tonight in particular her hairstyle and make-up did not go well with the situation. She had walked out of a party to help Sultan's family but surely she could have found the time to tie her hair and the lipstick should have softened with time. The high heels could easily have been replaced as well. The change of clothes and make-up for the show was understandable but the rest of her looks while she was struggling to get an FIR registered.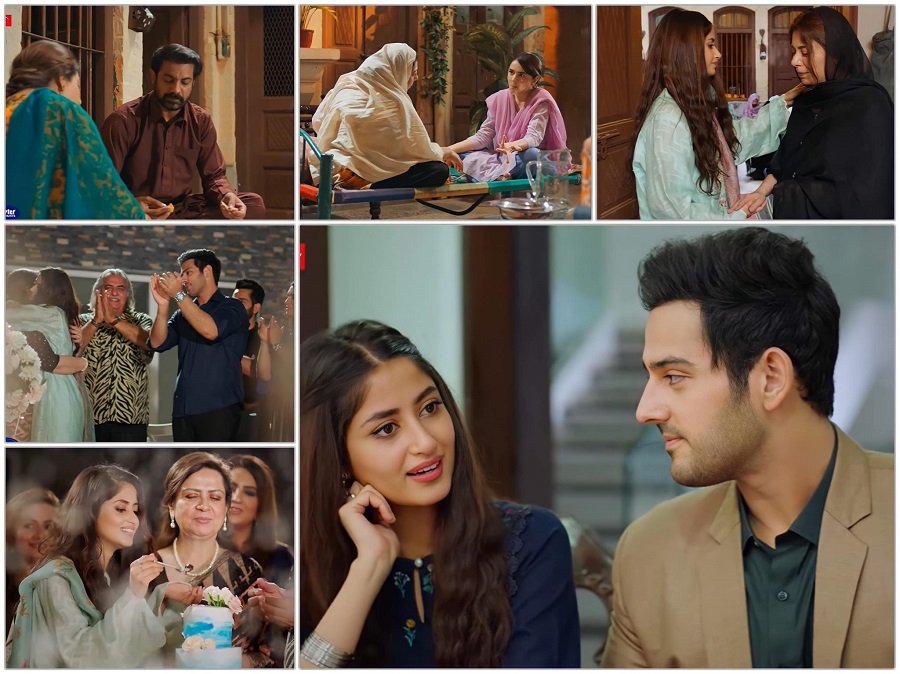 Azlan was already against Shanaya getting involved with this matter and after learning the details about the individual responsible, there will be even greater pressure on her. Azlan and Shanaya's interactions were once again penned down well. Shanaya always makes sure that she speaks for herself and her cause. At the same time, she values her relationship with Azlan and ignores a lot of things that she might not have had she not been in love with him. Azlan has a misogynist side to his personality but at the same time, he does show some flexibility and is not as toxic as some of the other male leads we have seen in Pakistani dramas. The negative and positive aspects of his personality are being shown more convincingly now than they were in the opening episodes. In the opening episode, the main focus was on his shallowness and materialism; there is definitely more to his personality! After their wedding, I can connect to the reasons why Shanaya fell in love with Azlan. Even though he is not as open-minded and kind-hearted as his wife, he definitely is in love with Shanaya and very often does things for her which he would not for anyone else.
Shanaya's mother is out of the picture completely which is highly unfortunate because Laila Wasti carried the character she was shown playing with utmost grace. Also, Shanaya's relationship with her mother was definitely one of the most important ones in her life. I wonder why such important characters are relegated to the background without an actual reason!! The immediate family members of the main protagonists should be kept in the picture at all times. Yet, more than once, when the female protagonists got married their loving parents who were always by their side disappear in thin air! The writers and directors definitely need to pay attention to this since it is happening more often than ever now.
Final Remarks
Ishq-e-Laa has grown on me and as the story progresses the characters are coming into their own. The story is different and the drama is picking up pace with each passing episode. The preview of the next episode suggested that Sultan's killers will be forgiven but then the previews of this drama have been quite misleading – which is always a plus! I would definitely give due credit to the person responsible for putting these previews together because he has been doing a brilliant job.
Did you watch tonight's episode of Ishq-e-Laa? Do share your thoughts about it.