Ohkay so, at this stage of the drama, the entire focus is on Kashf's younger sisters. It won't be wrong to say that I was hoping they'd be done with both Zoya & Irum's track in this one but it didn't seem to happen. However, there were a few moments that made a lot of sense & as a whole, this episode definitely worked. As the story is progressing, every step of the way, the viewers are reminded of all the dreams that Kashf has seen related to her family members. Their fluctuating behaviors clearly show that in their lives, Kashf's just a breadwinner & they are being more open about it now without even considering what Kashf goes through when she sees her own family members being so selfish!
Kashf & Wajdan's Exploitation
At the beginning of the drama, they did show that Kashf helped to save her aunt from meeting an accident, therefore what happened with Irum was similar to that case. It was now made clear that all the dreams that Kashf saw about Irum didn't have to materialize. I was actually surprised that they cut the entire scenario short & instead shown that Kashf prevented Irum's life from getting ruined, which was definitely an intelligent way of dealing with this aspect of the story. The dreams that she saw were basically a foreshadowing of what might happen if Irum got married to Babar. Irum was definitely being stubborn about it but then, she was lucky that her parents figured out everything before she could take such a drastic step. I think it was another subtle reminder that just because Irum was always nice & never did anything wrong, she was saved. It was also due to the fact that she never caused harm to anyone. Now what happens with Zoya & even Ashi is left to be seen. I do wish Ashi finds her happiness too because after doing so much for her entire family & especially after dealing with an abusive relationship in the past, she deserves to be happy.
Wajdan continued to prove his love for Kashf. I really like their equation. Kashf is completely aware of how pure Wajdan's intentions are but her hands are tied. As much as she wants to be with him, she knows she can not be because her family doesn't approve. Wajdan has gotten enough reminders that he might not be able to get married to Kashf ever, but still, he continues to show it to her because he genuinely wants her to know the intensity of his love for her – this definitely makes Wajdan a very special character. I like the fact that at times he does seem a bit too emotional but he makes all his decisions carefully & this mostly happens because he wants to convince Kashf, which is heart-warming!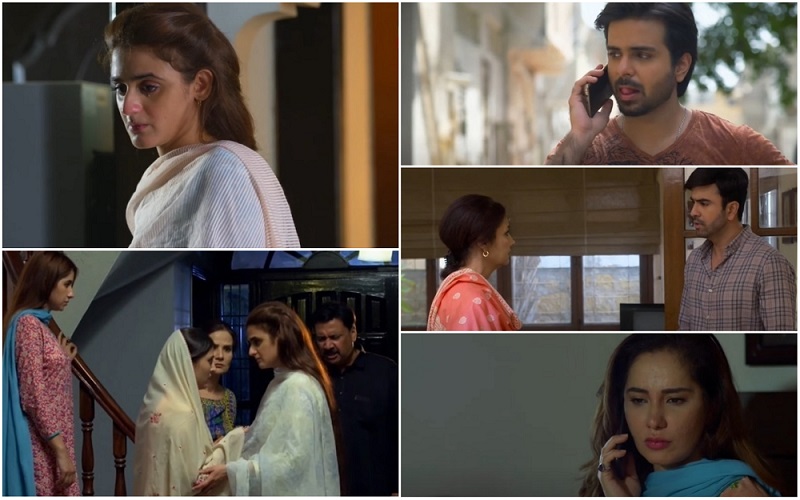 Everything's Under Imtiyaz's Control
Although Imtiyaz has been a very selfish father, to see him reaping rewards of his hard work was quite interesting. He has everything under control & now he is at a position where he can dictate & bargain because now he is free of all the needs. He has finally achieved what he wanted & he knows that as far as Kashf will continue to do what he expects from her, his life will be sorted. To be honest, Imtiyaz was shown to be a selfish father right from the beginning, therefore his attitude & behavior doesn't really surprise me anymore but what surprised me was the shift in Dilshad's behavior. It is because in the beginning, she was shown to be a mother who was very much in touch with Kashf's emotional state & felt a lot for her daughter but the way she behaves now clearly shows that there's no difference between her & Imtiyaz. Her behavior as a mother saddens me because she too has gotten used to the comfort & luxuries that she is perfectly fine with the idea of Kashf staying unmarried for the rest of her life. Imtiyaz & Zoya were always like that, but the shift in Dilshad & Irum's attitudes has definitely been shocking!
I was pleasantly surprised when Imtiyaz showed Irum the video clip. It goes to show that he is not being ignorant & is very much keeping tabs on Matiullah because he has an idea that he will keep on making attempts to ruin his family business. It is definitely interesting that someone who was introduced as a good-for-nothing is now very much in his element & is doing everything that showcases his capabilities & intelligence as a businessman & a far-sighted one at that. I honestly wasn't expecting this twist in Irum's life but it was definitely a pleasant surprise & I am glad that even at this stage of the drama where things have started to look a bit monotonous, the writer still has a few surprises planned for the viewers. Ashi has yet to find out that she too is being trapped by Aqmal but it seems she might not be able to dodge the bullet unless Imtiyaz figures that out too.
Interesting Episode
This episode of Kashf was definitely interesting. Hira Mani continues to impress & so does Waseem Abbas. I will however say that all the supporting actors like Munazza Arif, Samina Ahmed, Sabeena Farooq, Saleem Mairaj & Tanya Hussain have been very impressive as well. Junaid Khan seems to have finally gotten a project where he gets to showcase his acting skills in a perfect manner because I don't remember him being this good in any other drama before. He has made Wajdan's character very realistic & has portrayed it in such a manner that makes me feel for him. The actor playing the role of Babar gave such perfect expressions when he got to know that Irum has found out about his ties with Matiullah. It goes to show that the director gave such briefs to the actors where they found themselves comfortable enough in coming up with such realistic expressions. The way all the actors have performed shows that Danish Nawaz put faith in them & gave them confidence which allowed them to act to the best of their abilities. Kashf has definitely been a very impressive drama so far but it's just that as a viewer who feels for Kashf so much, I really want to see what's in store for her & want to get done with Zoya & Irum's stories quickly. Please share your thoughts about this episode of Kashf.
Keep Supporting,
Cheers,
Zahra Mirza.