Opening Thoughts – Well-Executed:
Ohkay so, this episode of Koi Chand Rakh was definitely well-executed. I can see that things are now changing & getting intense which was much needed because so far the story has been pretty basic without anything new to offer!
Planning & Plotting Against Rabail:
Well, Rabail is trying really hard to make things work & she is giving it all to connect with Zain but Zain is not even trying for obvious reasons. Yes, Rabail & Zain are two different people but Zain has not even given Rabail a fair chance as right from day 1 he has built this wall between them which Rabail is unable to cross.
It wouldn't be Koi Chand Rakh without some basic flaws like Zain came to Asad's place to discuss business matters & Nishal welcomed him as if nothing was wrong in his life or he just didn't go through his father's death. All Nishal could think of was Zain's indifferent behavior towards her but even for once she did not show some consideration that Zain must be emotionally upset. Nishal kept on pestering Zain using Rabail's name whereas Zain for a second did think about the promise he almost made to his father but forgot about it the moment Nishal started hovering around him. Also, Zain's fluctuating behavior & expressions were funny. In the morning he left home very serious with a lot of responsibilty on his shoulders but by the time he returned, he came back as Nishal's love-sick boyfriend who was throwing tantrums in front of his mother.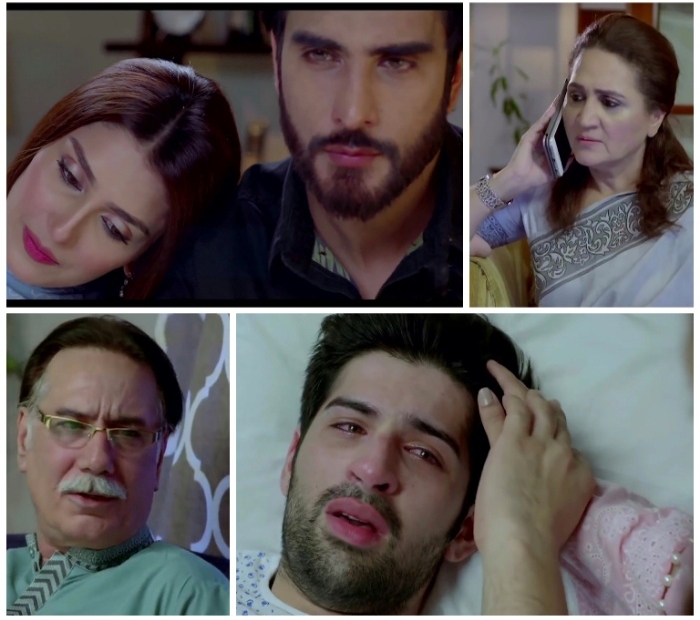 Rabail is always going to be at the losing end no matter what she does. To be honest, as much as a sympathize with Rabail, I am getting bored of her bad-luck. I know circumstances will turn in her favor in the end but for now, I am getting tired of seeing things always being against her. Rabail's concern for Umair was twisted by Nishal & presented in a very different manner in front of Zain but then this is what is going to happen again & again as Nishal wants Zain by hook or by crook.
I don't understand Zain's mother either. At one hand she wouldn't even reply to Rabail's Salam but on the other hand she wants Rabail to act as her watchman because aunty was alone in her home. Hmmm, where was Sobi? Busy chasing after Zia Bhai? Well, as the episode progressed it was nice to see Zain's mother softening up for Rabail & trying to defend her too. She can obviously see that her son is struggling & is unable to adjust well with her but it was nice of her to say that Zain should give Rabail a chance.
I found it funny how Rabail just ignored her mum-in-law's order & continued to do her thing, be it spending time with Umair at the hospital, making soup for him at home or having a long meaningful conversation with Asad regarding Umair's future. When her MIL ordered I thought Rabail will go back but she didn't, lol. Also yes, when Nishal made coffee for Zain she said Nafeesa chutti pe hai, whereas she refered to her housemaid as Shumaila before & we all know that Nafeesa is her mother's name, lol, like I said it wouldn't be Koi Chand Rakh without these funny glitches.
Closing Thoughts – Better Than Previous Episodes:
Overall, I will say that I found this episode of Koi Chand Rakh a lot better than the previous episodes. I must say that everyone has been acting brilliantly but Muneeb Butt takes the crown, he really has performed phenomenally as Umair. The preview of the next one has caught my interest too. I hope Zia Bhai doesn't linger the secret for too long & tell Rabail everything quickly. He must get back at both Nishal & Zain for bistiofying him again & again. Kadam barhao Zia Bhai hum tumhare saath hain, lol. On this note, please share your thoughts about this episode of Koi Chand Rakh.
Keep Supporting,
Cheers,
Zahra Mirza.