I must say that this episode had "been there seen that" written all over it. The direction in which the story moved forward was quite predictable and I was reminded of Dil-e-Muzter while watching the play. The circumstances are completely different but the way Alvira's father reacted reminded me of Silla's father in Dil-e-Muzter. There were also times when the story seemed like a mixed version of some of the Tarang telefilms put together. The good thing was that Sajjid Hassan's character is much more subtle than many of the rigid and unreasonable fathers we see on screen nowadays. Sarwat Gillani was superb in the scene when she calls Hamza to tell him that her father wanted to meet him. I really like Alvira's relationship with her parents; she is very open about her feelings with them just like a "princess" should be! Alvira had faith that her father will understand her feelings for Hamza but Hamza had his reservations right from the start. The happenings in tonight's episode were very filmy but they were presented in a non dramatic manner.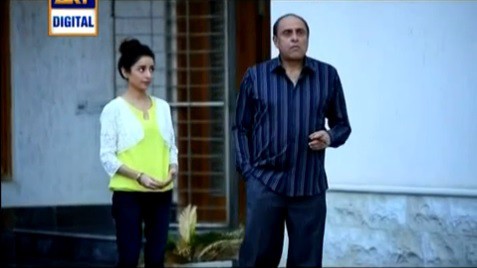 Alvira's father like many other rich fathers thinks that Hamza is after Alvira's money and offers a deal – yes absolutely nothing new there. We all know already that Hamza is not after Alvira's money so his reaction did not come as a surprise either. Alvira's mother watched the entire drama unfold without uttering a word. One would think that someone as modern as her would have a little more say in the house. It would have been nicer if Alvira's mother could have discussed matters with her too because they did seem like they were very close. Alvira's father is out to make a point and he doesn't care about his daughter's feelings.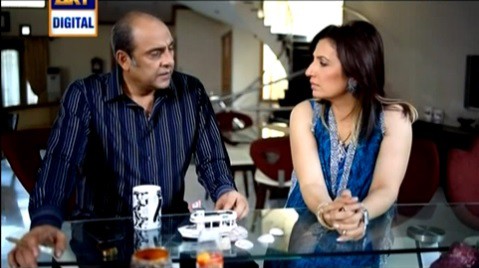 Our hero did not turn into a lost soul after Alvira's father's proposal, that was definitely good to watch. He has faith in his relationship with Alvira and also in himself. Hamza's mother of course is more interested in what her daughter in law will be bringing with her in jahez. She is going to be very disappointed when she finds out that Alvira's parents are not going to support her in any way. Mujhe tu larki baghair dekhe hi pasand aa gaye dialogue was funny.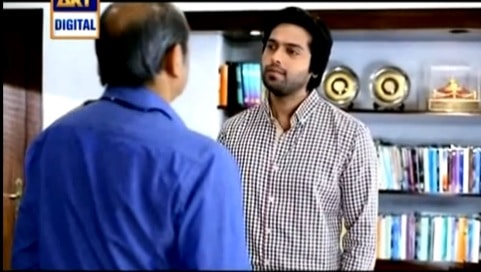 I don't like the way the cigar is being used as a prop for no good reason. I am sure that Alvira's father's character could have looked "elitist" even without it. I appreciate the fact that there is a warning that smoking is injurious to health every time dad makes his appearance with the cigar but was it really needed? Somehow I am finding it hard to take Sajjid Hassan's character seriously. The direction of the play, its picture quality and the chemistry between the main leads is standing out more than the script at this point. This is only the beginning of course, we will only know in the next four episodes or so if the story has something new to offer or not. The characters of the main protagonists are very likeable too. They are normal people with no complexes, issues or a baggage. I think Fahad Mustafa owns his role as Hamza, he is doing really well.
As it turns out the coming episode of Shukk is the second last one even though it was advertised on the channel and the FB page that the next episode will be the last one. Talk about using cheap tactics to get viewership!
Fatima Awan