I have always been fond of Main Bushra's meaningful and moving dialogues. It goes without saying that Sanam Mehdi Jarchevi put her heart and soul into penning down the dialogues and you're bound to find a philosophical touch in almost every scene of this play. However, I don't think every single conversation has to be heavy-duty and philosophical to strike a chord. Sometimes, light and sweet conversations can touch your heart in more ways than one.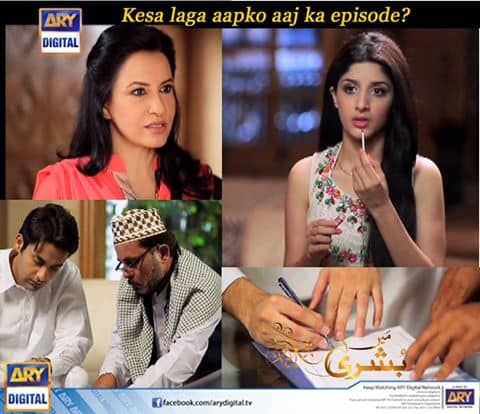 I think all of us had been rooting for Shayan the day he met Bushra and I for one genuinely wanted the two to tie the knot. It turns out that Bushra took her time to agree to Shayan's proposal. I loved how Shayan called for a pre-nikkah meeting to make sure that Bushra is not being forced into this marriage. I felt the pre-nikkah conversation was not only much needed but also to the point and perfect. Considering the hardships our dear heroine has been facing since the very first episode, I was expecting something to go seriously wrong at the time of their nikkah but thankfully, Bushra's parents marked their entry AFTER the nikkah had taken place *sigh of relief*. But still, they were in the wrong place at the wrong time because their presence only made Bushra feel uncomfortable and fidgety. Sofia and Nasir haven't got a clue about Bushra and Shayan's nikkah but Sofia has clearly sensed something fishy about Faraz and his sudden disappearance. 'Shayan ki shaadi ka card lekar ayega humaray ghar'. Haha, now that's what you call an awkward moment :P
I liked how they showed guilt pangs hitting Sophia. Deep down, she knows whatever has happened to Bushra has been anything but fair.
Hey, the moment Bushra's mom says, 'Larkian apnay shauharon kay saath hi achi lagti hain', I go like, 'Ghaur say dekhiye, Sophia aunty' ;) ;) (see below)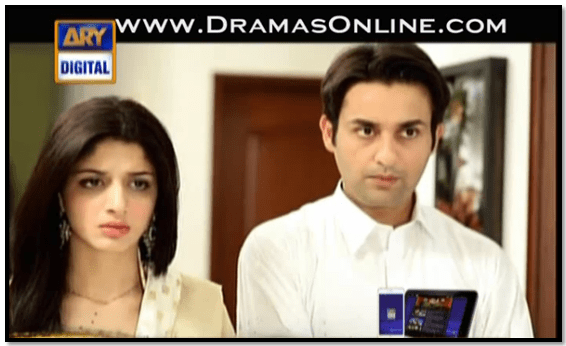 Even though Bushra looked stunning on the nikkah day, I felt her sleeveless dress didn't have a Bushra-like feel to it and I felt it didn't match her personality at all (kindly note I am only referring to the character here). Whoever is responsible for the sudden change in the wardrobe should have kept Bushra's background and character in mind.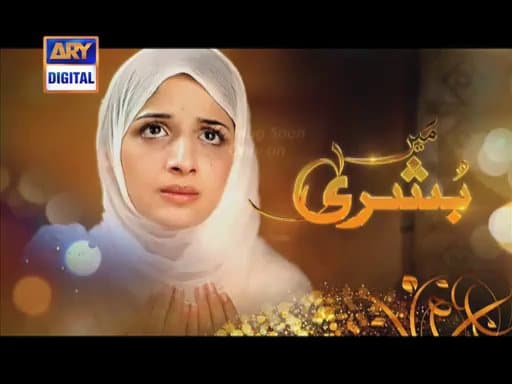 All this time I was hoping and praying for Bushra and Shayan to tie the knot and even though they are officially together, it seems like they are not willing to turn over a fresh leaf. If you ask for my honest opinion, the post-nikkah developments have actually been a huge disappointment. I was hoping for a few sweet dialogues, exchange of promises and most importantly- some SMILES !! :D :D You see, not that hard at all! But what do we get instead? Our dukhiyari bibi's tears and hichkiyan! I know she has been through a lot and I can totally relate to her frame of mind but with this new bond, I was expecting her to move on in the true sense. From what they have shown us up till now, the only thing I can scrape together is that Bushra and Shayan are living under one roof, in different rooms with no sort of interaction at all. Enlighten me, is that why we were rooting for their union in the first place? The previews suggest that things are not going to change for the better any time soon. As if seeing Bushra's teary-eyed expressions 24/7 wasn't enough, we'll now get to see her being subjected to abuse uff!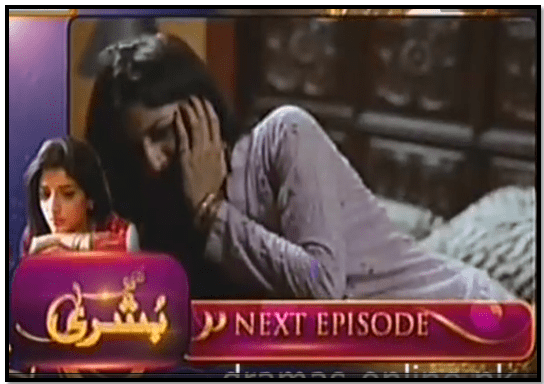 Andd what's an ARY drama serial without an absolutely mindless and unnecessary side track?? Fizzah (Bushra's eldest sister)'s abusive and obnoxious husband, Shoaib is out of prison and I think he's more unbearable for US than he is for Fizzah.
So this is it from my side. Now I'd like to know what you guys think of Main Bushra's latest developments?
Maryam Mehdi