So, Nabeel is all set to marry the "girl of his dreams", I know that most of the viewers here find Romaissa's character annoying. Yes she is Allah mian ki gayee to the core but I actually enjoyed Romaissa and Nabeel's scenes. I found the jokes and Romaissa's excuses to decline the lunch/iftar invitations funny. Mikaal is far better in comic scenes than he is in serious ones. In the more serious scenes, like the one in which he tells his parents about Romaissa, he sounds exactly the way he does in commercials. That tone of voice works for short commercials but sounds very artificial in dramas.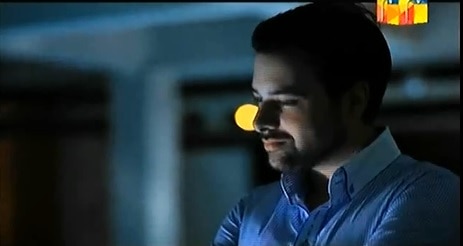 Nabeel's outings with Nayab were probably shown to reinforce the flirtatious aspect of his personality but even then I found those scenes too long and mostly uninteresting. These scenes could have confused the viewers for a short while about Nabeel's state of mind regarding who he is really interested in but given the fact that most people already know what is going to happen, trying to create such confusion couldn't possibly hold the attention of most of the viewers. Aalia's interest in Nabeel does not come as a surprise at all. Aalia's obsession with easy load and phones is being given more attention than it should have been given and her conversation with Nabeel on the phone was a little too long. But that does not change my opinion about Mansha Pasha's acting; I think she has breathed life into a character which is very different from what she has done till now. One of the reasons why her character stands out more than that of Romaissa's is also because of her powerful portrayal.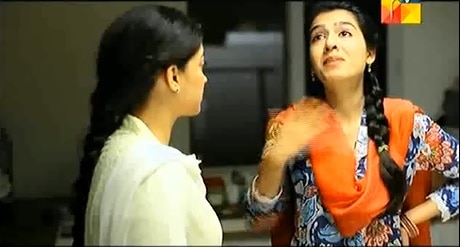 I must admit that if I sit down to think with a rational mind then there isn't anything about Nabeel and Romaissa's character or even portrayal that is appealing but their interactions with each other are light moments that are fun to watch. There is no depth whatsoever in the story till now but then that is how most of Umera Ahmed's serials start. I remember thinking the same way about Mirat-ul-Uroos and Kankar. But unlike most of Umera Ahmed plays none of the leading characters is standing out till now.
I couldn't help but feel that there was something missing in the scene in which Nabeel tells his parents about Romaissa. His parents' reaction was not surprising but the acting by all the actors in that particular scene was so unimpressive that it just looked like a lot of talking and no emotions whatsoever. I hope there is a good reason why the viewers are being shown how each member of Nabeel's family feels about everything in that house because I find the scenes in Nabeel's house in particular very monotonous and boring. There was enough of Nabeel in tonight's episode therefore the scenes in which almost every character was talking about Nabeel seemed forced. In other words because of these scenes there was an overdose of introduction to Nabeel yet again.
In my opinion, this drama could have been far better if whatever happened in these five episodes was covered in three and if our main leads could act better. I am a huge fan of Sanam Jung and Mikaal Zulfiqar too but they have failed to impress me with their acting in this play. Sanam Jung could have added more life to her character and Mikaal's dialogue delivery in the serious scenes has not really been remarkable. In my opinion, there should have been more of Zeeshan in these episodes than rest of Nabeel's family. Firstly because Zeeshan is the only person Nabeel has a normal relationship with and secondly because it is always a pleasure to watch Adeel Hussein on screen. The relationship between Nabeel's parents looks a little too similar to that of the relationship of many of the other couples in Umera Ahmed's plays; the disagreements definitely give you the "been there done that" feeling. Overall, this was an okay episode which gives you something to look forward to.
I am waiting to see Zeeshan's reaction in the next episode because he didn't look very impressed with Nabeel's choice!
Fatima Awan