Tonight's episode of Sabaat was emotional and just like every other episode of this drama, there were some situations that did not make much sense. Harris continues to be the most disappointing character in the drama, Miraal's blatant disregard of other people's feelings continues to be the same and this shift in Hassan's character is unbearable, to say the least. It is good to have Anaya's parents back in the picture. Syed Muhammad Ahmed and Mawra Hocane were stars of the show tonight. Syed Muhammad Ahmed is exceptional and he is definitely not the kind of actor who needs a director to guide him. That is probably the only reason why his scenes always leave an impact irrespective of who he works with. I truly felt for Anaya tonight and her reaction was translated really well on screen by Mawra Hocane. Ameer Gillani acted well considering this was his first such scene but the director failed to do justice to his scenes. The background score in this drama is most inappropriate at times. Although Shahzad Kashmiri is a skillful director yet there are so many scenes in Sabaat which fall completely flat because of his direction. The script has many loopholes and it isn't impressive but the director has also failed to capture some of the emotions in such a way that they leave an impact. I couldn't feel Hassan's pain because his scenes were not captured properly. Some of the scenes were too slow which affected the overall tempo of this episode.
The Heartbreak
The turn Hassan/Anaya track was emotional and in a way pleasantly surprising considering the fact that Anaya so far has been doing whatever it took to 'please' her husband. This track also had Hamsafar vibes, Anaya is expecting, Hassan doesn't know and he accused her of cheating! Ami aap kya keh rahi hei was replaced by a more powerful response by the writer. Anaya chose not to explain herself or even question Hassan. This for her was the end! I liked Anaya's reaction and her anger was justified. The way she demanded that her father should be there for her was another refreshing aspect of this entire development. The fact that his father is unwell and she cannot share this tragedy with him was however a done-to-death scenario. I really want a happy ending for at least one of Muhammad Ahmed's characters. He always makes us fall in love with the characters he plays but most of these characters exit the drama and leave us really sad. Anaya's father is such an amazing human, he would have been her biggest support and together they could fight all odds but it was not meant to be!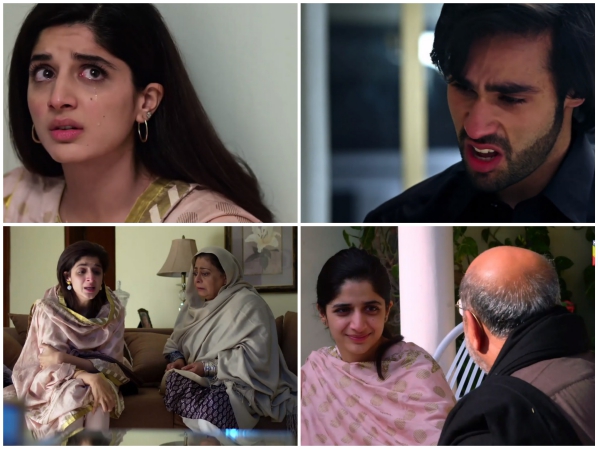 Hassan has joined the long line of all those husbands who fell for the trap set for them and doubted their wives. This is another scenario that we have seen in our dramas so many times. The writer has relied on too many clichés, sadly. He managed to avoid the 'mein tumhei talaq deta hu' part and now we are left wondering if Hassan will be able to redeem himself. The role Hassan's mother played tonight was also a positive one which makes me wonder if she will eventually be able to knock some sense into him. It was actually frustrating watching someone as sensible as Hassan believing Atif. Even though Miraal made it pretty obvious that she couldn't care less about Hassan's feelings, he did not react to it.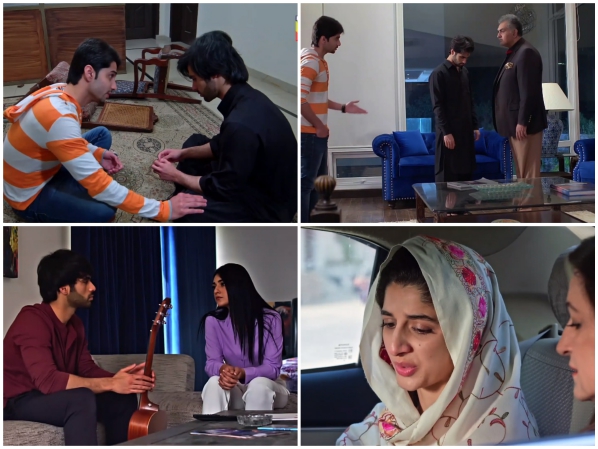 Miraal and Harris
We all know by now that Miraal is unreasonable, controlling, self-obsessed, and insensitive but Harris was introduced as an honest man with certain values. However, recently he comes across as someone who doesn't even have a personality of his own. He doesn't act like someone who guides other people through their emotional turmoil. He completely fails to see Miraal's negative traits. When Miraal was ecstatic because her brother's marriage failed Harris was somehow okay with that! He answered Miraal's call and lied to her in the middle of his session, which was highly unprofessional. Had he turned out to be a negative character who wanted revenge or had issues of his own, this character would have been more interesting. Harris is Miraal no. 2 because he is equally shallow!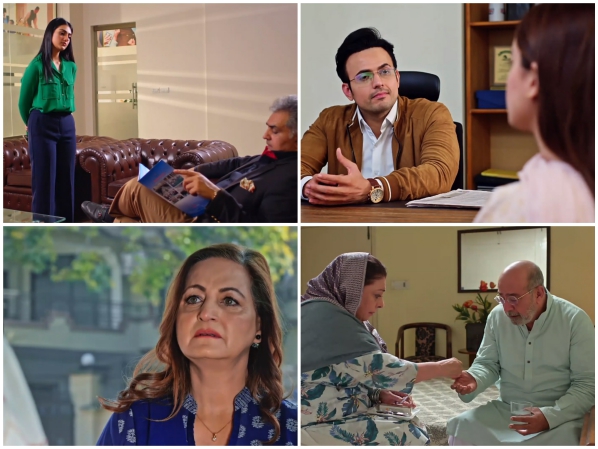 Miraal's conversation with her father was equally confusing. When they started talking it seemed like he did not know what Miraal had been planning but after a while whatever he said suggested that he was fully aware of everything. He is another character who is just as an enabler, nothing more and nothing less. By the end of this episode, Miraal found out that her husband lied to her and she will send Atif to verify whether that really is the case or not. Atif got the job he wanted so he will continue trying to please Miraal.
Final Remarks
I just hope that this drama wraps up soon because some of the tracks have stopped making sense altogether. This was a relatively better episode since there were some emotions involved but it was slow nevertheless.
Did you watch this episode? Do share your thoughts about it.