Ohkay so, the writing of Irfan Mughal, direction of Shaqielle Khan & production of Momina Duraid; Shart hit out TV screens on a Friday night & I feel it has had a good start. Obviously, coming from Momina Duraid's production house, the production value of the drama was speaking for itself. I liked the way the story has begun where a little bit of flashbacks were also made a part of the episode to throw hints about the characteristics of all the characters & their background stories.
The story revolves around two couples who were university friends back in a day. Their group consisted of Moomal (Aisha Khan), Afroz (Nida Khan), Sameer (Syed Jibran) & Emaad (Danish Taimoor) & going by how their scenarios were presented & how candid these guys till date are, it is pretty evident that these guys shared a close-knit bond & were best of friends.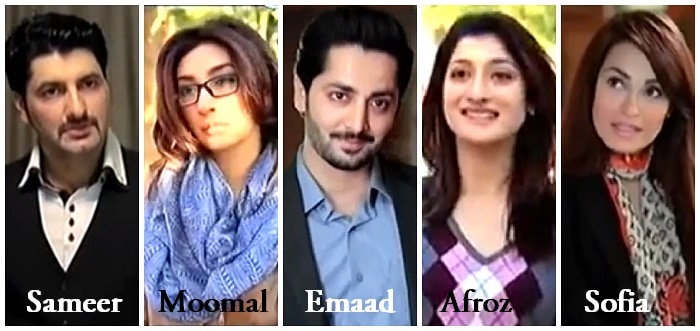 Sameer & Moomal got married a year ago & got settled in Scotland whereas Emaad & Afroz got married 2 years back & are happily settled in Pakistan. In comparison to Emaad & Afroz, Moomal & Sameer have a very dysfunctional marriage where Sameer confesses that he has never loved Moomal but Moomal couldn't emphasize enough on the fact that she fought hard to be with Sameer as she loves him a lot. Moomal for sure has some insecurities when it comes to her relation because as much as she should trust her husband, she actually doesn't & the main problem between her & Sameer is due to his boss Sofia (Nadia Hussain) & Moomal can't tolerate how Sameer gives Sofia a lot more importance than his own wife. Obviously, being a newly wedded girl, Moomal wants Sameer's undivided attention but seems like for Sameer, his career & his boss is more important & this has made Moomal a lot more uncomfortable & insecure in her life.
On the other hand, Afroz & Emaad celebrate their 2nd anniversary & are completely in love with each other but it was too obvious that Emaad still has some soft corner for Moomal in his heart because no matter how caring Afroz is & how much she loves him, Emaad still thinks about Moomal every now & then. For Afroz her husband & her group of friends are everything & they mean a lot to her because of which she really didn't seem to mind how candid Emaad got with Moomal at times. Moomal has decided to leave Sameer just so that he can have a break from her that he wants in order to understand how important his wife is. Moomal thinks going away from him for a while will help him reflect on the fact that he cannot live without Moomal but sadly for her, Sameer doesn't seem to care much because like he said, he wasn't in love with her in the first place.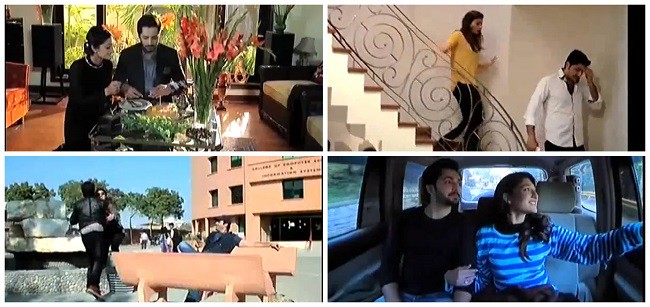 Sadly, for Afroz, she really doesn't know what issues & problems she has welcomed in her home sweet home in the form of Moomal because she already is going through a bad phase of a failed marriage so it's imperative that she will feel a lot more uncomfortable seeing Emaad & Afroz all happy together. I didn't find Afroz naive or stupid but I thought she trusts her husband & her friend Moomal a lot more than she should. She really is comfortable in her own little world that she really can't foresee that Moomal can cause her any sort of harm, which I am pretty sure she would because Moomal clearly has some issues. She is dominating, she is controlling & more than that, she is a pessimist. I felt that Moomal is one of those people who like to blame others for the problems they face whereas she's the one who should do some thinking & sort things on her own about what she is doing with herself & her life because like Aforz said, she is responsible for ruining everything she has. Yes, Moomal is mentally scattered but even when she was with Sameer, she suffocated him by burdening him with the constant reminders of her love & now when she knows that Emaad only tried to help her out, she blamed him for receiving divorce papers from Sameer just because Emaad told him that Moomal was staying at his home with him & Afroz. Going by how Moomal actually is, it didn't surprise me much that Sameer didn't waste a day in moving on with his life & decided to propose a marriage to Sofia who already seems to have been quite impressed by Sameer. I do feel that Emaad & Afroz will definitely get affected by Moomal's unexpected entry in their lives & their decision of helping her will definitely take a toll on their personal relation because the preview clearly suggested something of that sort.
Anyhow, this is it from the very first episode of Shart. The direction was nice & so was the camerawork & screenplay. All the actors seemed pretty comfortable in their roles but Aisha Khan screamed a lot more than my liking. Yes, Moomal is going through a rough time but I really hope her yelling & shrieking tones down a couple of notches in the episodes to come. The OST is nice only for the title time of the drama but I do mind it being played in the episodes because it is way too loud & doesn't really compliment the scenes in any way. Share your thoughts about the very first episode of Shart please & let me know how much did you enjoy watching it. :)
Keep Supporting,
Cheers,
Zahra Mirza.