Oh wow, what a dhamakay-daar episode of Shehnai this was. I thoroughly enjoyed watching all the events & situations unfold & loved the way the writer & the director both took care of everything to make it even better. So much happened in this episode that for a moment I felt I was watching a double episode. This drama is setting a perfect example of how the drama-makers should use different characters to contribute to the story. In this episode, there was not even a single character that did not add more value to the drama & its story. Be it, anyone, from the elder lot or anyone from the younger lot, they all made their presence felt & I really enjoyed watching how the writer justified the number of characters that have been added in this drama – they all have a story to tell or if not, they all know how to make it a lot more interesting with their input. This episode was a perfect blend of drama, emotions, comedy & meaningful instances that made it super special.
Bakht's Little Adventure
So, Bakht ran away & then she was on her own, figuring out what she had to do. For Bakht everything was clear, she was set to go to Islamabad with Hunain & get married the next day. Bakht obviously did not really understand why Meerab was there with her, risking everything because she misconstrued his kindness as his weakness. Till this moment, Bakht saw him as a coward who didn't have the courage to tell his parents that he couldn't get married, therefore she thought all this while he was making sure that she is gone for good & is not coming back so that he can tell both the families. Meerab had his reasons because he knew Hunain was not going to fulfill the promise he had made to Bakht. I really really liked how before leaving, Meerab thought things through & let Saima know that Bakht was eventually coming back because Hunain will not show up. Meerab showed his far-sightedness & also his intelligence because he knew the hell would break loose when the family members will figure out that Bakht was missing.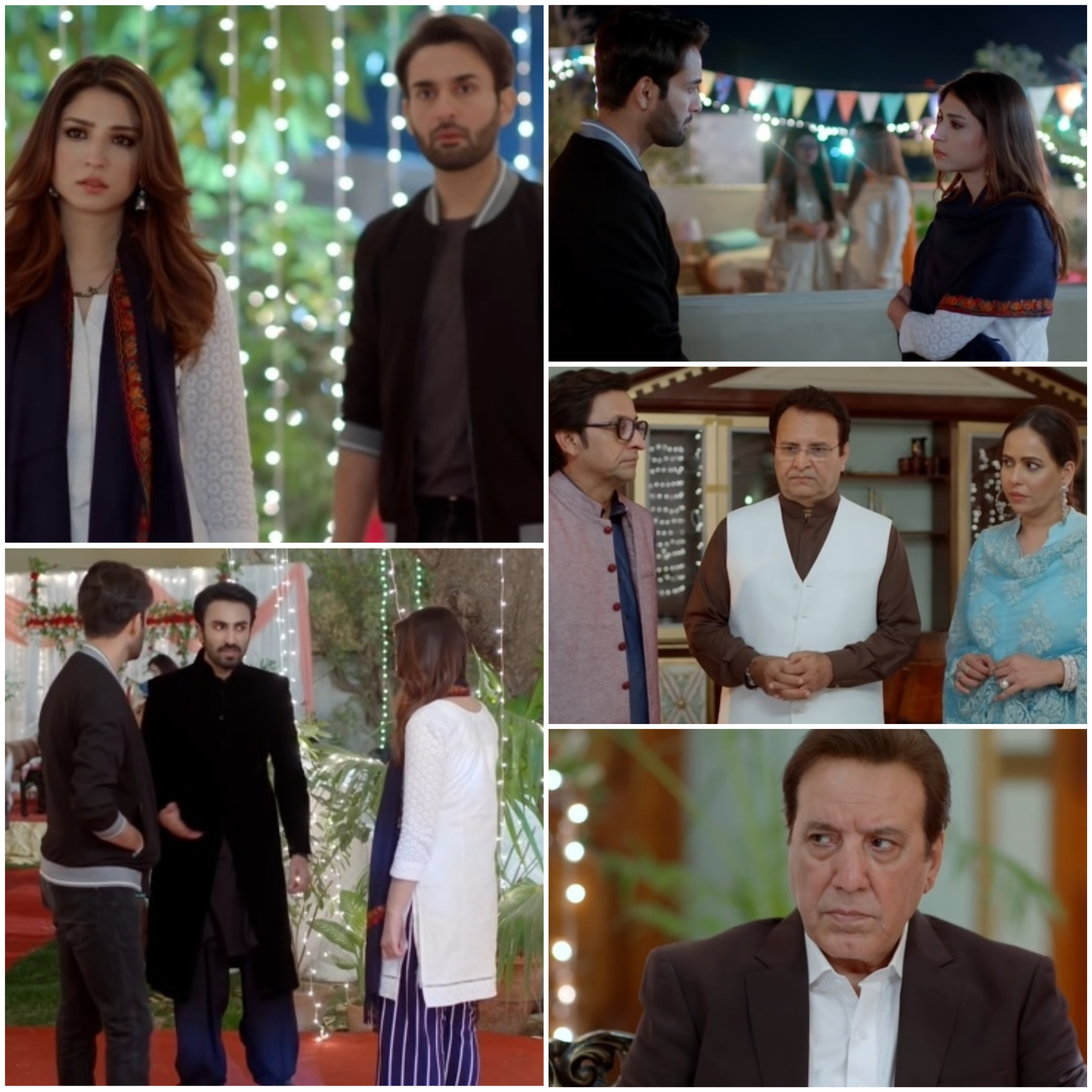 In the previous episode, I actually wanted to know what Saima had to say to Ahsan & I am glad in this episode, they showed that conversation. Ahsan was also concerned but Saima not only told him the truth but also expected him to be mindful of what he says about Bakht. I can totally see a connection there which was subtle but still quite obvious. It was super interesting how the writer shifted the perspective where initially it was felt that maybe Rafay & Saima will end up together but that is not going to happen now. I must commend the writer for showing how both Saima & Rafay are such good & positive characters but that does not mean they both are going to get along well, it was this simple fact established so well that made me enjoy the possibility of two new relationships a lot more.
In Bakht's house, everyone obviously caught onto the rumor that she was gone. Azhar saw the burqa-clad girl & thought it was Bakht & then one thing led to another. Obviously, neither Azhar nor Qifayat was wrong but luckily, in the end, everything turned in Bakht's favor because she had so many people speaking up in her support. However, it was brilliant how they all tackled the situation without letting Meerab's family know what was going on. However, it was sad that because Azhar fell victim to Qifayat's brainwashing, he ended up using such a sensitive matter to further the idea of property distribution. At this moment, Absar needed his family's support the most but they all ended up being such a disappointment. I actually am not against the idea of what Qifayat & Maliha want – their chunk in the family wealth, however, the way they made Azhar use this situation, in particular, to turn against Absar & his daughter was absolutely not right. I am sure Azhar will redeem himself & Maliha being his wife will have to oblige but Qifayat won't stop!
This entire episode was packed with one intense situation after another. Bakht decided to see Hunain & luckily she knew his house address. I am glad that before Bakht reacted, she allowed Hunain to show his true colors completely for her to get over the love she had for him. Hunain also didn't stop there & continued to blabber till he actually showed Bakht how he was never into her & how this relationship meant nothing to him. Meerab was in a tough spot because just when he felt at ease that Bakht was getting to hear the truth, he was feeling sad for her that she was now heartbroken. I am so glad that Bakht decided to give it back to Hunain, although that scene & the dialogues were reminiscent of Geet from Jab We Met but nonetheless, in dramas where we get to see girls literally dying to be with flawed men, Bakht came as a fresh air who not only realized that Hunain was the wrong person, she also decided to expose him because this is exactly what he deserved. All the expressions of Affan Waheed during that scene which showed how amused Meerab was were spot on, I thoroughly enjoyed it.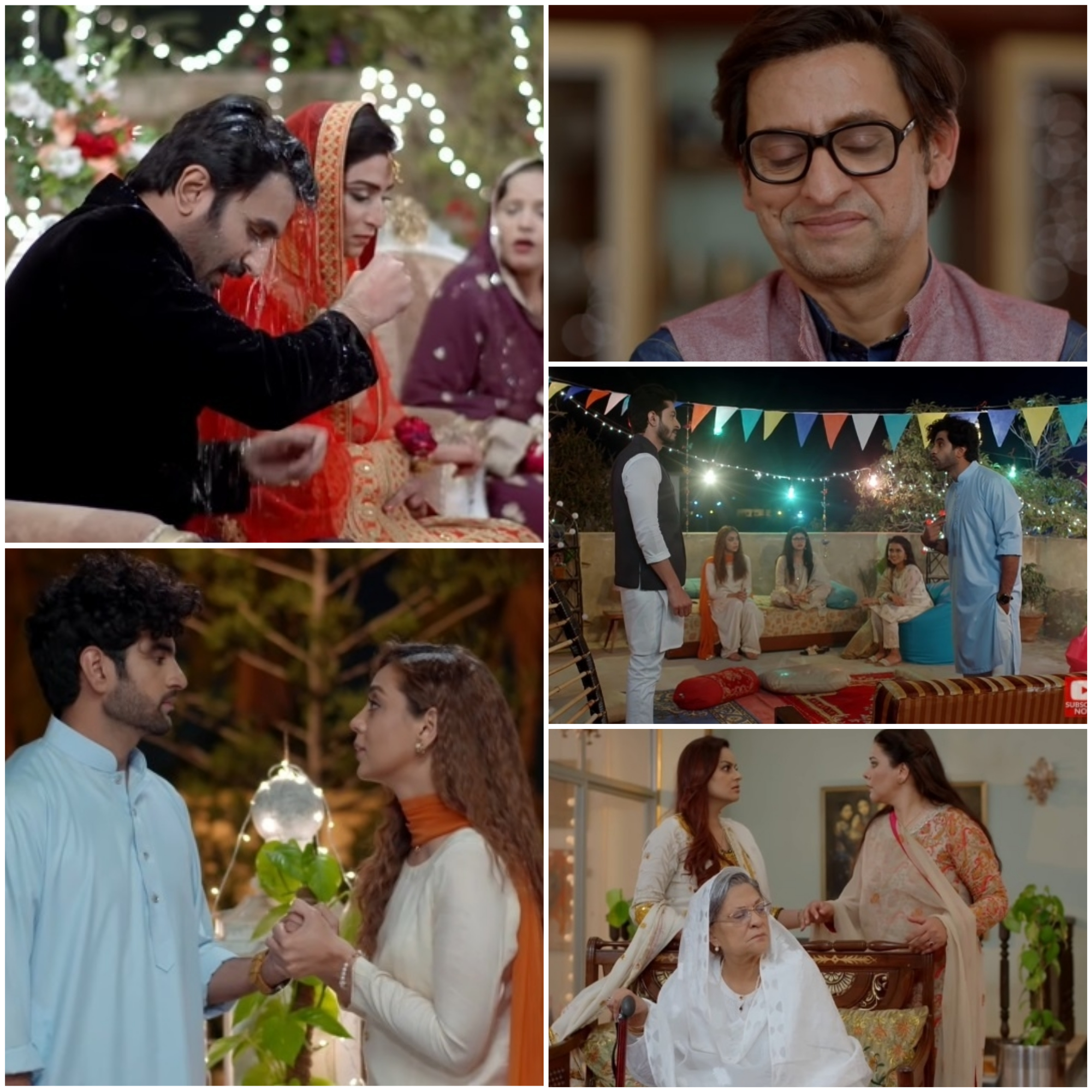 Another favorite scene from this episode of mine was the confrontation between Saima, Rafay, Beenish & Ahsan, the timing, the dialogues, the acting of all the actors involved in that scene were absolutely perfect. Beenish & Rafay spoke in the favor of each other whereas Saima & Ahsan acted like a team, I really like this new equation too because things are going to get more interesting. So far, out of this entire lot, Beenish hasn't really been impressive because she has shown negative personality traits, but I hope that changes about her & she becomes a normal person with sensitivity & emotions towards her family & relatives. Ahsan & Rafay are cute & Saima is definitely one of my favorite characters in Shehnai.
So, Bakht finally came back & again, it was amazing how everyone came to her support. The youngsters came up with their version of the truth & sided with Bakht. Qifayat obviously saw the golden opportunity slipping away from him therefore he insisted that he was right, which he was. Although I do understand Azhar's frustrations I really think slapping Qifayat, that too in front of his grown-up children wasn't the right thing to do, especially looking at Ahsan's expressions, it was like he was hurt with what just happened & although he was speaking in Bakht's favor, he knew his father wasn't telling a lie. Azhar shouldn't have done that because out of all the people, he himself took an advantage of this situation to let Absar know that he wanted to go ahead with the distribution. I think just snubbing Qifayat in a stern manner would've been enough!
Power-packed Episode
This episode of Shehnai was power-packed & had so much to offer that I didn't even look away for a second. Not only the casting in Shehnai is perfect but the performances are top-notch too. The writer should be extremely proud for coming up with such a fun & interesting script & the director as well for giving it a perfect treatment. Affan Waheed has outdone himself & for a change, it is really nice to see him playing this kind of character where Meerab doesn't mind having a bit of fun. Ramsha Khan is at her best when she plays these kinds of roles, so props to her for giving yet another phenomenal performance. Maryam Noor, Umar Alam, Arsalan Faisal, Saleem Mairaj, Zainab Qayyum, all have been performing brilliantly as well. I must commend that whosoever is responsible for the wardrobe of all the female characters has done an amazing job, they all look stunning. I can not wait for the next episode because it seems Bakht wants to go ahead with this marriage & now Meerab's patience will be tested. Please share your thoughts about this episode of Shehnai.
Keep Supporting,
Cheers,
Zahra Mirza.